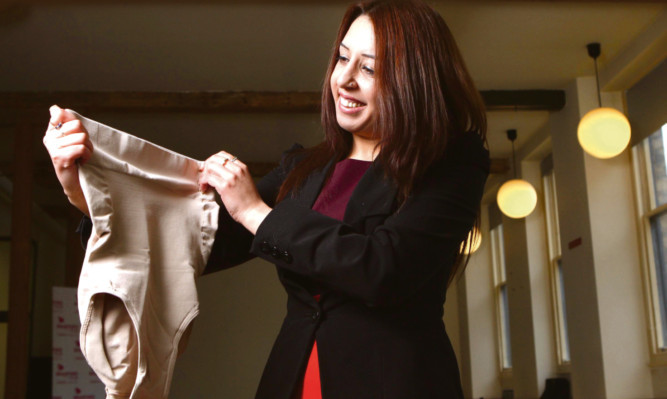 Farnaz Khan is well on the way to making her first million and it's all thanks to cling film and a pair of big pants.
Farnaz has launched Fit Britches underwear she claims helps you to lose weight. It's the answer to many women's dreams undies that are fat-burning, gut-busting, tum-trimming wonders.
Farnaz is a mum of four and, after the birth of her fourth child, Maya, found it hard to shift her "baby weight". When a family wedding loomed on the horizon, Farnaz, 33, dreaded the thought of appearing in photos without looking her best.
So, working on a strange gut feeling that the answer lay in wrapping her wobbly bits up, she experimented with a pair of passion-killing knickers and cling film. Obviously, it's my first question when I catch up with her. Farnaz, didn't you, well, squinkle (a new technical term a mix of squeak, squish and crinkle) when you walked? Didn't you get funny looks?
"Ha! Yes, I really did and my mum almost gave away my secret and exposed me because she was so curious about the noise I made I had to tell her!" she confesses. "But the thing is, I was losing weight."
It sounds completely bonkers. But the heat the cling film created helped her to shed excess pounds and inches. Now Farnaz has taken her cling film experiment and turned it into a business that's entering the global control pants market.
Call it knicker wars. Because sales of control undies that suck you in and smooth you down are growing every year, with new brands being launched regularly in a highly competitive market. Indeed, Debenhams recently revealed they now sell more shapewear pants to brides than skimpy undies sets. Pity the poor grooms on their wedding night!
Maybe it's the Bridget Jones effect. But ever since Renee Zellweger had a fumble with Hugh Grant in the first Bridget Jones film, revealing huge comedy knickers, sales of sucker-inners have soared.
Super-svelte Gwyneth Paltrow helped too, when she revealed her amazing figure was enhanced by "double Spanx" two pairs of Spanx pants under her clingy dress.
Self-confessed celebrity fans of shapewear include Jennifer Lopez, Oprah Winfrey and Amanda Holden.
The revelation that Gwynnie was a Spanx fan helped to turn it into a global giant. Farnaz is a way off that, though sales of Fit Britches are soaring in more than 30 countries.
But back to that cling film.
"Honestly, I realised it works," she says. "I was desperate every time I had one of my babies, I had to work to lose the weight. I had my brother's wedding not long after I'd given birth.
"That was at the height of my 'biggie days', as I call them," she says. "I was a size 14, which I know isn't huge, but it was much bigger than I'd been and I had no confidence. Honestly, I was so traumatised by the wedding photos I destroyed them!
"So when I found out my cousin was getting married just after Maya was born I started my cling film experiment."
Farnaz admits she was dieting and exercising, too. She's a bit of a superwoman she was working out six times a week, had four young children to look after and was working in market research. But the heat the cling film caused meant her inch loss was accelerated. From there, Farnaz went on to experiment with making control pants that mimicked the heat effect. That's her brand's unique selling point other brands will pull you in big time, but once you take them off, you're letting it all hang out again.
With Fit Britches, Farnaz claims they help you to lose weight, too, and she's put her product through independent clinical trials to prove it. The catch is she recommends you wear them for eight hours a day, every day. With prices starting from £34.99 for a pair of knickers, you're going to need at least a couple of pairs to make it doable. Little wonder Farnaz is laughing all the way to the bank.
They might work, but ask most blokes and they'll tell you that big knickers aren't exactly alluring. You couldn't call your products sexy now, Farnaz, could you?
"No! But put them on and you'll feel better. You'll look better. How can that be bad? Women just get it," she says. "But no, guys probably won't get it."
Farnaz is a girl's girl and I chat away to her like I've known her for years. So before I know it, I'm making an embarrassing confession to her.
Not that long ago, I was wearing a huge pair of control knickers to work. By the middle of the afternoon, I was struggling feeling faint, nauseous and dizzy.
There was only one thing for it. I had to go into the loos and whip them off! It was either that or collapse in a heap on the floor.
Could I cope with Fit Britches?
"OK, I'll be honest with you," Farnaz says. "You might have to . . . wrestle yourself into them. But you'll get used to them."
She's been so convinced by her big knickers that she's now packed in her job, poured in her life savings and is a fully-panted part of the knicker wars.
There's only one thing left to ask. Fit Britches are all about heat helping you to lose weight from those stubborn areas. Aren't they a bit uncomfortable to wear if you're in a stuffy office, for instance? Do you emit a Ready Brek glow from your hips?
"No! You don't feel sweaty or anything. You'll hardly notice you're wearing them."
She's devoted the last few years of her life to cling film and big knickers. If anyone would know, Farnaz would.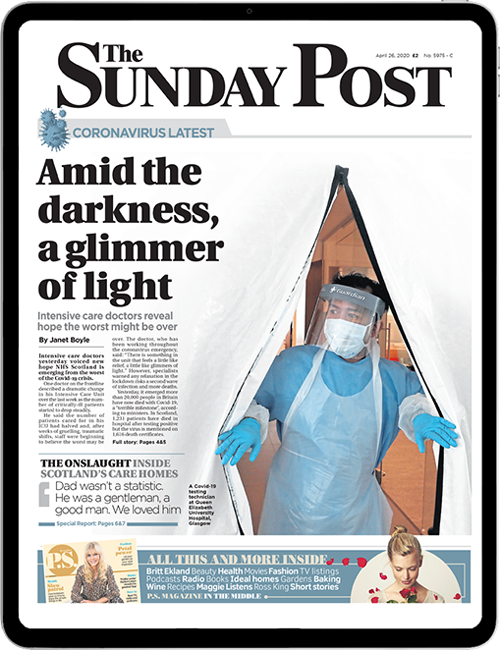 Enjoy the convenience of having The Sunday Post delivered as a digital ePaper straight to your smartphone, tablet or computer.
Subscribe for only £5.49 a month and enjoy all the benefits of the printed paper as a digital replica.
Subscribe