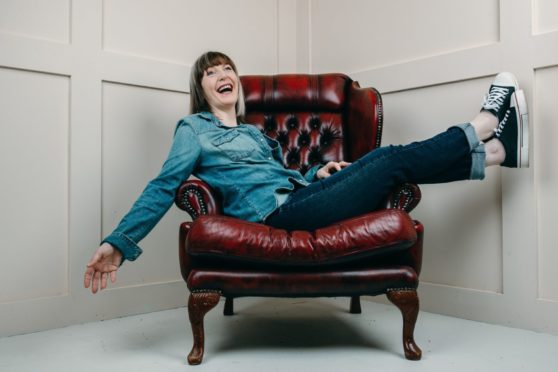 It's the cult ghost-hunting TV reality show that scared the pants off a generations of loyal fans. But Most Haunted's Yvette Fielding reckons her pursuit of the paranormal has also unleashed a whole lot of love.
Fielding, 52, says the programme, and its spin-off public events, have sparked romance for couples from around the world. And she reveals her own son, musician William Sweeney, is among them.
William, 27, who was a runner on the show that first hit screens on Living TV in 2002, met the love of his life Lucy Walsh, daughter of Eagles lead guitarist Joe Walsh, through the show. And earlier this year the couple tied the knot in a tiny, mid-pandemic ceremony in London, without their celebrity parents present.
From her "haunted" Tudor home in Sandbach, Cheshire, the Queen of the Screams – who is about to release the first book in new children's Ghost Hunter Chronicles series The House In The Woods – tells P.S.: "They are planning a great big bash in Scotland – a big blessing in a castle.
"It is extraordinary how Most Haunted has brought so many couples together over the years and how people have become engaged and married because of the show. We've had people drop down on their knees live, and say, 'while we're here in a haunted castle, will you marry me?'"
Family life
She knows how that feels. Fielding's husband, Karl Beattie – the show's co-creator, director and cameraman, with whom she shares a daughter, Mary – proposed to her live on TV 22 years ago after a whirlwind romance.
But she never imagined Most Haunted would bring her a talented daughter-in-law. American singer-songwriter Lucy is also an actor known for her TV and film roles, including the 2016 movie Mother's Day with Julia Roberts.
She says: "Lucy contacted Karl on social media just to say she loved the show. She is also a musician. Will was leaving his band and we asked if she'd give him some advice. We put them in touch and they fell in love over Facetime during the pandemic."
Covid restrictions meant a scaled-down wedding could go ahead but the bride's parents and family couldn't travel to the UK.
"It was in the summer in a registry office in London," says Fielding. "We didn't go because nobody from Lucy's side of the family could come here because of the pandemic. It was upsetting but we totally got it and accepted it. Now Will has moved to Los Angeles and has his first gig there on September 25th. It's very exciting."
But the move is bitter-sweet, not least because her daughter Mary, 21, has also just flown the coop and is serving with the RAF.
"We are really missing her and she is missing us," says Fielding. "We are a very close family. When she went off, Karl and I were just hugging each other and holding hands and going, 'Our baby!' But she calls us each night."
But, while some couples worry how their relationship dynamic will work when they have the family home to themselves, it's clear Yvette is still very much enamoured with her husband.
She said: "Karl is the only man I have ever truly loved. He was behind a camera when I first saw him and thought 'who is that?' He was the most gorgeous cameraman ever. Eventually he asked me out. Three months later we were engaged. It was during the filming of City Hospital, the BBC1 show I was presenting.
"He just came in shot live on television, dropped down on to his knee and produced this ring and said, 'will you marry me?' I was like, 'oh my God, yes of course!' He was just the best thing that had ever happened to me. Every 10 years we re-do our vows."
Early career
Fielding started her acting career in the BBC children's drama Seaview while still a schoolgirl, before going on to become Blue Peter's youngest presenter at 18.
Over the years she has appeared on just about every TV show in Britain, from I'm A Celebrity… Get Me Out Of Here! to Friday Night With Jonathan Ross, Ant And Dec's Saturday Night Takeaway and Loose Women. But it's Most Haunted she is most recognised for.
She and Karl sank their life savings into the pilot show but almost lost it all after TV bosses originally rejected it.
She confesses: "The thought of spending a night in a haunted house sent chills down me. Then I thought, why not? Let's do it.' But could we sell the pilot? Could we hell!
"We were even told by Channel 5 that we were very unprofessional bringing this type of genre into the mainstream. Just shows you how wrong they were."
The turning point came when a friend of Karl's, who owned the company that became Living TV, agreed to watch the pilot, and took the whole series.
She recalls: "When Karl phoned me to say we'd sold it I remember dropping to my knees and crying with the sheer relief. We had put all of our life savings into this project that we really believed in.
"Twenty years later, along with the original fans, we have this huge new set of fans who have grown up with it. The show has just been sold to the US again and has a new lease of life, which is extraordinary. If we were being pushed by some unseen hands or some force we don't understand yet, I can only think it is for good, to give people a bit of comfort if they have lost loved ones."
Paranormal activity
Most Haunted ran on Living TV between 2002 and 2010. Celebrity specials have seen Vic Reeves, Nancy Sorrell, Gaby Roslin, Carol Thatcher, Paul O'Grady and Lee Ryan joining the ghost-hunting team as they investigated paranormal activity in castles and other haunted buildings across the UK.
Earnings from the show helped the couple buy their sprawling Cheshire home, the foundations of which date back to the 14th Century, and to realise Fielding's dream of owning a farm and stables.
It's an idyllic existence, though Fielding has also had to cope with life's ups-and-downs, including an early menopause.
She said: "I had a hysterectomy at 40, after years of debilitating period pains. A consequence is that it can bring on an early menopause and, at 46, that was what happened. I did get the hot flushes but what I also got – which at the time I had no idea was connected to the menopause – was a spell of depression that appeared to come out of nowhere.
"I'd get in my car, drive somewhere, turn my phone off and cry for an hour. I had no idea what was going on or why I felt so low. My family went out of their minds with worry. At work, my confidence suddenly disappeared. Terrified of what was happening to me, I went to the doctor.
"The diagnosis was a huge relief – I knew the reason for what I was feeling and going through and could start taking steps to address it. We women need to accept this stage in life, be prepared and arm ourselves with all the knowledge and advice that we can.
"As for feeling old – no chance. I didn't expect the positives – a sudden burst of energy and zest for life which, for me, outweighs everything else."
The afterlife
Fielding's forays into the realms of the dead have ultimately, she says, made her a calmer and happier person. "When we first started doing Most Haunted I didn't really believe in a life after death. But I now believe in an afterlife and it has made me a much happier person. I used to be terrified of death but I am not frightened of any more. I've already told my relatives on the other side I want a party when I come over.
"It has also helped our children because they have been with us when we have experienced some incredible things and messages from loved ones who have come through. It is a real comfort to know I am going to see my dad and my grandparents again."
Fielding is now concentrating on her writing career after "dipping her toe" into the world of children's fiction with the standalone Archie The Ghost Hunter – inspired by a dream about her late grandfather – was published in 2019.
She has also started a new podcast, Paranormal Activity, which delves into ghost stories and ghoulish sightings.
She said: "Five or 10 years ago I was still hungry to have a career in TV but I look back and know I have been so lucky. I've had the most amazing adventures. If I was to die tomorrow I don't want anyone to be upset for me because I have had one hell of a blast."
---
Night of scares in the capital
Scotland is a topper in the Most Haunted team's terror charts.
So frightened was Yvette Fielding by demonic activity at Edinburgh's Niddry Street Vaults, she came close to quitting.
The subterranean chambers were once home to a witches' vault and a stone circle, said to contain an evil presence. They are also the ex-stalking ground of infamous killers Burke and Hare.
Remembering The Hallowe'en Most Haunted special in 2006, Fielding says: "It's the first time members of the team were harmed. Two still have the scars on their bodies.
"You are not supposed to stand in the middle of the circle but Karl, a cameraman and a soundman, did just that. The show was live across the UK and America for Discovery and we were live-streaming too.
"All of a sudden the cameraman screams he is burning and on camera you see blood coming through his white T-shirt. He rips off the T-shirt and there were three huge slashes from his shoulder blade to his buttock.
"Then Karl screams. He has three huge scratches on the back of his neck. And then the sound guy screams and goes down on the floor with a huge cut beneath his knee so deep you could see the bone.
"That night I resigned."
---
The House In The Woods (The Ghost Hunter Chronicles 1) by Yvette Fielding, is out September 30, published by Andersen Press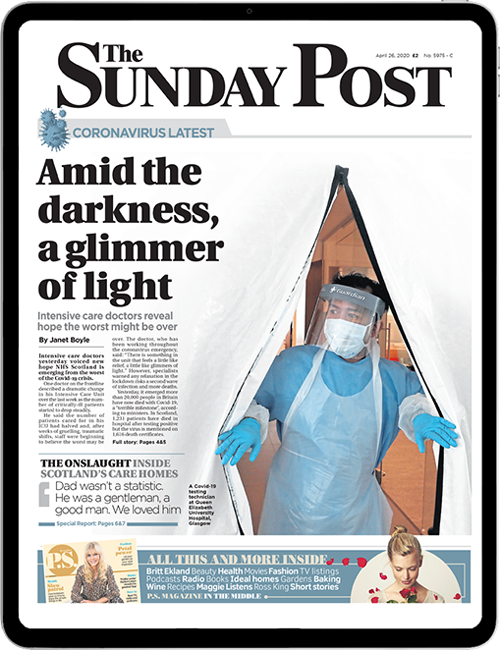 Enjoy the convenience of having The Sunday Post delivered as a digital ePaper straight to your smartphone, tablet or computer.
Subscribe for only £5.49 a month and enjoy all the benefits of the printed paper as a digital replica.
Subscribe