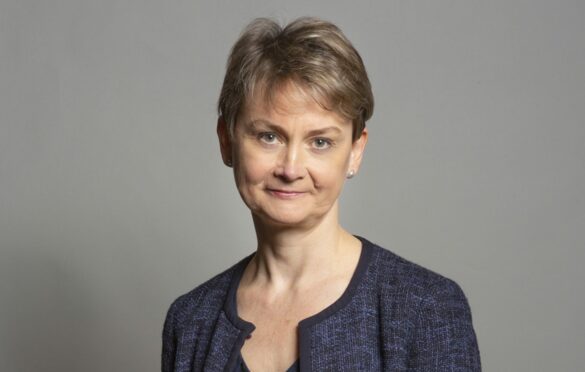 Yvette Cooper has spent her ­political career campaigning against male violence against women and girls but, she says, the time for talking is over. This, says Labour's shadow home secretary, is a time for action.
With researchers suggesting women in Scotland may be enduring an estimated one million domestic abuse cases each year, Cooper has sounded a clarion call for urgent, transformative change in how the justice system on both sides of the border treats male violence and how society discusses it.
She said: "We've spent years talking about domestic violence, sex crimes and the abuse of young girls. Now we must take the action we all know is needed. A million hidden domestic abuse incidents in Scotland is a shocking number to contemplate but Scotland is not alone in this. Domestic abuse is a global issue.
"What we are talking about is a crime that impacts the lives of every victim, every family, and every child who encounters it. It blights every town and every city in every country.
"That is why we must turn the tide and change how we look at it as a society, how we deal with it within the criminal justice system, and how we support victims.
"We need to change, from having men standing up and being counted when a misogynistic comment is made in front of them at work or in a social setting, to visibly supporting domestic abuse campaigns and sending out the message this violence will not be tolerated."
Cooper, a former cabinet minister under Tony Blair and Gordon Brown and one of Westminster's most experienced MPs, detailed a raft of measures that could make a real difference – tougher sentencing more fitting to the seriousness of the crime and the devastation it causes; far more information being given to victims, such as prison release dates; virtual courts, which are less traumatising to victims and children; and widespread adoption and use of family-type courts such as those used in Australia.
There, victims can access support services as well as seek justice in a one-stop system that includes rehabilitation in a bid to end the cycle of violence.
The senior MP urged governments at Westminster and Holyrood to look at improving how access and visitation is put in place to ensure children are protected from being used as pawns in family courts; better access to housing and support services for victims; and more communication between police forces and other services meaning it is easier to track repeat offenders.
Specialist and fully vetted domestic abuse officers are needed, she said, as sexism and misogyny within the police continues to cause concern. After the murder of Sarah Everard by a serving Met officer, a report recently exposed how officers at Charing Cross station, in London, were found to have joked about rape, killing black children and beating their wives. Meanwhile, Police Scotland has also been accused of failing to properly tackle sexism in a series of official reports.
Cooper told The Post: "We must ensure the justice system and the police who investigate domestic abuse don't display those same unacceptable attitudes we have seen recently involving the Metropolitan Police at Charing Cross, and of course dreadful cases like the murder of Sarah Everard.
"But we know it's not just happening in the Met. There have been examples of misogyny and police officers joking about domestic abuse right across the country. To prevent a repeat of some of the more disturbing cases we've seen regarding police officers texting and commenting about victims, we need properly vetted, specially trained domestic abuse officers to effectively do this kind of work if we are ever going to see the change needed to stem the tide.
"Victims need to feel confident about coming forward to report cases but how can they ever feel confident doing that while we continue to have the misogynistic attitudes that have been apparent in some of the cases in the news?
"I'd like to see all police forces ­completely overhaul the way they train officers on violence towards women and girls so there is a culture of respect throughout all forces. We know there is some great work being done, but that is completely undermined if you don't stamp out misogyny or abuse wherever it is found, including within the police and justice system."
Cooper said there were so many calls to emergency services which involve domestic abuse, she believes every frontline officer should have that specific training at the core of everything they do.
Born in Inverness, the respected ­politician, who is married to Strictly Come Dancing favourite and former MP Ed Balls, says domestic abuse and violence against women and girls is one of the most dangerous crimes society faces because of the devastating consequences.
She said: "Domestic abuse and violence has a lifelong lasting effect on victims, it affects whole families, a child's future. It affects the communities where it happens. It's become the MeToo moment we can no longer turn away from.
"What worries me most is that we know things got very much worse because of lockdown but what we don't know yet is just how much worse."
No more: Women demand action as 7,000 domestic violence cases languish in court limbo
Domestic abusers frequently move from one victim to other unsuspecting victims, leaving a trail of devastation and broken lives in their wake.
The politician is determined to see a far more robust use of information sharing and monitoring of abusers to protect future victims and stop offenders in their tracks.
She said: "One of the things I want to see is a far greater use of police forces and other agencies sharing and acting upon information regarding repeat domestic abuse offenders as they ­currently do towards sex offenders.
"Much greater use could be made of the Multi Agency Public Protection Arrangements scheme and similar other programmes to keep track of offenders right across the country.
"Domestic abuse victims need to be kept fully informed of where a perpetrator is. There is a danger that when an abuser is released they can be harbouring anger and go on to target victims.
"That is why it is vital appropriate steps are taken to protect them and keep them safe. Stalking is another area that needs to be taken far more seriously. There is a misconception that victims are stalked by strangers but that isn't always the case.
"It's often a former partner who does the stalking. There are many strong links between domestic abuse and stalking. It's another form of control, one that can be extremely frightening."
Societal attitudes need to change, and that must start with education, according to Cooper, adding: "It has to start in school with children being taught how to respect each other.
"We need them to understand the difference between healthy relationships and abusive relationships, and that begins with education from an early age."
One in five teenage girls has been sexually assaulted: Survey lays bare crisis of consent in Scotland's schools
The politician praised The Post's domestic abuse campaigns and the calls for change made after our revelations that one in five schoolgirls has suffered a sexual assault, and virtually all have suffered some kind of bullying or unwanted behaviour at schools. Despite the availability of programmes such as Equally Safe at School, the Scottish Government has rolled these out to just 31 schools.
Our Respect campaign has ­highlighted calls from one victim who begged First Minister Nicola Sturgeon to ensure there are specially trained teachers in every school to support victims.
Cooper also agreed with the concerns of our experts who pointed to easy availability and access to violent online porn as playing a huge role in influencing young people to believe that kind of behaviour is acceptable.
She said: "There is no doubt that we must ensure we have appropriate, trauma-trained staff and safeguards to be able to support and protect young people so they feel confident to come forward and report any concerns they have. These should be in place for children at school, to those going to college or university.
"We have been pushing for some considerable time for tougher legislation on age restrictions around online porn and violence because of the dangers and long-term effect it has."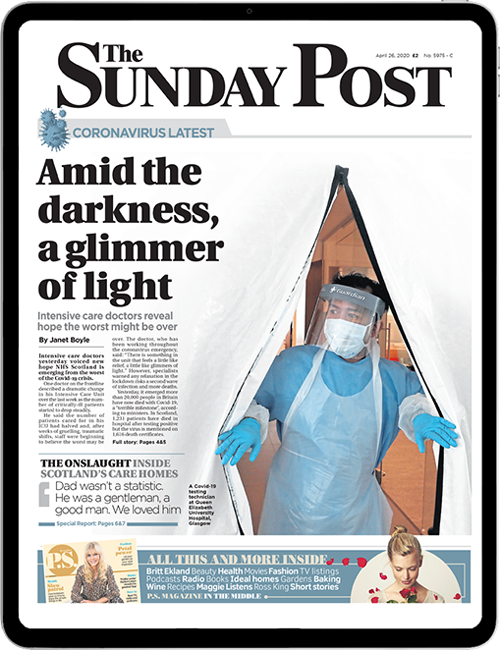 Enjoy the convenience of having The Sunday Post delivered as a digital ePaper straight to your smartphone, tablet or computer.
Subscribe for only £5.49 a month and enjoy all the benefits of the printed paper as a digital replica.
Subscribe