IT could have been the ultimate toe-curling moment, performing as your hero, only for them to see and hate it.
But Rob Lamberti, who has toured the country as George Michael, had the singing superstar check out a gig – and give the thumbs up.
Rob, was on a tour for a big brewery chain when he heard he'd had a surprise special guest in the audience.
"I was doing a gig in north London and I remember looking up and seeing this guy at the back of the room as part of a group," said Rob, who is starring in George – Celebrating The Songs And Music Of George Michael which hits Scots theatres in 2019.
"I came off and was telling people that I was sure I'd seen George and Andrew Ridgley and they were telling me not to be daft.
"I thought no more about it and it was years later that I was told it really was him.
"I was talking to his management at a gig and they said that George had been to see me a few times, including that one.
"And they told me he'd watched my stuff on YouTube."
Rob, 45, was such an uncanny look and sound-alike, he was actually hired by Sony Music to do promotional work for one of George's albums.
With the star out of the country and unavailable, Rob toured record shops and radio stations, even signing CDs as the music legend.
But he admits he wasn't a fan of George in his younger days as he was more of an outdoor kid, playing football rather than listening to Wham! and other bands of the era.
And his working life couldn't have begun further removed from the glittering world of showbiz.
"We lived in an end terrace in a working class area and with my mum on her own we were basically all told we had to get out and earn.
"I was washing windows, doing anything I could to earn a few quid and I ended up labouring.
"I had to travel to sites all over the county and we'd all end up in the pub at night.
"You got a free drink if you got up and sang at the karaoke and that's how it all started for me.
"I modelled myself on Marti Pellow but the guy who ran it thought I was more like George, who was at No.1 with Elton John at the time, so I owe it all to him really."
Without him knowing, Rob's mum and girlfriend sent a tape of him singing to TV's Stars In Your Eyes and that was to change his life forever. Rob thought the audition interview invite was a joke but he's eternally grateful he went along.
"I got on to the show and sang Faith," recalled Rob.
"I went right through to the final and, ironically, lost to a guy doing Marti Pellow.
"I went back to my day job but I was getting all these requests to perform as George.
"It was a real crossroads moment in my life.
"My partner and I had just got our first mortgage and I was trying to weigh up whether to take the risk.
"But she said that if it all went wrong I could always go back to labouring, which I was good at, so I didn't really have anything to lose.
"So, here I am 25 years later and I never did have to go back."
The new tour features original members of George's band and the National Philharmonic Concert Orchestra and goes through the remarkable musical back catalogue. It includes Wham! classics such as Wake Me Up Before You Go Go through solo hits like Careless Whisper and also takes in his orchestral period.
"It really takes you on a journey through his whole musical career over the two hours," said Rob, who was so touched by George's philanthropic side that he's donating half of his tour fee to two charities.
"It is a very physically demanding thing to do.
"With some of the earlier stuff you're trying to impersonate someone who is 18 so there's only so long you can do that.
"I will continue as long as I feel I can, though, because I love the man and his music.
"His death was a real shock to me, something it has taken until now to get over to be honest."
---
George: Celebrating The Songs And Music Of George Michael, Edinburgh Festival Theatre, Apr 27, Glasgow Royal Concert Hall, May 3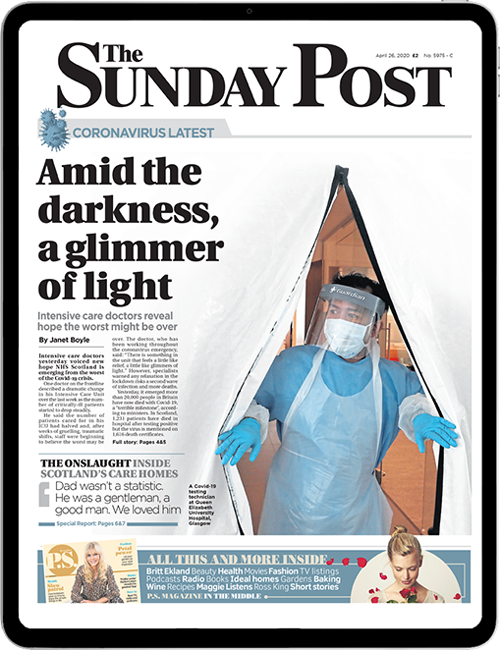 Enjoy the convenience of having The Sunday Post delivered as a digital ePaper straight to your smartphone, tablet or computer.
Subscribe for only £5.49 a month and enjoy all the benefits of the printed paper as a digital replica.
Subscribe