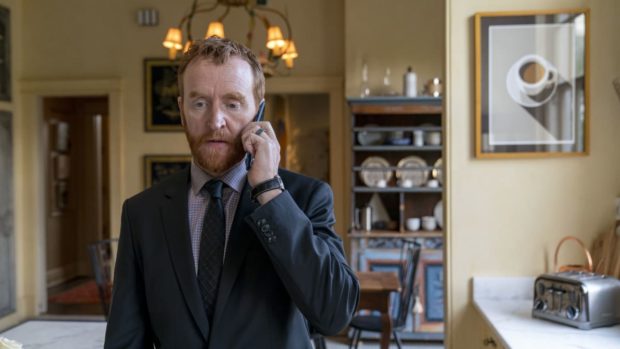 It is a question that has been baffling Scots viewers of hit crime drama Your Honor. Just what is Jim Baxter doing running the New Orleans underworld?
The TV mob boss ruling the Big Easy not only shares a name with Slim Jim who helped Scotland's footballers rule Wembley in the '60s, he shares his Caledonian heritage.
Expat actor Tony Curran, who plays his right-hand man, says he was delighted because the tartan-tinged gang in the small-screen thriller allowed him to keep his own accent for once.
The 51-year-old stars alongside Breaking Bad's Bryan Cranston in Your Honor, playing Frankie, a ruthless lieutenant to Baxter, played by Michael Stuhlbarg.
Tony explains a fictional Scots mob dominating the New Orleans drugs trade is not too far-fetched while successful screenwriter Peter Moffat, a former barrister behind a series of acclaimed British courtroom dramas including Silk and Criminal Justice, was born in Edinburgh.
"It's an interesting back story," said Tony. "There are many people who have come to America as immigrants from Europe, including Scotland, who have successful businesses, legit or otherwise.
"Getting asked to use my own accent for a change was a novelty. I can talk with a Glasgow accent? Brilliant!
"I was never told to calm it down, not that I was talking with a strong Robroyston accent. It was just my own accent which was nice. It wasn't a problem. Maybe it is when I go to a Glasgow derby, I might get a bit excited."
For Tony the opportunity to work with Oscar-nominated actor Cranston, who plays a judge dragged into murky dealings with the crime family after his son is involved in a hit and run, was a huge draw.
"I've seen a lot of his work, obviously – like Breaking Bad and Malcolm In The Middle. He's talented and down-to-earth, a lovely human being," said Tony.
"He's starring in this, he's the executive producer and he directed the last episode as well so he's very talented. Who wouldn't want to work with Bryan Cranston?"
Away from the set, the pair enjoyed a drink. "Bryan's got this wonderful Mezcal made from agave. He created it with his great friend, Aaron Paul, who played Jesse in Breaking Bad. It's called Dos Hombres and we had a few of them.
"There are 175 tequila brands in America and his is number 11. It's doing really well but I have to say these things should be enjoyed in moderation!"
Tony, originally from Glasgow's Southside, is based in Los Angeles now with his wife Mai and their eight-year-old daughter, Beau. A Celtic fan, he makes sure to keep up with the fortunes – and lately misfortunes – of his favourite team back home.
"It's amazing how much a Glasgow derby can affect one's mood, especially my wife's," he said with a laugh.
"I've got no plans to move back, my wife and daughter are here. My daughter just started back at school yesterday. We've been home-schooling for a year, it's been tough.
"My daughter has been sitting in front of a television with 26 other kids on a screen from 9am until 1pm. Sadly, sometimes I need to pick up the books and help her, but mostly I leave the arithmetic and algebra to my wife!
"I'm more the sporty dad, doing bike rides and going down to the beach."
Former This Life star Tony has been based in the States for the best part of two decades, after a breakthrough in The League Of Extraordinary Gentlemen.
"I met a bunch of Brits on that and they were telling me they lived in LA. I said I'd check it out," he recalled. "I ended up getting a job on Flight Of The Phoenix with Dennis Quaid and thought, wow, this is cool."
Following the death of Sean Connery last year, Tony paid tribute to his hero and League Of Extraordinary Gentleman co-star, who famously fell out with the director and hated the movie.
Curran said: "There was some trouble in post-production with it, but it was a fun film in the end. It was a fun experience, just a bunch of pals having a good time for six months.
"It was great working with Sean. I was a young Scottish actor with a chance to work with a legend. He was cool to everybody, a really down-to-earth guy.
"And he loved a chat, especially about politics, and especially about Scottish politics and devolution."
Following the success of Your Honor, Tony is picking through projects which will start following the pandemic.
"I'm reading a lot of scripts," he added. "A lot of jobs have been put on hold and now they're all coming through so I'm doing lots of Zoom calls with directors. "And my wife Mai is working, so when she's doing that it's daddy day-care for me.
"Right now I'm going to make some Italian wedding soup for Mai and my daughter. I've not introduced them to stovies yet! One thing I do miss about back home is my mum's tatties, sausage, carrot and turnip stew. Never mind wedding soup, I might make that instead."
---
Buckfast? That may make you illogical captain
Tony Curran can count starring opposite Antonio Banderas, Sir Sean Connery and Bryan Cranston among his career highlights.
But nothing quite matches pouring Captain Kirk a glass of Buckfast on a night out in Glasgow.
Tony was in hit Netflix movie Outlaw King with Star Trek's Chris Pine in 2018 and took the Hollywood A-lister out for a drink after a day's shooting.
"We were in the Ubiquitous Chip on Ashton Lane, tasting some fine whiskies," explained Tony. "Some wee geezer came in, opened his jacket and said, 'I've got some Buckfast if you want to try it'.
"I said no thanks but Pino's eyes lit up. He's very down-to-earth but he didn't have a clue what Buckfast was.
"I told him to maybe give it a miss, we were drinking £40 20-year-old single malt whiskies at the time.
"But he insisted. We got a glass and Chris enjoyed a wee swally of the Buckie. Scotty might have liked it, but Kirk didn't seem that keen."
---
The Scotia Nostra
The Scots mobsters controlling the American underworld in Your Honor might not be as far-fetched as they seem.
The link between the US-based mafia and Scotland stretches back to the prohibition era and runs through infamous mob boss Al Capone.
In the wake of the bloody St Valentine's Day Massacre in Chicago in 1929, when hoodlums working for him gunned down seven rivals, Capone recruited a Scot as his personal bodyguard.
Glaswegian ex-soldier Ronald Kerr oversaw a group of 10 Tommy gun-wielding hoodlums and was said to be the only man Capone, nicknamed Scarface, would trust.
It's no surprise ruthless Capone trusted Kerr, given his affection for Scotland.
His grand-niece has revealed how, after assuming a false identity, Capone sailed to Scotland to indulge in several rounds of golf.
"He was in love with the game and with Scotland," said Dierdre Marie Capone. "I remember seeing his bag of clubs in the house in Miami where he lived. He told me they'd been made for him in Scotland."
Notorious crime boss Capone, along with a gun-toting bodyguard as his caddy, played the world-famous Old Course at St Andrews, as well as Muirfield and Turnberry.
It's believed that Capone met Scottish businessmen to explore the possibility of importing bootleg whisky to the United States.
Historians say Kerr was joined by around 100 other Scots who emigrated to the US to become involved in organised crime.
Those caught by authorities were deported back to Scotland, where they brought their criminal activities with them.
Figures from the 1920s and '30s show how Scottish police were faced with a wave of Chicago-style violent assaults, armed robberies and protection rackets.
James Gilzean was one of the most high-profile gangsters repatriated to Scotland.
He wrote about his experiences as a gangster in a newspaper column called A Scot In Chicago's Gangland.
He gave accounts of bootlegging whisky and graphic mafia-style murders.
Many criminals who returned to Scotland were said to have joined razor gang The Billy Boys, led by the notorious Billy Fullerton.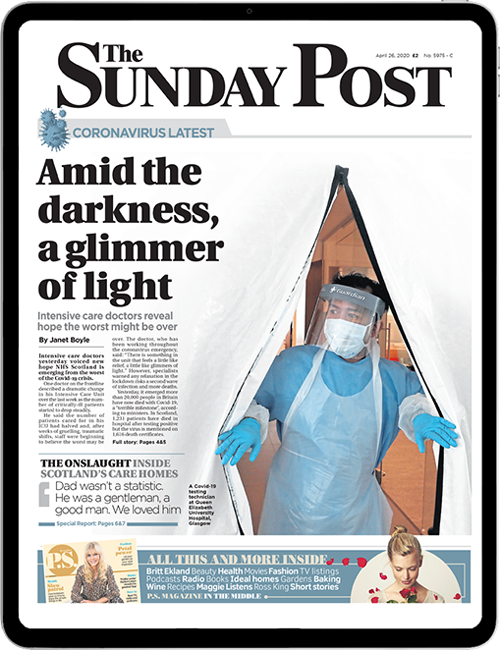 Enjoy the convenience of having The Sunday Post delivered as a digital ePaper straight to your smartphone, tablet or computer.
Subscribe for only £5.49 a month and enjoy all the benefits of the printed paper as a digital replica.
Subscribe