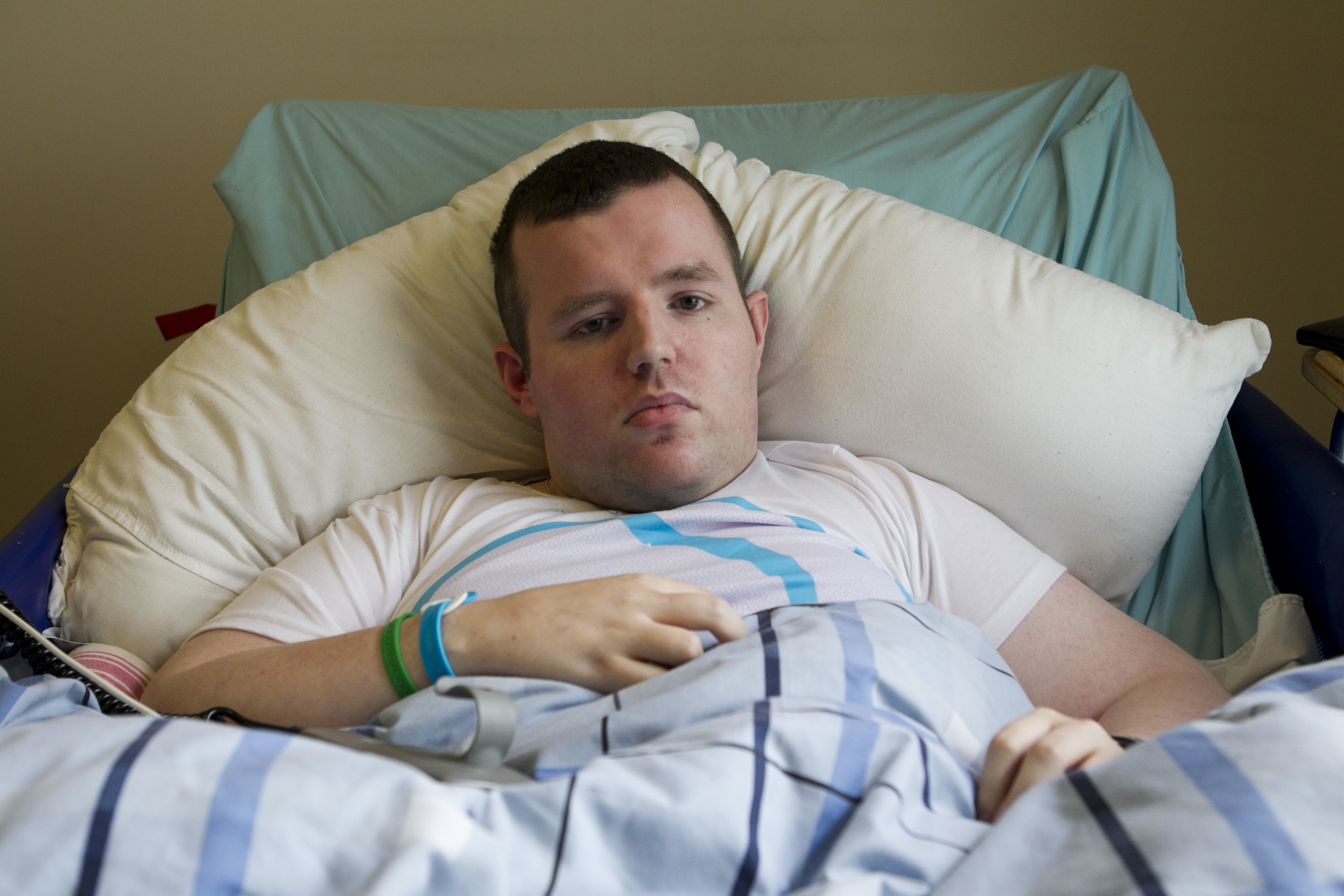 A YOUNG musician who mentored other disabled children yesterday blamed botox treatment for destroying his life.
Ryan Hughes, 22, was born with cerebral palsy and needed a wheelchair, but he overcame his disabilities to become a composer and DJ.
But, he claims, botox injections meant to relax muscles in his legs have instead left them damaged.
He has lost his independence and is now living in a care home after an orthopaedic specialist, at the Queen Elizabeth Hospital, Glagsow, suggested botox injections would help after he began having difficulty getting in and out of his wheelchair.
He said: "The specialist was persistent and said it would really help me. It took just minutes and he told me that it cost £800 per leg. But it cost me everything.
"Now I'm stuck in a care home where the next youngest person is more than 20 years older than me because I've been told there are no available suitably-adapted houses for me to live in.
"To make matters worse, the orthopaedic surgeon who did the botox procedure has gone overseas and no other consultant seems to want to take responsibility for what happened."
Within minutes of the procedure, in January 2016, Ryan realised something was wrong.
He said: "I managed to get out of the hospital, but as I tried to get into my car, my legs virtually collapsed under me and I couldn't move.
"Things went from bad to worse. My legs began seizing up and curling underneath me.
"I can't get back into my home because it's no longer suitable for my increased level of disability.
"I can't stop worrying, is this it for the rest of my life?"
A leading law firm has taken up Ryan's case and Patrick McGuire of Thompsons Solicitors said: "Ryan has had an appalling time.
"This appears to have been done without a thought or care for the potential side effects and certainly without any regard to the rules now enshrined in law and practice about informed consent."
Botox has been used to ease pain and help control the limbs of people with cerebral palsy.
The paralysing effect of botox can be effective for decreasing movement caused by nerves firing uncontrollably but there are risks." In the US, a number of cases have claimed the paralysing bacteria botulinum has caused death or injury.
Four years ago, the family of Joshua Drake from New York were awarded £5.5 million for their claim that their son suffered permanent injuries following a series of injections into his legs.
Ryan is now being looked after at a specialist neurological care home in Kirkintilloch.
Before the botox treatment, he helped raise awareness and money for disability charities, and was asked to carry the baton for the Commonwealth Games. Ryan's plight is being highlighted by actor Darren Connell, from Scot Squad, and former River City's Tom Urie.
Darren said: "It's devastating to see such a bright, talented young man who has so much to give being virtually abandoned by the system which is supposed to care for him."
Tom added: "It's awful to see Ryan languishing in a care home when he was living an independent life and writing some of the most beautiful music I've ever heard. It's just not right."
NHS Greater Glasgow & Clyde said they remain 'committed' to helping Ryan and added: "Several of our consultants have been involved in the care and treatment of Ryan over recent years and there was a consensus of opinion that the botox injections would be of benefit to him.
"It is sad that his condition has deteriorated recently, however the clinical opinion is that this is not as a result of these injections, but sadly is a progression of his condition."
Glasgow City Council's Health and Social Care Partnership said: "We want to see Ryan living more independently as soon as possible. He has multiple and complex needs and requires support on an intensive basis.
"Identifying a suitable tenancy or supported accommodation where his needs can be appropriately met has been exceptionally challenging, and we fully share his frustration that he has been unable to move on from residential care.
"We are absolutely committed to continuing to work with all relevant providers so we can achieve a better outcome."
Scotland's Cross Party Disability Convenor Jeremy Balfour described Ryan as an 'inspirational young man' and pledged to highlight his case with local MSP's.
He said: "Ryan's case is tragic but sadly not uncommon. There is not enough housing for disabled people across Scotland.
"With the new Planning Bill going through Parliament at the moment we need to address this and get more housing built for disabled people. I will be working with my colleagues to try and help Ryan."