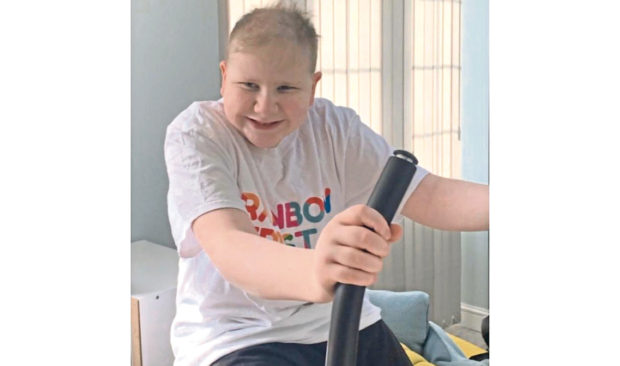 Young cancer survivor Adam Finch has set himself a massive challenge while in isolation.
The Stockport teen is cycling the 200 virtual miles to London on his exercise bike to raise £1,500 for Rainbow Trust Children's Charity.
Adam, 13, whose vulnerable heath following treatment for brain and spinal cancer means he is in isolation, can't see his dad who lives in London.
To feel closer, Adam has decided to raise funds for the charity that has supported him and his family since he was diagnosed with cancer in 2015 when he was just eight.
Adam says: "In 2015, doctors told me I had a brain tumour. I was very scared, and so was my sister. But then I met Sean from Rainbow Trust, and things started to get better.
"I was in hospital for nearly a year and Sean visited me every week. He also helped Megan by seeing her and taking her to meet other brothers and sisters in similar situations.
"When I came out of hospital, he still visited and helped us for a very long time. Because of my cancer treatment, I can still get very poorly and have complications.
"This means I am stuck inside and I cannot see my dad, as someone in his office was poorly."
Mum Clare says: "The work that our Rainbow Trust family support worker provided us and the support he gave our family, allowed us all the space to breathe.
"It improved the health and wellbeing of the whole family, it lifted my constant worry and gave Megan an outlet to talk about her worries.
"I couldn't be prouder of Adam. It's a brilliant way for him to stay focused during his isolation with this huge physical challenge, feel close to his dad and raise awareness and funds for an incredible charity."
Adam is asking the public to follow his journey on Instagram @be.more.adam and explore the country with him and tell him all about the places he will virtually visit.
Rainbow Trust Children's Charity is launching an emergency appeal to ensure it can continue supporting vulnerable families with a life-threatened child during the Covid-19 crisis.
Identified as Covid-19 "key workers", their family support workers are responding and adapting to rapidly increasing demand, providing critical care and support to families in this new frightening reality.
But they have seen income drop and are facing the very real concern they will not be able to continue supporting the 2,500 vulnerable families it currently helps.
Rainbow Trust chief executive Zillah Bingley says: "Our family support workers are doing everything they can to help during this crisis. Among the most vulnerable families we help are those with children undergoing cancer treatment, organ transplant patients and many with compromised immune systems.
"Many are classed as the most at-risk people who have now been told to self-isolate for 12 weeks to shield themselves from being exposed to the virus.
"For these families, they have nowhere else to turn. Any other means of support they had has disappeared. We are giving emergency practical, mental, and emotional health support 24 hours a day.
"With outpatient and routine appointments being cancelled, we are the bridge between hospital and home, relieving pressure on vital NHS staff by giving support to worried parents who have nowhere else to turn. We will continue to be there for them, but we won't be able to do this without funds."
The vital support Rainbow Trust is providing includes transporting breast milk from new mothers to their babies on neonatal wards, as they are separated and unable to visit, and remaining a lifeline for parents whose children have recently died as they face the terrifying prospect of not knowing when or how they can hold a funeral.
Just £26 is enough to pay for an hour's support. Please help today: http://www.rainbowtrust.org.uk/donate.
To sponsor Adam, visit his fundraising page at www.justgiving.com/fundraising/bemoreadam.