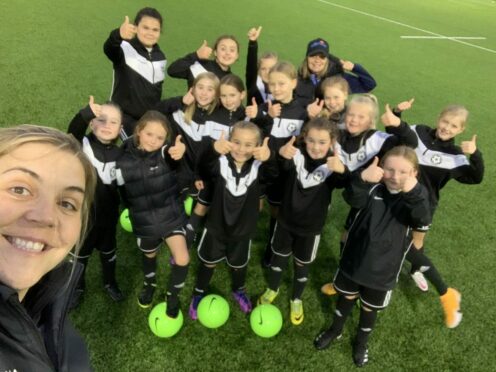 Mhari Lindsay has a keen eye for a bargain. It can keep her up and into the wee small hours as she navigates online shopping sites trawling for cheap kit, equipment and anything else that might come in handy.
Her other extra-curricular activity is a bit of football strip printing that eats into what little free time she has as she juggles an IT job with North Ayrshire Council with her demands as a club director of Cumnock Juniors Girls FC.
Lindsay was awarded volunteer of the year at the Scottish Women's Football Awards but volunteering is just the start of her contribution. She is coach, player, mentor, psychologist, fundraiser and businesswoman. Most of all, she is a beacon of hope for any young girl in Cumnock who wants to play football.
She said: "Sometimes it's been a tough day at work and the weather is rotten and you think to yourself, 'Oh, I can't be bothered tonight' but you always get a laugh and feel 10 times better after a session with the kids than you did before you walked into it. I love it. They have given me so much more than I have given them."
That's quite a statement given just how much Lindsay has given to the young women of Cumnock who needed not just somewhere to play the sport but a structure to their football, proper coaching and facilities and a pathway into other teams.
"When we started in 2014 we had 11 girls. This year in January we passed the 100 mark. I think today we have 125 girls in playing football with us. Even back in 2014 there was nothing here for girls. The nearest club was Kilmarnock which is 20-odd miles away," she said.
"We are still growing. I don't think I will ever stop wanting to grow this club. We have age groups for girls from under-10 and up but ideally I would like an under-8s team, mini-kickers classes and classes for five and six-year-old girls. They shouldn't be having to wait until they are nine or 10 to kick a ball about."
Lindsay, 38, who lives in Irvine, first got involved when her niece, Grace, who now plays with Glasgow City, expressed an interest in playing football. Back then, at age seven, there was nowhere for her to go.
A Cumnock Community Enterprise scheme offered a girls' football after-school programme that she loved. As it drew to a close, volunteers were sought to see if any parents could commit to creating a team for the girls to progress into. From there, Cumnock Juniors Girls FC was born. "Grace is 16 now and it is a bit of a family legacy that her auntie was her coach," said Lindsay. "I started not just her journey but my own and all these other girls. I had loved football when I was young and my mum had taken me to Kilmarnock to play.
"But I am 6ft 2in and I suffered from a condition called Osgood-Schlatter disease which is an inflammation of the growth plate near the knee cap in adolescents. It was incredibly painful and eventually I had to stop playing football. I loved sport – all sport – but my knee would continually pop out of the joint when I played football and it got to the point where I simply couldn't continue. I was always a part of football and enjoyed my nephews playing and then occasionally as I got older I started to play five and seven-a-sides again. In the past year we have started up Cumnock Ladies too and I get a game there!"
While there has been immense satisfaction drawn from providing a facility for girls to play and develop in football with pathways created for those who have the talent to push themselves into elite level, it's the social importance of what Lindsay has created that resonates. Lindsay shoulders much of the workload herself in order to ensure that running costs are kept to an absolute minimum. "We are one of the cheapest clubs for sports in Ayrshire," she said with pride.
It explains the midnight web surfing. "I do all the kits and equipment myself," she said. "I do the logos on our kits. I am constantly looking for bargains to ensure anyone can play football at any given point and it keeps our costs at a minimum. It is a key part of the philosophy of our club. I would love it if we could get a place where it is free for everyone who wants to play."
Given that drop-out rates in sport are massive among girls as soon as they hit secondary school age, anything that keeps them involved as part of a team, exercising and socialising with peers is to be applauded. The sense of spirt, of camaraderie, of belonging and being part of something that is bigger than any individual, offers a sound foundation while navigating the complexities of teenage life.
As such, Lindsay's biggest sense of achievement is not in watching the progression of the girls as players and what they go on to achieve but rather in watching their personal development as football offers focus and warmth. "The biggest delight I have taken from coaching is watching how one of our girls, Abbey Mitchell, has come on," she said. "Abbey would tell you herself that if it was not for football then she might not know where she would be just now.
"Whenever I meet her mum, she will say to me that if there hadn't been football for her then things could have worked out very differently for her.
"Abbey now plays for our Ladies team. She is one of the youth coaches with a lot of the wee ones. She loves it and that enthusiasm and passion shines through, whether she is playing or coaching.
"She is such a positive influence. At 17, she is also now flourishing at school and is part of the leadership academy within the school sports structure.
"I think the highlight for me this year was being out on a pitch with her as we both played for the Ladies team. I have been her mentor and her coach and here we were both running out as team-mates and that was an incredibly special feeling for me. That is what this is all about. It is about us a community and what we can offer and how we can enrich the lives of the girls here."
However, the creation of such an environment does not come without cost.
"My family, my close friends, they are always telling me I need to slow down but there isn't a chance," she laughed. "Not when I am responsible for organising strips and training kits and referees and pitch hire and coaching rotas. I am in about 20 WhatsApp groups as I try and stay on top of it all, so the phone just pings all day long.
"I couldn't do it without the support I get from them and from all the coaches and all the volunteers. They are phenomenal and all want the best for these kids.
"At the awards I was thinking of Eric Bennet who was the chair of the Cumnock Community Enterprise and who passed away at the start of the Covid pandemic. He was a key figure in helping me start this for the girls and funded our first balls and first set of kits.
"He remains someone whom we are very proud of and who we miss every day. Without him, this would not have been possible."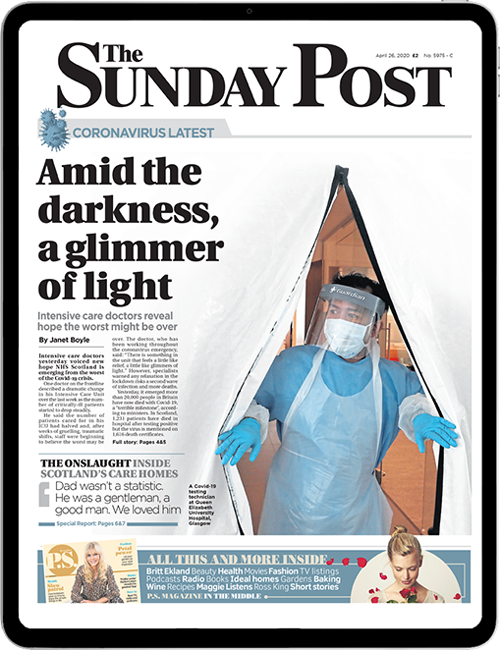 Enjoy the convenience of having The Sunday Post delivered as a digital ePaper straight to your smartphone, tablet or computer.
Subscribe for only £5.49 a month and enjoy all the benefits of the printed paper as a digital replica.
Subscribe