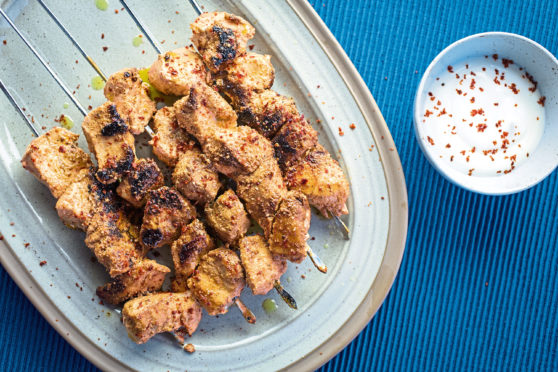 You'll need
2 tspn crushed red pepper
2 tspn paprika
3 tbsp extra virgin olive oil
2 tbsp red wine vinegar
225g Lancashire Farm Greek Yogurt
2 tbsp tomato paste
2 tspn salt
1 tspn ground black pepper
6 peeled garlic cloves
2 unpeeled lemons
1,000g chicken breast cut into cubes
Method
Combine the dried, crushed pepper and paprika, place in a bowl and stir in two tablespoons of warm water. Let stand approx five minutes until a paste forms.
Add yogurt, olive oil, red wine vinegar, tomato paste, two teaspoons of salt and one teaspoon of black pepper to the pepper and paprika spice mix and whisk to blend.
Stir in the garlic, followed by the lemon slices. Finally, add the chicken cubes. Cover and chill for at least an hour.
Thread chicken pieces on metal skewers, dividing equally. Sprinkle each skewer with salt, pepper and paprika. Grill chicken until golden brown and cooked through, turning skewers occasionally, 10-12 minutes total.
Thanks to Lancashire Farm Dairies for the recipe