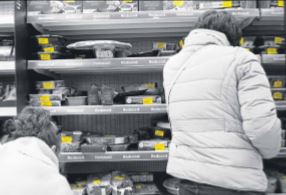 Supermarkets should throw away food instead of offering it at a discount before its sell-by date, according to public health officials.
To fight obesity, the Scottish Government wants to stop retailers giving shoppers multi-buy deals for cakes, biscuits, crisps and sugary drinks.
However, senior NHS officials are urging ministers to go further and extend curbs to many other snacks, including ice cream and several brands of yoghurts.
They also want to end cut-price close-to-sell-by-date yellow sticker deals.
Responding to the Government plans, Michele McCoy – one of the most senior public health consultants in Scotland – advised ministers: "Unhealthy food is better thrown out than sold cheaply."
But nutritionists have warned the focus on cutting fat may leave some people – particularly pensioners – malnourished.
And campaigners working with some of Scotland's poorest people have echoed those concerns.
Linda Darby, of the Humanist Society's Streetcare Scotland homeless initiative, said: "Banning reduced price foods needs careful thought because it might put the occasional treat out of the reach of families who cannot otherwise afford them.
"If it means throwing out a birthday cake instead of selling it, and effectively making it unavailable for a child, then it doesn't seem right.
"Having more health and nutritional education for families and children so they can make informed choices is probably the best way to go."
Public health minister Joe Fitzpatrick launched the consultation last October in a bid to tackle Scotland's obesity crisis, which has left two in three adults overweight. The Scottish Government is targeting its crackdown at chocolate, biscuits, sweets, cakes and soft drinks as well as snacks like prawn crackers and poppadums. It's proposing a ban on two-for-one-type deals and promotional tactics such as placing treats at the end of supermarket aisles or at checkouts.
Labels highlighting price cuts would be scrapped – though ministers plan to exempt those goods reaching the end of their shelf life.
Supermarkets often discount food which has to be eaten within the following 24 hours to avoid having it go to waste.
But several NHS boards raised objections to SNP plans and are calling for a more hardline stance.
Ms McCoy, a director of the national health improvement agency NHS Health Scotland, wrote: "Because the aim is to reduce sale of harmful foods, why provide a loophole to offer them near expiry?
"Unhealthy food is better thrown out than sold cheaply to people who don't need it.
"Whilst reducing food waste overall is very important, we do not support the argument in this context."
Her call to bin food was backed by the Argyll & Bute Health and Social Care Partnership, which includes NHS Highland.
A ban on cut-price labels for ageing goods was supported by NHS Ayrshire & Arran dietician Dr Ruth Campbell, who also called for the Government crackdown to be extended to "meat and potato products particularly high in fat".
NHS Borders public health consultant Dr Keith Allan wants action against takeaway food and chips.
Scottish Conservative shadow health secretary Miles Briggs said: "We want to see Scots helped to make informed choices about their diet – not dictated to by an SNP nanny state."
Ewan MacDonald-Russell, head of policy for the Scottish Retail Consortium, which represents shops and supermarkets, said: "The industry is committed to helping consumers to make healthier choices, but we also recognise it's vital to reduce food waste.
"We believe it's right that food approaching the end of its life should be discounted to minimise food waste.
"Nonetheless, this is one of several issues where the Scottish Government needs to clarify what is most important."
Last year a study concluded some pensioners should be encouraged to eat more fatty foods.
Dr Simon Gabe, a consultant in gastroenterology at St Mark's Hospital, London, said: "Malnutrition is a hidden problem in the UK, but awareness, prevention and detection are key to reducing its prevalence.
"You can have cream in your coffee instead of milk, fry instead of grill, add butter to your scrambled eggs, give that chicken an extra brush of oil before putting it in the oven and stock up on cakes."
The Scottish Government said: "We want to make it easier for people to make healthier choices and reduce the harm to their health caused by poor diet and excess weight."