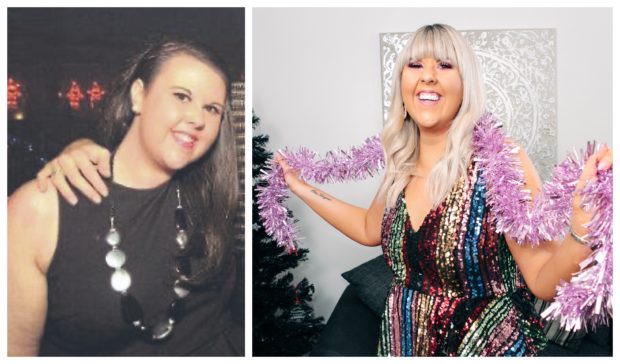 It was supposed to be a reminder of the most wonderful time of the year. But seeing a photo of herself at a Christmas party was enough to leave Katy Donald feeling sick to her stomach.
"I was horrified," said Katy. "I had always been the 'fat pal' but I couldn't believe how big I was.
"I looked like a Christmas pudding.
"Someone posted it on Facebook and I just wanted the ground to open up and swallow me.
"My heart sank and I wanted to delete my account.
"I stared at the picture and the tears streamed down my face. I hated myself."
Katy, 27, from Airdrie, Lanarkshire, was 18st 11 and a dress size 24.
She had been unhappy with her size for as long as she could recall but now, faced with photographic evidence, decided to do something about it.
"We were sitting at Christmas dinner when I told my cousin how I was feeling and she suggested going to a Slimming World class," she said.
"There was one a few miles away in Cumbernauld, so we signed up. It was a family affair for us, all going on a Saturday morning. My mum and dad joined, too.
"I was so embarrassed that I had got to this size – but as soon as I walked through the door, my life changed forever.
"Before, I ate all the wrong things, like crisps and takeaways, everything was deep fried.
"I found dieting hard, but Slimming World slotted so easily into my life. It just made me eat so much more healthily and think more about what I'm putting into my body.
"There are 'free' foods, like pasta that you can eat as much of as you like and you get 15 'syns' every day, so you can still have treats like popcorn and gin in the evenings.
"I lost three stone really quickly and then I got lazy. I still went to class every week but I would gain a few pounds then lose a pound and so on."
Katy's weight yo-yo-ed for the next few years and it wasn't until her now-husband Neil proposed that she edged closer to her target of 12 stone.
She said: "I always thought I was too overweight to ever be happy, that I didn't deserve to find love.
"Neil asking me to marry him gave me a huge confidence boost.
"I realised that by eating the right foods, I could change that if I really wanted to.
"Slimming World made me fall in love with myself and opened my life up to all these possibilities. I was feeling so confident about reaching my target weight a week before the wedding that I ordered a dress in a size 14 – two sizes smaller than I was."
By the time the big day, held at The Three Kings in Falkirk in July, arrived Katy had slimmed down so much that the dress had to be taken in to a size 12.
"I felt like an absolute princess," she said. "And I had my slimming 'family' there as well. Going to the groups is what helped. The peer support has been invaluable.
"I've made some real friends there – I always say I started Slimming World terrified, but left with a family."
Youth worker Katy recently qualified as a slimming consultant and has started running her own classes. Neil has been coming along and lost 5lbs in his first week.
Katy's mum and dad have been at classes alongside her since the beginning and have lost 9st between them too.
"I truly believe slimming has given me a life back that I hadn't realised I'd lost and I'm now ready to help other people lose weight," Katy said.
This Christmas she's accepting invitations to numerous parties – and enjoying shopping for sparkly outfits.
"I used to hate shopping, the choice was so limited. But this month I have a wardrobe of dresses I could only have dreamed of wearing before lined up. This year, I'm embracing the Christmas spirit – and the chance to show off the new and improved me!
"It really is going to be the most wonderful time of the year and I'm going to enjoy every single minute."
---
Visit slimmingworld.co.uk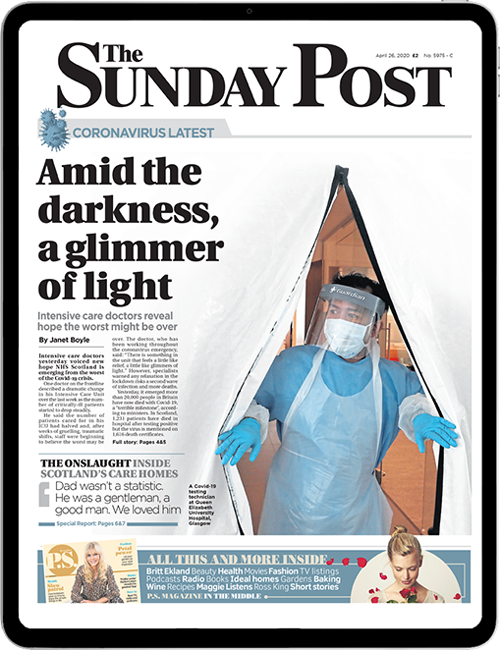 Enjoy the convenience of having The Sunday Post delivered as a digital ePaper straight to your smartphone, tablet or computer.
Subscribe for only £5.49 a month and enjoy all the benefits of the printed paper as a digital replica.
Subscribe