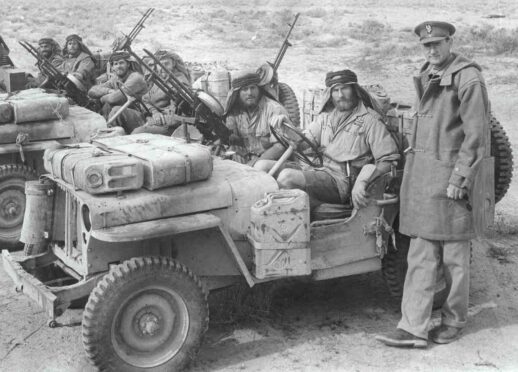 In 2002 a statue was unveiled of David Stirling on land close to where he grew up in Keir, just south of Dunblane.
It is only right that there should be a statue of a Stirling, but it's the wrong brother. It should be Bill and not David who is remembered and immortalised as the creator of the Special Air Service (SAS).
Neither brother was in fact born in Scotland. They were Londoners by birth, but in later life David claimed he had been born in the family home at Keir, the fourth child to Brigadier-General Archibald Stirling, and his wife, Margaret, the daughter of the 13th Lord Lovat.
Their marriage in 1910 brought together two of Scotland's most illustrious families and a year later Margaret gave birth to the first of their six children, Bill.
As the first born, Bill was groomed by his parents as the future laird of Keir, responsible for their vast estate and the money and prestige that came with it. David, who was born in 1915, grew up struggling to attract his parents' attention. He was a shy and sensitive child who was overshadowed by Bill and his other older brother, Peter.
The brothers were sent to board at Ampleforth school in Yorkshire, nicknamed the Catholic Eton. Bill and Peter were a roaring success in the classroom and on the sports field but David was homesick and couldn't wait to leave. He went to Cambridge to study architecture but left after only three terms. By now Brigadier-General Stirling was dead, and Bill was the laird of Keir, juggling his duties with life in the army as a Second Lieutenant in the Scots Guards.
Bill and his mother arranged a job for David with a firm of Edinburgh architects but he didn't last long. A pattern was emerging of David quitting when the going got tough. Mrs Stirling decided drastic measures were needed. She despatched David to America in the autumn of 1938 to work on the ranch of a family friend, Charlie Urmston. He had emigrated from Dunblane to the States and he had become a successful rancher in El Paso.
David was ranching when he heard that Britain and Germany were at war. He came home and was commissioned into the Scots Guards, but he was not a good soldier. David spent more time in the clubs and casinos than he did the lecture room and parade ground. When he did attend lectures he usually fell asleep, and he was nicknamed the Giant Sloth by his fellow officers.
There was nothing slothful about Bill Stirling in 1940. He had pitched an idea to the War Office for a training centre in a remote corner of Scotland where soldiers could be taught the art of guerrilla warfare. Winston Churchill had just replaced Neville Chamberlain as Prime Minister and he loved the idea. The centre opened at Lochailort in June 1940 and thousands of commandos headed north to undergo a gruelling course organised by Bill.
Bill's expertise was soon in demand elsewhere. He was sent to Egypt in January 1941 on a top-secret mission but once in the Egyptian capital he came to the attention of the high command. Lt-General Arthur Smith, the chief of the general staff, hired Bill as his personal assistant. Smith's boss was General Archibald Wavell, the commander in chief of British forces in North Africa.
David was also in Egypt in the summer of 1941. For the last year Bill had looked out for his wee brother. He had brought him to Lochailort to work as his assistant and then arranged for him to join a commando unit in November 1940. David had sailed to North Africa but by June 1941 he was bored and in search of adventure.
David's idea was to form a parachute unit. He did a practice jump but injured his back on landing. Bill visited his brother in a Cairo hospital and the two of them had the idea of forming a parachute force to attack Nazi targets in the desert. It was easy for Bill to present their plan to HQ and the idea was accepted. The SAS was born. The joke was that the initials stood for Stirling and Stirling.
David and Bill fine-tuned their plan at the flat of their brother, Peter, who was also in Cairo working at the British Embassy. One of his colleagues was Charles Johnston, who lodged at the flat. He remembered that David and Bill "acquired military fame in the Middle East as founders of the Special Air Service".
The 66 soldiers recruited to the SAS were all commandos, and many came from No 11 Scottish Commando, among them Robert Blair Mayne, from Newtownards. Mayne had played rugby for Ireland before the war, and he was also a champion heavyweight boxer and qualified solicitor. He and Bill hit it off, but David was intimidated and envious of the Irishman.
The SAS's first raid was scheduled for November 16, 1941, but, just a few days, before Bill was summoned back to Britain by the war office. David was upset. He wrote to his mother to tell her he was "very sad" Bill had left and he also admitted he hated Egypt and hadn't felt so homesick since his school days.
The first SAS raid to attack enemy airfields in Libya was a disaster. Only 21 of the 55 men who parachuted into the desert returned. Stirling's next two attempts to blow up Nazi aircraft also failed. Luckily Mayne, known as Paddy Mayne, was more successful and he destroyed 51 planes in two devastating raids. When he ran out of bombs he climbed into the cockpit of one aircraft and ripped out the controls with his bare hands.
Stirling's bad run continued into 1942. His men couldn't decide if he was unlucky or incompetent. "The funny thing was that all the operations, the big success ones were Paddy's, and David, as much as he tried, couldn't get those planes," recalled sergeant Bob Bennett, who was awarded the Military Medal for his SAS service.
Stirling did enjoy some success in the summer of 1942, but it was usually in the presence of Mayne. Without him he was inept. Mayne wasn't with Stirling when he was captured in Tunisia in January 1943. He and his patrol were caught by the Germans as they slept. Part of Bill was relieved when he heard the news. There was no doubting David's physical courage but it outstripped his competency. "I really think that as David, by all the rules, should have been killed at least 10 times over, a short stay in the bag [captivity] is not a bad thing for him," he wrote to their mother.
Bill by now was a lieutenant-colonel in charge of No 62 Commando, a force which had carried out a number of daring raids on Nazi targets in France and the Channel Islands. In early 1943 they were sent to North Africa and in May 1943 No 62 Commando was reorganised as the 2nd SAS Regiment.
While David languished in a prisoner of war camp, Bill developed the SAS way of waging war while liaising with Churchill, Lord Mountbatten and General Dwight Eisenhower.
He was a greatly respected figure, unlike David, who returned from captivity in April 1945 to discover he couldn't simply resume from where he had left off. Paddy Mayne was in charge, his chest full of medals and his name in a great many newspapers, and he suggested to Stirling that he took a "long leave".
David Stirling was an embittered man when the war ended. For the next decade he had little to do with the SAS and relocated to southern Africa. Then in December 1955 Paddy Mayne was killed in a car crash. Stirling saw a chance to rewrite history.
He returned to Britain and with an American author, Virginia Cowles, wrote his war memoir. It was called The Phantom Major and it created the myth of Stirling as the fearless and brilliant war hero. "Stirling became a legend to the men who served him,'" wrote Cowles. "There was no trap from which he could not fight his way, no occasion on which he could not outwit the enemy… a blackbearded giant with inexhaustible energy."
The book maligned Paddy Mayne, depicting him as a wild, undisciplined and menacing Irishman, while Bill Stirling was marginalised. David glossed over his failures and mistakes and made himself out to be the maverick military genius. He also told some downright lies, such as the one about his being in America in 1938 to train for an attempt to climb Mt Everest.
David was brave, charismatic and imaginative, but all he did with varying degrees of success was to put into practice the innovative ideas of his big brother. "Bill Stirling was cleverer than David," recalled Tony Greville-Bell, a former SAS officer who knew the pair.
"Bill was much quieter and more intellectual and in terms of dealing with authority I think he was better than David. I was very fond of Bill, a very deep, intelligent and well-read man." Bill was also a warm, modest and generous man, who was protective of his younger brother. He was aware of his character flaws, the immaturity and insecurity that David carried through life. That was why he was happy to stay in the shadows and let his brother claim all the credit for the SAS.
But in an era when pulling down statues is all the rage, is it time to erect a new one? Of Bill Stirling, the real hero of the SAS.
David Stirling: The Phoney Major: The Life, Times and Truth about the Founder of the SAS by Gavin Mortimer is published by Constable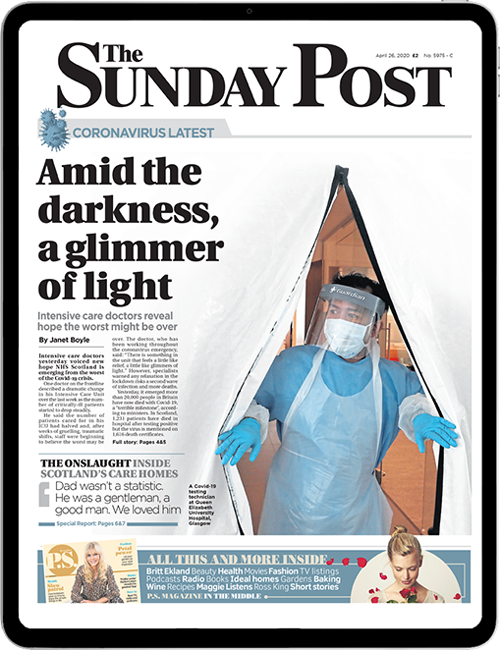 Enjoy the convenience of having The Sunday Post delivered as a digital ePaper straight to your smartphone, tablet or computer.
Subscribe for only £5.49 a month and enjoy all the benefits of the printed paper as a digital replica.
Subscribe