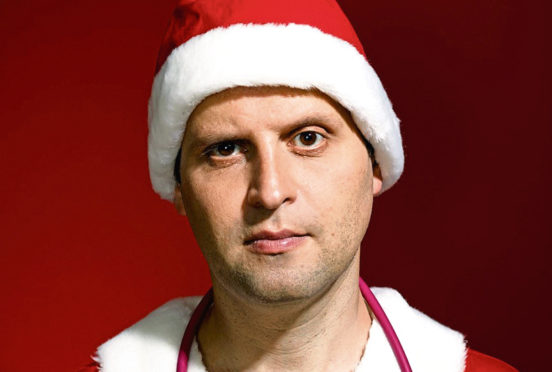 Adam Kay still can't quite believe that This Is Going To Hurt, his hilarious and heartbreaking diaries of his time as a junior doctor, launched him into the literary stratosphere last year.
It outsold Michelle Obama's memoir and shifted 1.5 million copies.
A year on, he's still at the top of the bestseller lists.
"I didn't think the first book would have any success at all," he insists, with an air of bewilderment. "I wanted doctors to be able to read the book and say to their mates, 'This is what it's like, this is why I've missed your birthday parties.'"
Specialising in obstetrics and gynaecology, his diaries recorded the highs and lows of his life as an overworked and often overwhelmed young doctor in an overstretched NHS.
His latest book, Twas The Nightshift Before Christmas, offers more of the same, with necessary bauble removals, fairy light mishaps and turkey bones trapped in tracheas all playing their part.
Today, Kay, 39, has a very different profession as a writer and comedian.
He's embarking on a regional tour, which has almost sold out, and is currently working with his husband, TV producer James Farrell, on an eight-part BBC2 TV adaptation of his first book, which starts filming in the New Year, although he won't be in it.
"We're going to get someone much more handsome," he chuckles.
He's also in a much better state of health mentally and physically than he was when he quit being a doctor in 2010.
"I've got a work-life balance for the first time in my life. If you're in medicine, you don't have time for hobbies or do anything other than your job.
"Now, I make sure I block off time to go on holiday, and that I'm not working every day of the week.
"Also, in my work now, the stakes are zero. If I write a terrible article, what's the worst that can happen? The newspaper doesn't employ me again? But no-one dies."
He quit his job after a Caesarean section went horribly wrong on a shift when he was the most senior person on the ward.
The patient had an undiagnosed placenta praevia, the baby died and the mother lost 12 litres of blood and ended up having a hysterectomy – it was hugely traumatic for Kay, not least because he had been in charge when the emergency kicked off.
When he tried to write up his operation notes, he just cried for an hour.
He continued working as a doctor for a while without laughing, he recalls. He says he should have had counselling. His funny diaries stopped.
Up until then, writing his diaries had been his release.
"I didn't realise it at the time, but that was my therapy, and focusing on the funny stuff. A lot of doctors turn to alcohol or use recreational substances, more than we'd like to talk about.
"Many can't cope and end up leaving their profession, and one doctor takes their own life every three weeks. That should be a headline."
He pursued a new career in writing for television and performing stand-up comedy, which really took off when, in support of the striking junior doctors in 2016, he read from his diaries at the Edinburgh Festival. It was this show which sparked the book This Is Going To Hurt.
Now, he is keen to bang the drum about the importance of mental health among those in the medical profession.
When health secretary Matt Hancock met him last year, Kay stressed the need for more funding for the wellbeing of doctors and staff that work in the NHS.
"Shortly after our meeting he announced there was going to be significant extra funding for exactly that and he namechecked my book as a catalyst for that.
"That's the best thing that's happened to me from the book," he says proudly.
Twas The Nightshift Before Christmas by Adam Kay is published by Picador, priced £9.99. Available now. For dates and tickets for the new live show go to adamkay.co.uk.