Christmas is known the world over as a time for giving.
And a number of generous people in Glasgow are taking the holiday spirit to an even greater level this year, by sharing their homes with the city's young and homeless.
Nightstop, an initiative set up by the Simon Community, helps to prevent homelessness through community hosting, providing a safety net to those forced to leave their home.
Vetted volunteers across the city help to ensure that young people, aged 16-25, who are identified as homeless, have between two nights and three weeks accommodation, in a safe and warm environment.
"We're calling on the people of Glasgow to open their hearts and homes, by helping us help young people in desperate need," explains Lorraine McGrath, chief executive of the Simon Community.
"These young people are often coming from extremely difficult circumstances, and a safe, calm place to rest for the night is critically important.
"Being a host might mean being available as little as one night per month, or more if possible. Each host that joins us is extensively trained, has ongoing support, and all of our work is underpinned with a very significant safeguarding process."
But being homeless is not just a festive pandemic.
According to the Scot Gov Homelessness in Scotland Report, in 2017/2018, 8,884 young people aged 16-25 were homeless in Scotland, with a total of 683 young people applying for emergency housing in Glasgow.
Homeless people in Glasgow also spend the longest periods of time in temporary accommodation, ranging from seven months to 12.
Natalie, 22, who now lives in Motherwell, was homeless for nearly seven years, living in hostels, temporary digs and on the street, before finding out about Nightstop.
She became homeless when her relationship with her father broke down after her mother passed away.
She said: "I was homeless at 16 and I just floated around different places for seven years of my life.
"After my mum died I spent time living with different family members, pals, on the street, couch surfing, and then it was homeless accommodation.
"I found out about Nightstop completely accidentally.
"I was talking to Shelter because I'd been staying at a really bad B&B and they referred me to complex needs for a support worker, but they then realised I didn't have the right criteria for that. It was through that that I found out about Nightstop, thankfully."
Thanks to the process of Nightstop and with support from the Simon Community, Natalie has found herself in positive circumstances which allow her to live out her ambition – a situation which would have been unthinkable had she remained sleeping rough.
"Nightstop has helped me so much," she continued.
"It gave me a safe place to go which then made sure that I could go to college – obviously that would be almost impossible to do living on the street.
"I'm studying law, which is a headache, but I would hopefully like to be a lawyer one day.
"I'll be 30 by the time I graduate, so it's a long while away but I am determined.
"I want to do human rights law, and spend time studying in Holland – they have an amazing course over there I'd love to do as part of my degree."
Natalie, like most 22 year olds, is full of a zest for life and hopes for the future. But she believes, without the help of Nightstop to realise her full potential, she would have been up against the unfair stereotypes and blocks often imposed on young people without a permanent home.
"There is a really bad perception about homeless people," she said.
"I was so worried about going to stay in homeless accommodation myself because of those previous ideas.
"My first thought when I was walking in was that everyone was going to be an addict or really bad, or a thug and social work didn't help with that. They actually made those feelings worse.
"But a lot of people who are there, especially youth homeless, are care leavers or have been failed by social work. So for most people under 26, and even over 26, it's not their fault.
"Anything can make you homeless. Debt can make you homeless, a dodgy landlord can make you homeless. Your house could burn down, or you get a bit of bad luck. It can happen to anyone."
Mirroring these thoughts are Tricia Imrie, assistant director for development at Simon Community, who herself became homeless after the breakdown of her marriage.
"I think it's so important for people to understand that homelessness in the broadest term doesn't mean just living on the street, or that you're an addict, or suffer from enduring mental health issues," she said.
"It runs much deeper than this and most of us are only ever a couple of paychecks away from losing our homes.
"I was homeless after I was divorced. I was lucky because myself and my daughter could be taken in by my family which is tight and close-knit.
"It was a terrible six-month period, but I came through it because I had help, which is what a lot of people who end up on the street don't have."
Tackling this issue however are Nightstop hosts like Geraldine Feeley, 53, from Easterhouse.
She decided to join up after members of her own family lost their homes over the years.
She has accommodated six young people so far.
"There's no pressure to be available, it's completely up to you," she said.
"Being a host is really rewarding, it's nice to know I've done my bit.
"But I'm just one link in the chain, if everyone did their wee bit it could make a huge difference."
Another host, Miriam Anwar, 46, who lives in the south side of Glasgow, decided to become a host after working with Simon Community as a street worker for a year.
She said: "The immediate reaction I get from friends and family when I say I'm going to host a young homeless person is 'Oh my God, will you be safe?'
"I say to people these kids are just like your kids, they are just going through a tough time.
"For me, it's been a really positive experience and if anyone is thinking of becoming a host, I'd say drop your prejudices.
"The impact you can make for someone that's going through a time of upheaval can be immense. It's just about giving someone a bit stability, space and safety.
"Forget about the homeless label – they are just a person too."
---
---
Find out more about Nightstop and the Simon Community here.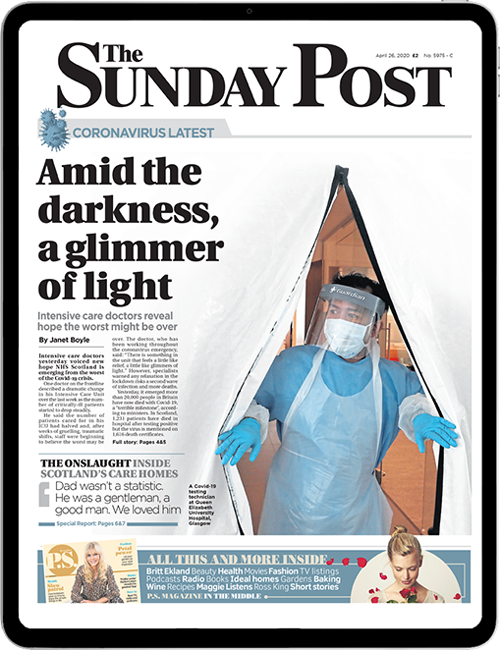 Enjoy the convenience of having The Sunday Post delivered as a digital ePaper straight to your smartphone, tablet or computer.
Subscribe for only £5.49 a month and enjoy all the benefits of the printed paper as a digital replica.
Subscribe