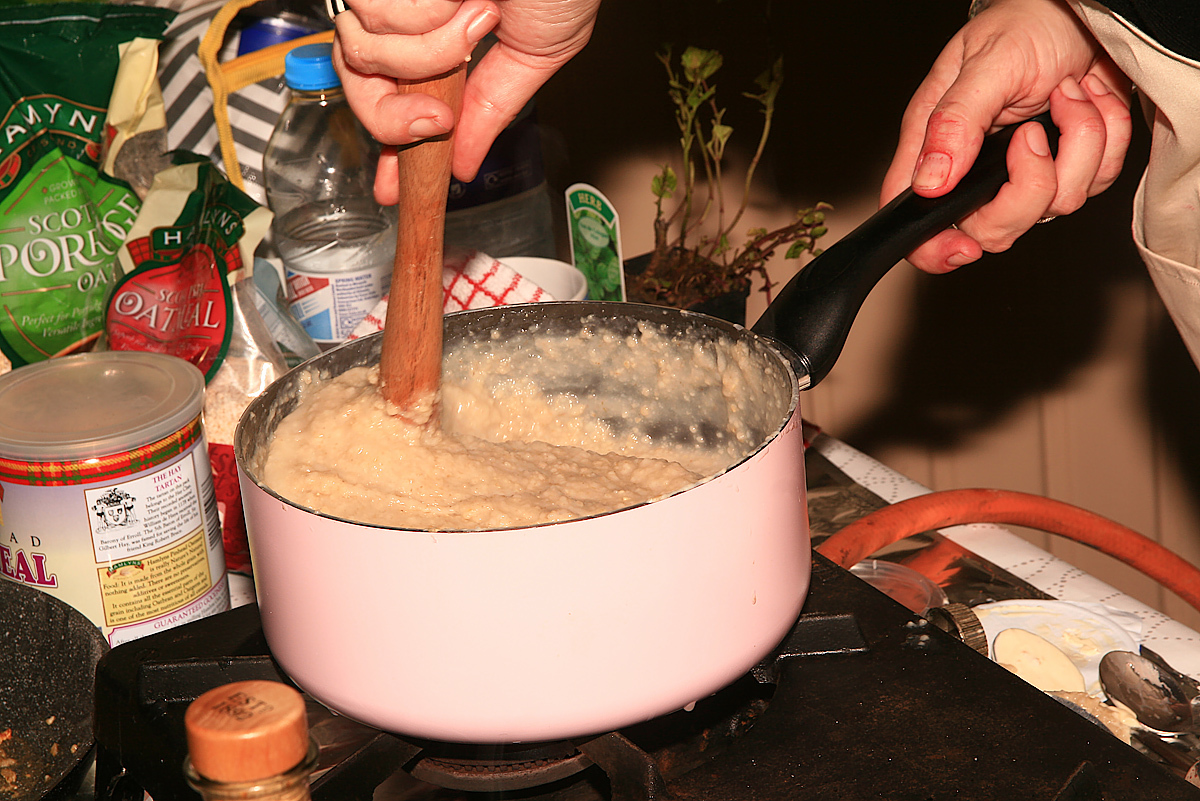 ENTRIES open tomorrow for the 25th annual World Porridge Making Championships.
Organisers of the competition, which takes place in the Highland village of Carrbridge, are anticipating a high level of interest from porridge aficionados from all over the world.
The October event will see professional and amateur chefs, food producers, food bloggers, small business owners and home cooks vying for the coveted title of World Porridge Making Champion and, of course, the Golden Spurtle trophy.
The winner will be the contestant deemed to have made the best traditional porridge using just three ingredients – oatmeal, water and salt.
The current champion is Swede Ellinor Persson, who runs foodie tours in the woods, fields and speciality restaurants around her local town of Halmstaad in her spare time.
Ellinor, who is planning to return to Carrbridge to defend her title, won the 2017 championships in an international field which also included competitors from the USA, Russia, Switzerland, Holland, Iceland and from across the UK and Ireland.
As well as the traditional porridge competition, there is also a speciality category for oatmeal combined with any other ingredients, leading to a wide variety of sweet and savoury entries.
The current speciality winner is also a Swede, Per Carlsson, who impressed the judges with his dish of Nordic Porridge – Caramel Sweet and Sour, a porridge made with oatmeal, cloudberry liqueur, orange peel and whipped cream.
The World Porridge Making Championships is organised by Carrbridge Community Council, and is sponsored by Hamlyns of Scotland, producers of Hamlyns Scottish Oatmeal and Hamlyns Scottish Porridge Oats.
Organiser Michelle Green said: "It's hugely exciting for the World Porridge Making Championships to be celebrating our 25th anniversary, and we have lots of special things planned alongside the competition including a food fayre, a commemorative recipe book, featuring some of the recipes from the last 25 years, and a cookery demonstration in the Village Hall the night before the event."
The Rules
The World Porridge Making Championship title is awarded to the competitor producing the best traditional porridge, made from oatmeal [pinhead, course, medium or fine].
The traditional porridge must be made with untreated oatmeal and not with oat flakes and with only water and salt. The judges will be strict on these rules.
Each competitor is required to produce 1.5 pints or 750ml of porridge which is to be divided into three portions for the judges to taste.
Judging of the porridge will be made on the consistency, taste and colour of the porridge.
Competitors who prefer to 'soak' their oatmeal may do so, but no prior cooking is allowed.
For the speciality porridge, the blending and harmony of the porridge with the other ingredients will be the criteria used.