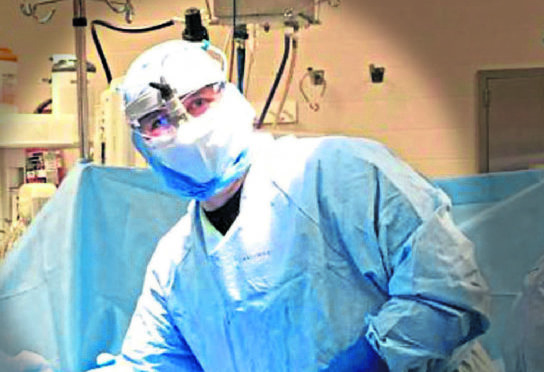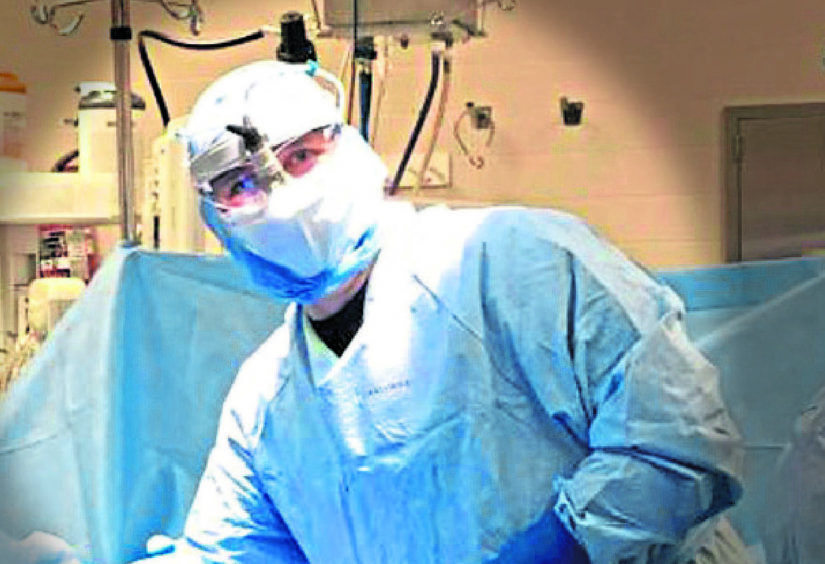 The world-leading surgeon who operated on Claire Daisley has voiced frustration at delays in his proposed trip to Scotland to train surgeons and help other mesh-damaged women.
Dionysios Veronikis has been in ­discussions with Scots medical officers since June when Health Secretary Jeane Freeman finally accepted his offer to help, six months after mesh victims urged her to invite him to Scotland.
However, after months of fruitless ­discussion about arrangements, he has now written to Scottish Government's deputy chief medical officer Terry O'Kelly, copying in Ms Freeman, to explain the lack of ­progress is nothing to do with him.
Dr Veronikis says he is at the end of his tether after offering numerous dates when he could come to Scotland to treat women and for surgeons to come to the US to see his world-leading mesh removal techniques.
He said: "I made the offer in good faith because I do not want to see mesh-injured women suffering in pain when I can do something about it.
"I am not a politician. I am a surgeon. All I want to do is help mesh-injured women. I do not understand why this situation is continuing with no progress. I said in January that I would come to Scotland and work with clinicians to help ease the mesh crisis and offer training to surgeons so they can prevent future suffering. But, despite repeatedly making myself available from my busy operation schedule, often as early as 6.15am, to make conference calls with Scottish Government officials, there has been no progress.
"I have given several dates when I am available to come to Scotland, and have given several dates for surgeons to come here. Nothing positive has materialised and we are no further forward.
"It is extremely frustrating, which is why I have now sent correspondence directly to the Health Secretary."
In his letter, he reveals a series of calls and emails intended to pin down dates for Scots surgeons to visit him in Missouri before he came to Scotland has led nowhere.
Dr Veronikis writes: "I trust you would agree with me that I have been more than accommodating to talk, email and text as well as accommodating all requested visit dates. I have gladly participated in all the scheduled conference calls as requested. I would request that if any accountability for the lack of progress is asked for, then none of it is remotely directed towards me in any way, shape or form."
Yesterday, politicians accused Scottish surgeons and officials of needlessly delaying his trip and demanded the intervention of Ms Freeman.
She had ordered Mr O'Kelly and his boss Chief Medical Officer Catherine Calderwood to arrange the visit.
MSP Neil Findlay is demanding an urgent meeting with Ms Freeman over the scandal. He was ejected from Holyrood after accusing her of lying about the planned reintroduction of mesh in Scotland after she denied a group led by Mr O'Kelly was discussing its return.
"This surgery did not just change my life, it saved my life": Mesh victim hails kindness of surgeon and supporters after trip to US is arranged days before she lost an organ
After her vehement denial of a Sunday Post story revealing the plan was questioned, mesh campaigners urged her to apologise and resign. Within days, she said Dr Veronikis would be invited to Scotland, six months after he made his offer to help. Mr Findlay said: "Government officials appear to be instigating delay after delay instead of doing everything they can to get Dr Veronikis here as quickly as possible.Claire's operation in America is the clearest possible argument for Scottish surgeons learning from Dr Veronikis and mesh-damaged Scots benefiting from his skills.
"In Scotland, she had been told her mesh had been completely removed when two-thirds of it remained in place. She was told she would lose her bladder and bowel when Dr Veronikis has apparently saved both.
"I'm demanding an urgent meeting with the Health Secretary. She must speak directly to Dr Veronikis to end this farce."
Former Health Secretary Alex Neil last night called on Scotland's most senior civil servant to get involved too.
He said: "It is now incumbent upon Permanent Secretary Leslie Evans to intervene and point out to these officials that it is their job to carry out the orders of ministers. In addition, those officials must think again about who is involved in this. The women have made it clear they do not want anyone near them who did the damage to their bodies in the first place."
The American surgeon, whose clinic is at the Mercy Hospital, St Louis, is concerned at the delay. He said: "My patients book several months in advance and, while I have made this genuine offer to come to Scotland, I simply cannot pack up and go at a moment's notice. Proper planning needs to take place.
"I have to wonder, do the Scottish officials and surgeons want me to come to Scotland? If they do, I am more than happy to do so. But if they don't, they should say so and we can get on with our busy lives."
He added: "Mr O'Kelly has been a ­delightfully pleasant man to chat to but there has been no progress for the mesh-injured women of Scotland or for those surgeons who may want to learn."
In his letter to Jeane Freeman, the ­surgeon states that until Scottish Government officials make firm arrangements, that process cannot take place.
He said it is now up to the government to facilitate the GMC registration process as he cannot take the matter further.
Dr Veronikis said his credentials for the GMC have already been accredited by the International Accreditation Council and are available "electronically at the touch of a button" along with the required letters of "good standing". But, until firm dates are made for him to come to Scotland by government officials, he can do no more.
He said: "The GMC process from my end has been completed for some time."
His letter reveals delays occurred because one of Scotland's mesh experts, Dr Karen Guerrero, "had yet to declare that she wanted to be part of this exchange".
Dr Guerrero is lead urogynaecologist for NHS Greater Glasgow & Clyde, one of the two health boards that flouted Scotland's 2014 mesh suspension and continued implanting more than 700 more women.
The Scottish Government said: "We sympathise hugely with Ms Daisley and every woman who has suffered pain and life-changing complications caused by mesh implants. In each case, treatment will be dependent on the individual.
"With regard to bringing Dr Veronikis to Scotland, it is essential a process of due diligence is conducted. This involves professional review. Registration with the GMC, and licence to practise in Scotland cannot be granted until this is completed.
"Scottish Government officials have been engaged to organise a visit to USA to meet with him. This will take place as soon as possible."
THE OUTRAGE: Victims say health secretary has little to be proud about
Health Secretary Jeane Freeman used a recent interview to insist her proudest achievement since taking office was suspending use of mesh.
That has not impressed mesh-damaged Scots however, who say that, despite meeting with Ms Freeman face to face to tell her what they need to regain their lives, they have received little but warm words.
The delays in bringing Dr Veronikis to Scotland are, for many, the last straw. Elaine Holmes, of campaign group Scottish Mesh Survivors, said she was "sickened" by the response, particularly as so many mesh-injured women here have been told they have had full implant removal when in fact only partial removals have been performed.
She said: "The best surgeons never stop learning. That is why we need Dr Veronikis here now."
The Sunday Post raised £20,000 from generous donors to fund Claire's life-changing surgery in the US.
One of them, Patrick McGuire of Thompsons Solicitors, said: "I'm delighted to have been able to help Claire receive the life-changing surgery she so desperately needed. But it saddens me greatly that our government is not doing everything it can to get Dr Veronikis to Scotland so he can treat others and train our NHS surgeons to ensure all our mesh injured women get the chance of the miraculous surgery he has carried out on Claire.
"Mesh victims suffered devastating injuries when they went for surgery described by NHS surgeons as a simple procedure. Claire is living proof of what Dr Veronikis can do."
Mum of three Karen Neil, 54, from Clydebank, who travelled to St Louis to accompany Claire before Dr Veronikis offered to operate on her too, said: "I'm dismayed by Jeane Freeman's response to what is becoming recognised as the biggest health scandal of modern times. She may be proud of her achievements, but those of us who have been forced to live in such pain are far less impressed."
---
THE PATIENTS
Maggie Brotherston
The three other Scots who have travelled for surgery in St Louis reveal how skills and experience of Dr Dionysios Veronikis have transformed their lives.
The first Scottish woman to travel to the US to see Dr Veronikis said: "He saved my life.
"Now all I want to see are all the other mesh-injured women being helped by this incredible man."
Environmental campaigner Maggie Brotherston, 63, from Argyll, said: "Without Dr Veronikis, I really don't think I'd still be here. I was in so much pain my life was filled with despair.
"But, just three months after surgery, I'm back sailing, taking the dog for long walks, and I was even wild swimming in the sea the other day."
In June, Maggie used a £15,000 inheritance from her mum Helen to see Dr Veronikis after realising NHS surgeons could not fully remove the mesh implant used to treat bladder issues following childbirth.
Lorna Farrell
Former radio presenter Lorna Farrell, 54, from Eaglesham, who crowdfunded her £16,000 treatment in the US last month, said: "I'd been told the NHS had removed all my mesh.
"But Dr Veronikis managed to remove the 15cms left inside me, and he has restored my trust in surgeons.
"The NHS partial removal had left me in worse pain and caused even more damage internally, so Dr Veronikis faced a tough job and I need time to heal.
"I can't understand why the government is delaying getting Dr Veronikis to Scotland.
"Why are obstacles being placed in his path?
"For me, the most wonderful thing about truly being mesh free, is not having to worry about developing cancer or dying from sepsis caused by one of the many UTIs that were a part of my life for almost 11 years."
Karen Neil
Mum of three Karen Neil, 52, from Clydebank, who planned her own suicide she was in such pain, accompanied Claire Daisley to St Louis when Dr Veronikis said he would help her too.
She said: "Every minute the Health Secretary delays getting Dr Veronikis here is another minute a mesh victim could be in danger of dying from sepsis.
"I lived in agony, hour to hour, forcing myself to keep going for the sake of my family. I could not believe it when Dr Veronikis insisted on helping me. He removed almost 15cm of mesh and carried out extensive internal repair work.
"I'll have a long recovery but for the first time in years I have hope that every day is a new day towards getting my life back."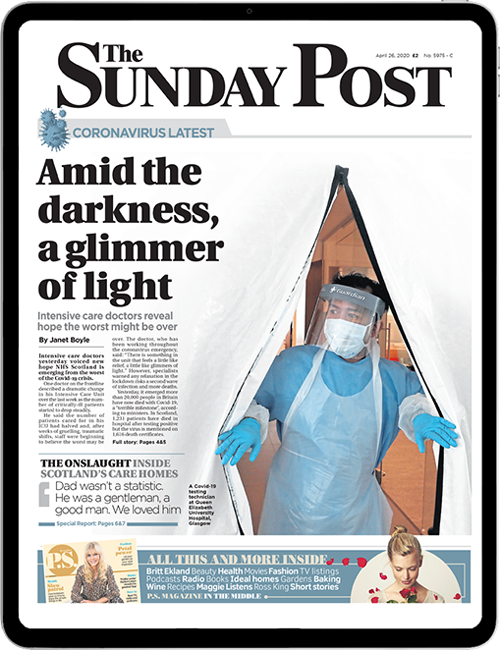 Enjoy the convenience of having The Sunday Post delivered as a digital ePaper straight to your smartphone, tablet or computer.
Subscribe for only £5.49 a month and enjoy all the benefits of the printed paper as a digital replica.
Subscribe