Ever wondered what happens to your food waste when it's put out for recycling?
Well, one household's weekly food waste can be converted into enough green energy able to power two loads of washing and a single banana peel can charge a mobile phone twice!
On World Environment Day, the Scottish Government is calling on people throughout Scotland to help transform enemy to energy by reducing and recycling their food waste.
Households are currently responsible for 600,000 tonnes of food waste in Scotland, but through local collections it is being put to good use.
The anaerobic digestion (AD) facility Energen Biogas in Cumbernauld is at the forefront of this conversion.
It recycles 17,000 tonnes of household food waste each year, converting it into green electricity. This is then put back into the grid to help power Scottish households.
The Cumbernauld plant now generates enough to power over 5,500 homes and supplies local farmers with bio-fertiliser for more than 1,000 hectares of land.
Energen Biogas is just one of nine Scottish AD sites helping to reduce the amount of food waste going to landfill by creating renewable energy via AD.
The electricity generated is exported to the national grid, and some of the biogas produced is injected into the national gas grid network.
Robert Etherson, Managing Director at Energen Biogas, said: "Food waste that is sent to landfill is a major contributor to harmful greenhouse gases in the UK. We want to show the nation just how valuable their food waste can be if recycled properly.
"Here at Energen, we transform potentially harmful food waste into green energy. It's certainly not the most glamorous of process, however, its crucial in the fight against climate change and puts Scotland at the forefront of food waste recycling."
Alison McKinnie, Project Manager at Zero Waste Scotland said: "It's positive to see the nation paying attention to the current global climate emergency. The best thing people can do to combat food waste is reduce how much food they throw out in the first place, through steps such as better planning of food shopping.
"Some food waste is unavoidable, however, such as banana peel or apple cores. When this food waste rots in landfill it produces methane, which is one of the most damaging greenhouse gases.
"Recycling this unavoidable food waste can prevent that from happening and turn this unavoidable food waste from a problem into something positive. Over half of Scottish households are now recycling their food waste but more needs to be done. Our aim is to increase that figure in 2019 and beyond.
"AD plants are testament to what amazing things we can achieve from something as simple as effectively recycling our unavoidable food waste and it's great to see that in action here."
Zero Waste Scotland and the Scottish Government have published a Food Waste Reduction Action Plan, which aims to reduce the nation's food waste by a third by 2025.
Most of Scotland's food waste is generated by households, and is recycled via local food waste collections.
Food caddies are provided by local councils which are collected and transported to the AD and composting facilities.
These AD facilities use microorganisms to break down food waste. As food waste breaks down it gives off methane gas, which is collected and converted into biogas and used to generate electricity, heat, gas for the national gas grid or transport fuels.
People should recycle food waste in the caddies, and any food packaging should be recycled via the other recycling services provided by local councils.
Environment Secretary Roseanna Cunningham said: "Food Waste is a global issue with an estimated 1.3billion tonnes wasted every year. Whilst some food waste is unavoidable, it is important that the people of Scotland understand how they can make a positive impact on their environment by reducing the amount of food they waste and recycling unpreventable food waste.
"I want everyone to be empowered by the message that a behaviour change as simple as choosing to recycle food waste can convert it from being extremely harmful to the environment to something that becomes beneficial both as green electricity that can be fed back into the national grid and as good quality natural fertiliser that will help crops to grow."
---
For tips on reducing and recycling food waste, visit greenerscotland.org.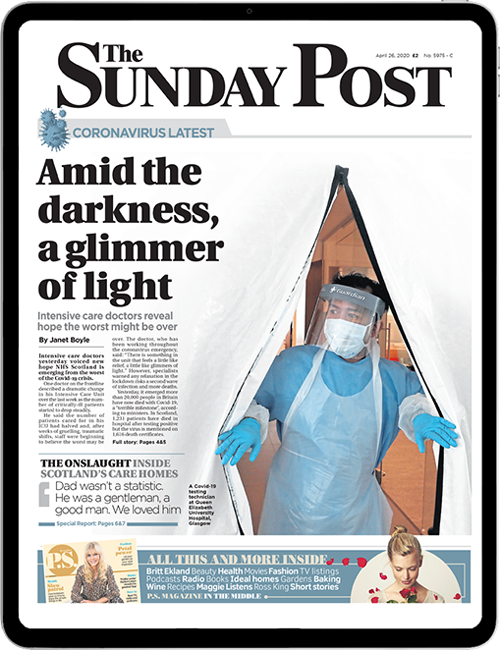 Enjoy the convenience of having The Sunday Post delivered as a digital ePaper straight to your smartphone, tablet or computer.
Subscribe for only £5.49 a month and enjoy all the benefits of the printed paper as a digital replica.
Subscribe