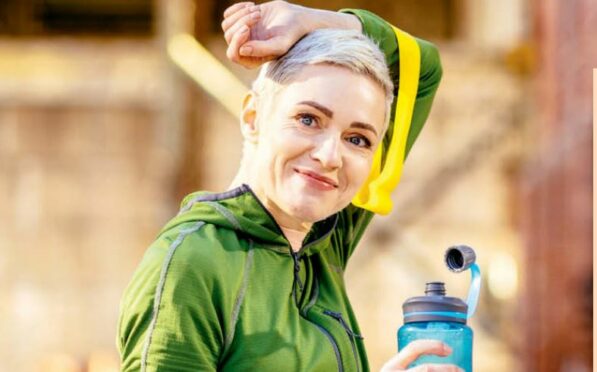 The onset of menopause can turn a woman's life on its head. From hot flushes, brain fog and night sweats to mood swings and a slow metabolism, the symptoms can be debilitating.
The last thing you'll feel like doing is factoring in fitness.
But experts say exercise can actually help – you just need to work out how to fit a workout into your life.
Glasgow-based personal trainer Caitlin Fitzpatrick's clients are predominantly female, with many going through the menopause or perimenopause, the transitional phase when symptoms can begin years before the menopause starts.
"The hormones and body shape start to change as you get older. And when you get to the menopause, you have to look at your whole lifestyle – not just working out, but what you're doing with the 23 hours of the day that you're not!"
Menopause fitness coach Katie Morris explained that with the hormonal fluctuations occurring during menopause, the body's ability to gain and retain muscle and bone mass diminishes. Essentially, it breaks down muscle and bone mass quicker than it can build and repair, hence the need to address and the importance of lifestyle factors.
"Also, the changes in levels of oestrogen can mean women are more prone to storing fat around their waist and thighs," Morris said.
"We should all be preparing for the transition sooner rather than later, just to be sure we are as strong as possible – mentally, physically and emotionally.
"The earlier women put a plan in place, the smoother the journey will be. A study showed muscle mass decreased starting in the third decade, though a noticeable decrease in absolute skeletal muscle mass was not observed until the end of the fifth decade", and by this time women are almost fighting a losing battle.
"The good news is results can be achieved and both muscle and bone mass retained and gained."
Fitzpatrick, 26, who runs her business, Ultimate Coaching, said: "Personal training is coaching the person, not the process. Everyone is completely different. From genetics to eating habits to socialising to lifestyle…it's all part of it. Fat loss looks different for everyone.
"The gym is only 20% of your body change. Food will dictate your body fat and the gym will dictate your body shape. It's about parenting yourself – have three square meals a day, make sure you get enough sleep and enough exercise.
"The main thing when it comes to workouts is thinking how that person feels that day and managing their workout accordingly. Some people are better in the morning, others have less symptoms in the evening and prefer to work out then. Some prefer the gym, others would rather work out at home," Fitzpatrick said.
But either way, she suggests less cardio and high impact activities, focusing instead on balance and strength.
"High impact can strain the heart and isn't necessarily good on the joints because of osteoporosis and lack of elasticity in the joints in the menopause. So we do things like lifting heavier weights, or doing more reps of weights."
Morris says working out can help with the symptoms. "There are no 'hormone' or 'menopause' specific exercises that are guaranteed to reduce symptoms. That being said, research shows a clear correlation between menopausal women who exercise regularly and a reduction in symptoms, particularly vasomotor symptoms," she said.
Both coaches suggest three full body workouts a week. And maybe a few more baths a week if you are taking longer to recover from exercise. While there's a need to stay fit, they stress finding "me time" is all part of the balance.
"It's easier said than done, when you're a busy, working mum that's forgotten how to make herself a priority," Morris said. "However, if you can factor in some time for yourself and do whatever makes you calm and relaxed, whether that be exercise, a movie, time with friends, a walk in nature, you'll notice a difference in your symptoms, the severity and the frequency."
'Some days I just adapt to suit my mood'
When former triathlete Vicky Begg realised she was experiencing early menopause symptoms, she had to cut back on her workouts.
And now the sports coach helps other women going through a similar change to stay in the competition.
Begg, who retired competitively 15 years ago, went back to university in 2016 to study a Masters in sports psychology.
A few years in, she started to experience anxiety, sleeplessness, sore joints and brain fog.
And by the time she got to her dissertation, she was convinced it was perimenopause.
Begg has learned that the menopause not only physically affects our bodies, but our psychological abilities in sport too, with things like low self esteem and lack of motivation.
The 45-year-old has had to make significant changes to her fitness plans, altering both the volume and intensity. And now she does the same for her clients.
"I get sore thumbs which make it difficult braking on the bike and cramp in my feet which makes swimming difficult," she said.
"Some days I am just not feeling it. It would be easy to just leave the workout but instead I adapt it to suit my mood.
"It's all about how you feel, so if you don't feel like a run, go for a walk instead."
Begg and pal Kelly Ludwig have teamed up to arrange a series of talks on menopause, in a bid to educate women before the symptoms start to show.
The next Let's Talk, Menopause Matters will be in Glasgow in May.
---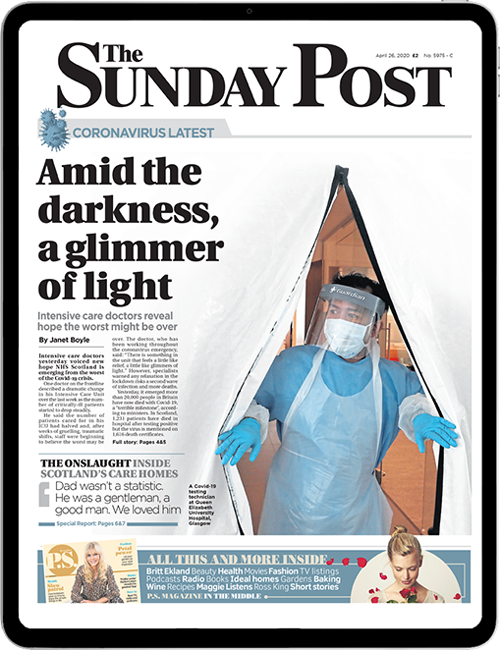 Enjoy the convenience of having The Sunday Post delivered as a digital ePaper straight to your smartphone, tablet or computer.
Subscribe for only £5.49 a month and enjoy all the benefits of the printed paper as a digital replica.
Subscribe