As the singalong jingle ends, Radio Lollipop volunteer Raymond Watson slides up the mics and talks to the young patients at Glasgow's Royal Hospital for Children.
It's a Wednesday night, and the team of volunteers at the hospital radio station are beginning their two-hour stint mixing music with art and crafts, toys and games on the wards to bring smiles to the faces of children when they need it the most.
"We believe in the healing power of play, and the radio studio is the biggest toy we have in our box," says Raymond.
"It's been scientifically and medically proven that a happy child gets better more quickly."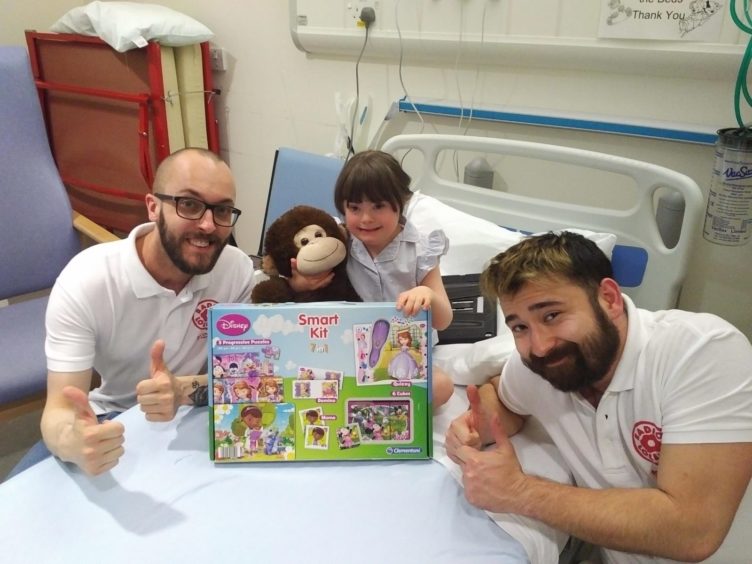 Described as "really helpful clinically" by Great Ormond Street Hospital psychologists, the ever-expanding service is going from strength to strength, song by song.
And, asked ahead of the move across the city from Yorkhill to the Queen Elizabeth University Hospital campus, Radio Lollipop was one of the services which young patients were most keen to retain.
"We're all about interacting with the children and their families," says Raymond. "Sometimes the brother or sister can feel a bit isolated so we always include the siblings as well.
"There's a few volunteers here who have been patients and want to give something back. Each night there's at least one who's been a patient or has had a family member in here or at Yorkhill.
"It's a cross-section of life we have, businessmen and students to people who have retired."
A supervisor at Slaters menswear store by day, the 59-year-old becomes Rabbitin' Raymond every Wednesday night as he takes to the airwaves.
Raymond is the only one of the 42 -strong team of volunteers who has been with the Glasgow station since day one in 1991, when the first song played was 2 Unlimited's Get Ready For This.
"When we started with a studio we were using vinyl," he says. "Technology has taken over considerably, and we're now coming through the televisions as opposed to speakers.
"At no time have we ever used headphones. If you're using headphones you're just lying there listening to music, not engaging.
"For every month a child is in hospital, educationally they regress a week so you've always got to stimulate their mind.
"We have competitions, theme weeks, questions, name as many songs connected with science or space something like that, and it all gets them to think."
Families flood Radio Lollipop's email inbox with requests and shout-outs, and tonight one boy wants to hear the Monster Mash.
"He's had an operation today so hopefully he'll be through from the anaesthetic and he'll get to hear it," says Raymond. "A lot of the children are sitting waiting for you coming up, especially when they've been in long term. Every night's Christmas for them.
"When they see us come up on the wards they think, great, they're not going to take any blood off me or anything."
Radio Lollipop was launched 40 years ago at the Queen Mary's Hospital for Children in Surrey, and now has more than 10,000 volunteers worldwide.
It has branched out to medical facilities all across the UK and to Australia, New Zealand and South Africa.
Hospitals in New York and Hawaii will soon get their own stations, and in Scotland the Glasgow volunteers are joined by teams in Dundee and Edinburgh.
Looking back on almost three decades spent with Radio Lollipop, Raymond has plenty of special memories.
From water fights with toy syringes to doctors and nurses joining in with a game of Twister – on an orthopaedic ward of all places – he says his time has been packed with magic moments, and there's no way he'll be giving it up any time soon.
He recalls: "At Yorkhill there was a young boy involved in a road accident, run over by a truck or a bus. When he arrived his parents were told to expect the worst, an hour, two hours at most.
"That time came and went and it was hour by hour. He was in for about seven months and I watched that boy walk out, saying he was finally away home.
"There was also one wee boy that had emotional problems and was very withdrawn. He asked if he could sing I'm Outta Love by Anastasia. It's a big voice for that song, and this is a small, small kid. He boomed it out. Gradually he came up more and more and sang more songs. We got an incredible letter from his parents thanking us for helping him to come out of his shell.
"You get moments like that which are magical."
When he started out, Raymond thought it would be something he could be a part of for a while and just see how it goes.
"I'm still here, 29 years later," he laughs. "When you're not here, even if I'm abroad on holiday for a week I think 'I should be at Lollipop tonight' and I feel guilty about missing it.
"You get a lot more out of it than you put into it and that's because the families are absolutely amazing and so grateful of what you're doing. We're not doing anything special, just giving up two hours of our time one night a week to try to entertain a child in the hospital who's going to be a bit fed up."
Raymond is extremely proud of the team he has working with him, and for the fact that everyone across the organisation worldwide, from the founders and directors down, give up their time for free.
"I'm lucky enough to now be the chairperson and the team I have are exceptional. I'm so proud of them. I'm lucky and the hospital's lucky to have them."
And the best thing about being a part of Radio Lollipop?
"You get to be as daft as you like and nobody bats an eyelid. The crazier you are the more they enjoy it."
---
 I know how much songs mean to kids on the wards. I was one of them
Stuart Macaulay, 23, first came across Radio Lollipop while a patient at the hospital himself. He was a regular visitor, having had a heart condition since birth.
"My earliest memory was when I was in hospital for surgery," he recalls.
"The volunteers came up to the ward with some arts and crafts and put the radio on.
"It really just helped make the following few hours of that evening fly by."
The way that the voluntary service helped give him good experiences and memories from what were otherwise tough times led to Stuart wanting to get involved himself.
"My main reason was to be able to give something back to the charity," he says.
Stuart, who is now a freelance presenter with a show on Barrhead station Pulse 98.4, says he has many special memories.
But two instances will stick with him forever.
"The first one was a patient who was in a wheelchair and couldn't walk or speak. A week passed and he started to interact with us – still unable to speak.
"The hospital got him a text-to-speech device and the next week we had him down in the studio and he gave out a big cheer. I'm sure this was the first time he'd managed to speak or project at that volume himself.
"Then the following week, he started walking again. His dad now volunteers for the charity.
"My second one sums up just how silly it can be. We had a patient visiting the studio who was my co-host and we got on great.
"The following week I was in the studio and doing the show when the phone rang – it was the girl from last week.
"I asked her if she would like to come down to the studio and she told me she got home a few days after we had met.
"She called me to let me know about the week she had and how she saw Little Mix, and it made me realise just how much the charity means to those kids who experience it."
---
Toys, smiles, hugs… I love my job
Catherine Caughie has been a volunteer at Radio Lollipop for 18 years.
"It's great fun, you feel like you're five again and you just want to play with the toys, the paint and the games," she laughs.
"When I go up on the wards and you play with a child I think that, no matter what they're in for, it's lovely just to see a smile on that kid's face and that you've made a difference. There's nothing like it.
"It's for the families as well. It's about the child, of course, but the families appreciate you. They're sitting there, maybe all day, and you're the first adult they see who isn't part of the medical staff and they just give you a massive hug. It's about being a bit of a comfort to them.
"Obviously it can be tough, you're in a sick kids' hospital and not everybody makes it, but you're making a difference."
One of several day-job colleagues whom Raymond has inspired to join Radio Lollipop, 39-year-old Catherine serves as the station's volunteer coordinator, interviewing potential new recruits and finding new presenters to join the family.
"We've got so many volunteers here who have been here for years and I think that speaks volumes," says Catherine.
"The fact that people have moved with their careers but actually have found a local Lollipop station says it all."
The charity holds a recruitment day today in a bid to add to the team.
"Come along, it will genuinely change your life," Catherine urges.
"You'll make a difference to a sick child in hospital and there's no greater privilege or honour than being able to do that.
"It's two hours, one night a week. What would you be doing with that?"