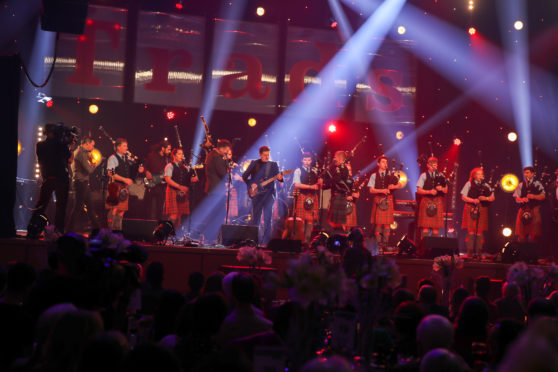 The depth and breadth of Scotland's trad music scene was celebrated at a glittering awards ceremony in Aberdeen last night.
The MG ALBA Scots Trad Music Awards, broadcast live from Aberdeen Music Hall, honoured the country's rich cultural heritage and flourishing folk scene.
Hosted by world-renowned Gaelic singer Mary Ann Kennedy and award-winning musician Kim Carnie, guests enjoyed live performances by trad music heroes including Skerryvore, Session A9, Benedict Morris, Heisk and Sian.
Kinnaris Quintet scooped the biggest award on the night, The Belhaven Bursary for Innovation in Scottish Music, which supports the winner to progress unique ideas and empower creation.
Financially matched only by the Mercury Prize, the prestigious fund of £25,000 was awarded to the group, making them the first all-female band to win the prize.
Breabach were presented with the Album of the Year Award for their sixth album, Frenzy of the Meeting.
Presenter on the night Mary Ann Kennedy scooped up Gaelic Singer of the Year, and adding to her list of Trad Award accolades was Jenna Reid, who won Composer of the Year battling against an all-female shortlist.
Jenna's group Blazin' Fiddles were also awarded Folk Band of the Year.
Following ten consecutive sell outs, Tiree Music Festival picked up the award for Event of the Year. The popular and deserving winner has contributed £6.4 million to the small island economy.
Dubbed by Rolling Stone as 'forward-thinking folk music' Man of the Minch took home The Up and Coming Artist of The Year award, which recognises fresh and promising talent.
After a whirlwind year of wowing crowds at Belladrum and preparing to kick off 2020 with sold-out shows across the UK, trio PEAT & DIESEL picked up the award for Live Act of the Year.
Club of the Year went to Sutherland Sessions, a newly formed organisation who provide opportunities for young local musicians to play live music and bring local, national & international musicians to Sutherland.
The sought-after Citty Finlayson Scots Singer of the Year sponsored by Traditional Music and Song Association went to Steve Byrne.
Event founder and promoter, Simon Thoumire, said: "It has been another fabulous year at the MG ALBA Scots Trad Music Awards. Another great set of winners which include all the new Scots Trad Music Industry Award winners as well! Our scene is in good shape!"
Communications Manager for MG ALBA, Murdo MacSween, said: "It's been another wonderful year for Scottish traditional music, and we're delighted that MG ALBA was yet again at the heart of this celebration of our world-class talent.
"BBC ALBA is an amazing platform for the fantastic acts recognised tonight and we look forward to continuing to showcase them on our screens in the years to come."
Alan Morrison, Head of Music, Creative Scotland said: "Yet again Na Trads prove that Scotland has an age-old music which lives and breathes in the 21st century.
"This year's winners include grassroots heroes and international stars, acts who have blazed a trail for decades and others who are just starting out on a promising career. Congratulations to them all – and to every one of the nominees who make our music the envy of the world.
"Congratulations too to Iain Ruari Finlayson, winner of the Youth Music Initiative's Music Tutor of the Year award, whose work with Skye Youth Pipe Band takes Scotland's most distinctive instrument to the next generation of players."
The evening also included a number of exclusive recognitions including The Hamish Henderson Services to Traditional Music Award Sponsored by Edinburgh Folk Club where Dr. Peter Cooke was praised.
The Services to Gaelic Award, Sponsored by Bòrd na Gàidhlig, was presented to Anne Soutar.
The Janet Paisley Services to Scots Language Sponsored by Scots Radio was presented to Sheena Blackhall, well known for her poetry.
The evening continued through to the early hours with Ceilidh Minogue and The House of Song led by Doris Rougvie.
The evening was broadcast live on BBC ALBA and is repeated Sunday 8th December at 8.55pm with unseen footage shown on a special highlights show on 27th December at 9pm.
The winners in full:
Album of the Year sponsored by Birnam CD
Frenzy of the Meeting by Breabach
The Belhaven Bursary for Innovation in Scottish Music in association with Showcase Scotland Expo
Kinnaris Quintet
Club of the Year sponsored by Traditional Arts and Culture Scotland
Sutherland Sessions
Composer of the Year sponsored by PRS for Music
Jenna Reid
Community Project of the Year sponsored by SKIPINNISH
SEALL Festival of Small Halls
Event of the Year sponsored by VisitScotland
Tiree Music Festival
Gaelic Singer of the Year sponsored by The Highland Society of London
Mary Ann Kennedy
Musician of the Year sponsored by The University of the Highlands and Islands
Jenn Butterworth
Live Act of the Year sponsored by Greentrax Recordings
Peat and Diesel
Citty Finlayson Scots Singer of the Year sponsored by Traditional Music and Song Association
Steve Byrne
Scottish Dance Band of the Year sponsored by National Association of Accordion and Fiddle Clubs
The Cruickshank Family Band
Scottish Folk Band of the Year sponsored by Threads of Sound
Blazin' Fiddles
Scottish Pipe Band of the Year sponsored by Gordon Duncan Memorial Trust
Inverary and District Pipe Band
Trad Video of the Year Sponsored by Ceòlas Uibhist
Heroes by Tide Lines
Music Tutor of the Year sponsored by Creative Scotland's Youth Music Initiative
Iain Ruari Finlayson, Skye Schools
Up and Coming Artist of the Year sponsored by Royal Conservatoire of Scotland
Man of the Minch
Venue of the Year Award sponsored by Musicians' Union
An Tobar (Mull)
The Hamish Henderson Services to Traditional Music Award Sponsored by Edinburgh Folk Club
Dr. Peter Cooke
Services to Gaelic Sponsored by Bòrd na Gàidhlig
Anne Soutar
The Janet Paisley Services to Scots Language Sponsored by Scots Radio
Sheena Blackhall