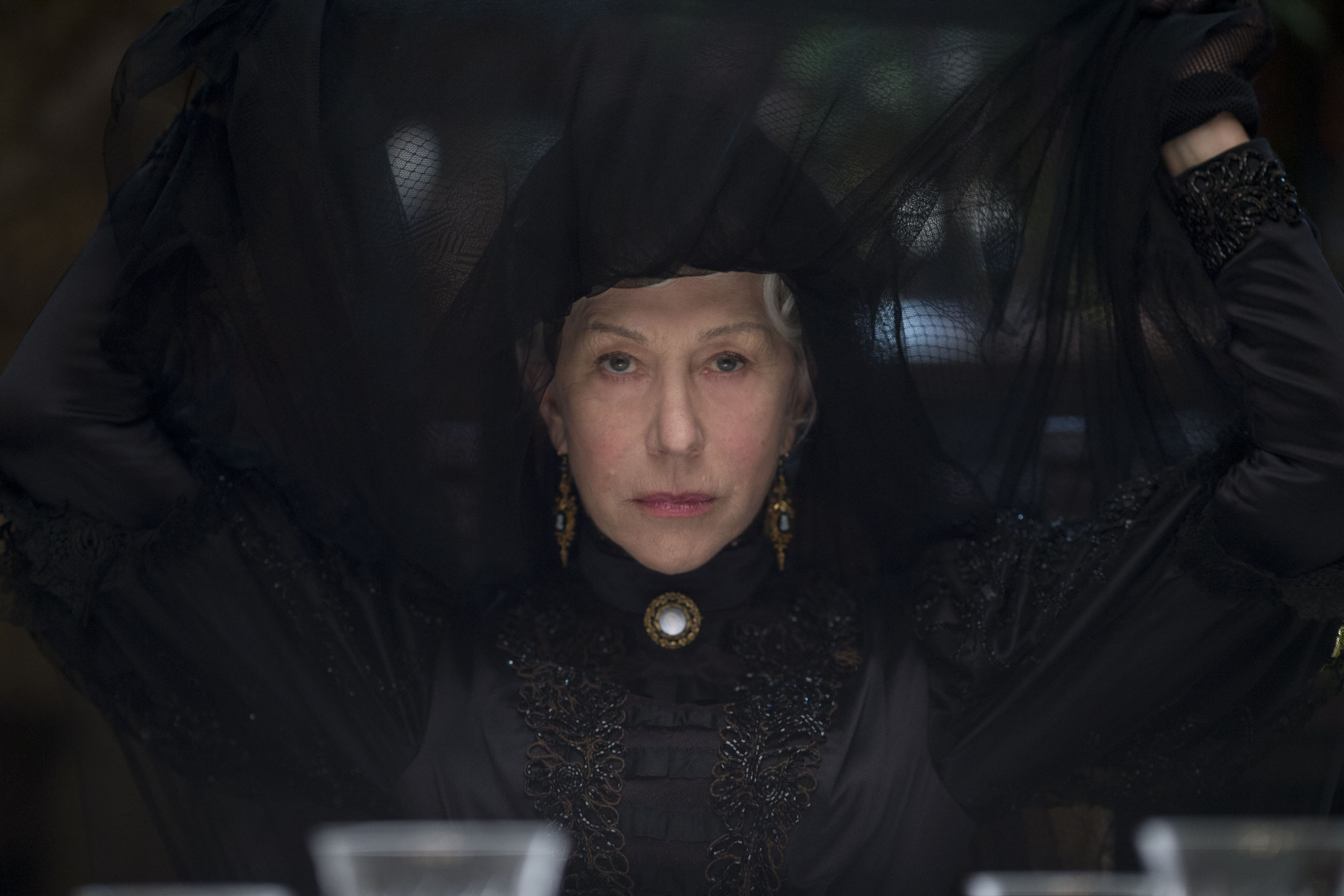 PEOPLE deal with grief in many different ways — but rarely do they build an ever-extending mansion to confuse potential ghosts.
That's exactly what Sarah Winchester did, and her story is the focus of a new film — Winchester — out this week, starring Dame Helen Mirren in the role of the eccentric widow, who died in 1922.
"I didn't know anything about the house or Sarah," Helen revealed.
"Then, when the material was sent to me, I was fascinated."
It was after her child and husband died that Sarah was convinced she was cursed and that if she didn't act fast, she would be the next victim.
She was the majority shareholder of the Winchester Repeating rifle company and was convinced she was being haunted by the souls of those killed by the guns that made her family rich.
She moved to San Jose on a 160-acre farm and built a home that was a continual maze of passageways — all in hopes of confusing the spirits.
The Winchester House — said to be the most-haunted house in history — is a massive seven-storey structure with no apparent rhyme nor reason, each maze of halls more confusing than the next.
In fact, Sarah even had staircases built that led to nowhere!
She became fixated on the number 13, which was seen in the use of ornaments throughout the house, one chandelier being modified from carrying 12 candles to 13, according to her wishes.
With the film based on true events, and Sarah's behaviour having been cause for concern as people questioned her sanity, it was a role Helen was very keen to take on.
"What an amazing character — this is so personal," she said.
Helen visited the house — now a tourist attraction — while filming Winchester, and revealed that in one way or another, she felt Sarah's presence there.
"Whether a ghost or not is another matter, but her spirit and how she was on this planet is in the house, without question," said Helen.
"Her whole life was devoted to the house, so there was an ego there and an intelligence and an energy, but there's also a great feeling of empathy."
With that in mind, and with Helen having visited the house, does that mean that she believes in the supernatural?
"No, I don't, but I do understand the power of belief," she revealed.
"It's a human condition that we have, the power of the imagination. I think human beings are driven by their imaginations.
"I don't personally believe in the supernatural, but I understand when people do and they are so utterly convinced.
"There's so much that one can believe in, if one wants to.
"I don't know if Sarah was superstitious, all I could think of was how she felt — whether it was guilt or empathy with the families of the people who had died by this thing that had made her family very rich. And made her very rich.
"So, I don't see her as a person driven by superstition at all."
Winchester is in cinemas from Friday, February 2.