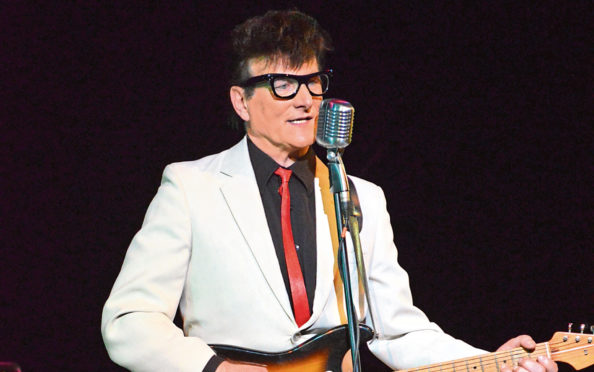 Sixty years after he died, Buddy Holly's music continues to win new admirers.
The Texan in the trademark thick black glasses was just 22 when his plane crashed and his loss was so huge that it became known simply as The Day The Music Died.
Thankfully, we have his recordings – and men like Marc Robinson, who tours the country with his band, creating music and vocals so authentic that you just close your eyes and dream you're at a real Buddy Holly concert.
Marc's latest tour, Through The Decades With Roy Orbison and Buddy Holly, sees him and his band share the stage with Darren Page as Roy Orbison.
"It's been going for about 18 months, predominantly for theatre although we can do just about anything," says Marc. "It's a celebration of both gentlemen's music.
"We call it Through The Decades because we all know Buddy Holly died in 1959 but he did have hits into the 1960s and albums have appeared in the charts right up to the present time.
"In fact, the Philharmonic Orchestra one that was only released a few months ago got into the Top 10. So he is still relevant, even now. And, of course, Roy Orbison was recording right through the 1980s with the Traveling Wilburys."
Marc, who knows more than most about the man he portrays onstage, reckons the quality of the Holly recordings is one reason that millions of every age still listen to him.
"They were recorded very well, both Buddy's and Roy's," he says. "They were at the top of their game at the time. Buddy recorded in Norman Petty's studio in Clovis, New Mexico, which had all the modern techniques.
"In fact, I think Raining In My Heart was one of the first stereo records. Overdubbing was just coming in. They would record on tape then play that live into another tape recorder. Buddy would sing along with himself.
"It was very crude, a technique that hadn't been used before. I think Buddy was the first to sing harmonies with himself. Neil Sedaka was another who did it in those early days."
Like other true giants of popular music, Holly was at the cutting edge, years ahead of his time. So, had he lived to the ripe old age he should have, what might he have gone on to achieve?
"When he died, he'd been busy putting his own recording studio together because he wanted to record other people. Waylon Jennings, for instance, was the protégé of Buddy Holly," says Marc.
"Waylon used to play bass in The Crickets, on the last tour, and his first record was produced by Buddy. That's what Buddy was going to do in the near future.
"The Rolling Stones were influenced by him and Buddy's song Not Fade Away was their first hit.
"Personally, I think he would have rivalled Lennon and McCartney in the 1960s as a songwriter. And they loved him, too."
When Marc met Macca, he could see his abiding love for Holly only too clearly. Sir Paul, after all, borrowed Marc's black glasses to look like his hero!
"Paul McCartney used to do Buddy Holly Weeks, an annual celebration of Buddy, and I played at one. We played to all his entourage and then they had a lookalike competition," Marc recalls.
"Paul and his wife Linda were there and Brian May, from Queen, lots and lots of celebrities. Then I met Paul, who was very nice, as was Linda.
"He borrowed my glasses, as I recall, because the newspapers were there and wanted a photograph. So my Buddy Holly glasses were all over the news.
"I also sang for Cliff Richard at his birthday party at the NEC. He had done a gig and then had a party in the Green Room.
"I can't remember why I thought it was a good idea, but I sang Move It and Living Doll. He was standing right in front of me, five feet away. Cliff was fine, he was really nice."
As such a Buddy Holly fanatic, another dream come true for Marc was bumping into The Crickets.
"I played at Glastonbury and met The Crickets and I have also met them quite a few other times," he says proudly. "Getting up there with them and 'Being Buddy' was one of my main ambitions, but sadly it never did happen.
"There's only drummer Jerry Allison still alive now. Bassist Joe B Mauldin died, unfortunately, as has guitarist Niki Sullivan."
Having met those who knew Holly, Marc must have asked a million questions to ensure he gets the whole Buddy Holly thing right, down to the clothes and the instruments?
"Yes, you obviously use the right guitar," he says, "but the grey suit I wear is a replica of the one that Buddy wore at the London Palladium in 1958.
"It's a tribute, it's an acting job really. You get on there and you are Buddy Holly. Just for a couple of hours. There are some people who are right into it and if you don't have the right colour of plectrum they will pick it up."
There were plenty other stars in Buddy Holly's time who are all but forgotten now, with little interest from the public to have their music remembered.
So why is Holly still in demand?
"Some of the more orchestral stuff is a bit more complicated, but many of the songs are simple. Peggy Sue just has four chords in it and everyone says it's easy to play, but you try to put that feel into it, the way he played it," says Marc.
"I think it was Django Reinhardt who said it best, 'It's not the notes you play, it's the spaces in between.' It's the feel that you give it.
"It's hard for me to pick my favourite Buddy Holly song, but I can tell you the one that is guaranteed to always get an audience out of their seats – Rave On. I love them all. Even if Buddy Holly was singing Bah Bah Black Sheep, I'd find something that was appealing.
"I have older sisters and brothers and when I was eight they had Buddy Holly records lying around, so I got into him then. Years went by and after I left school and went out to the local discos they always played something like Chuck Berry's Johnny B Goode or some Buddy Holly at the end of the night.
"I discovered Buddy all over again, realised this was who I had listened to as a kid. The first song I learned was Peggy Sue, and I still think his songwriting is the most influential thing he left us."
Details of Marc's Through The Decades performances can be found at amptheatreagency.co.uk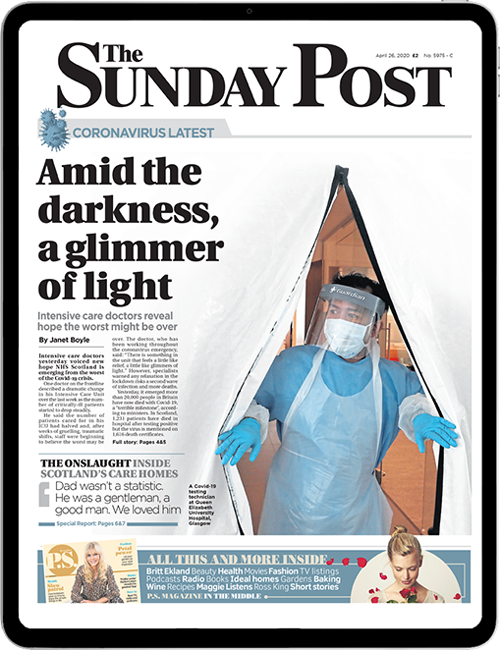 Enjoy the convenience of having The Sunday Post delivered as a digital ePaper straight to your smartphone, tablet or computer.
Subscribe for only £5.49 a month and enjoy all the benefits of the printed paper as a digital replica.
Subscribe