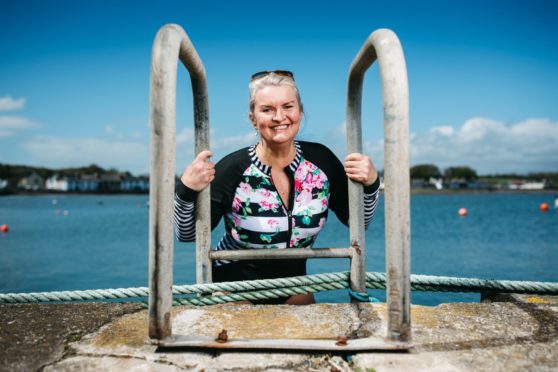 Kathleen Hart not only loves her life in Wigtown but believes moving to Scotland's book town may have saved it.
It is a long way from the world she once inhabited, sharing a beautiful home in affluent Cheshire with her partner, a wardrobe crammed with designer clothes and handbags, and a champagne social life that revolved around glamorous "ladies who lunch".
Eight years ago, that all changed when she was diagnosed with breast cancer, which led to harrowing years of chronic illness, operations and long spells in hospital. On two occasions, doctors thought she was going to die.
On top of the health crisis, which included a mastectomy and open-heart surgery, she lost her home and her partner abandoned her, no longer able to cope with the strain of her ill health.
During her long and painful recovery, Hart, 55, had plenty of time to reassess her life. "Being so sick made me think about life very differently. My greatest ambition had centred around acquiring the latest handbag, but status and stuff became irrelevant. I needed a new start, a fresh beginning, somewhere to recuperate and regroup. The time had come to dance to the beat of a different drum," she said.
"I happened upon a small cottage hundreds of miles away, near the sea, in Scotland's book town. From the advert in the brochure, it looked rather sad and forlorn, but I just knew we were perfect for each other. We could get better together."
On an impulse, she drove up to Galloway to view the tumbledown cottage. It had failed to attract any bids at auction, but this didn't put her off. "It was of interest to me for several reasons, one of which is the area it's in – coastal, remote, empty," she said. "It looked like somewhere I could pull up the drawbridge. I felt an overwhelming urge to retreat, to withdraw, lick my wounds, hit the pause button."
As she transformed the cottage and built a new, more meaningful life in Wigtown, she was inspired to write a memoir, Devorgilla Days.
"It's the story of someone who had everything, yet nothing, and who started again, later in life, with the clock ticking," said Hart.
"It's a story about uncovering the things that really matter and discovering what makes us feel alive. It's a story about finding that inner strength and resilience, and never giving up hope. It's never too late to find peace and happiness."
In the book, she chronicles how the people and landscape of Galloway helped her heal, and how she found solace in restoring her tiny stone cottage painted white, nestled between the Galloway Hills and the shores of the Solway Firth.
"The cottage is a tiny sugar cube, a doll's house. I named it Devorgilla, after a fierce yet romantic 13th Century Scottish princess, who carried her deceased husband's heart in a silver casket everywhere. She was one of the most powerful women of her age, founded Balliol College in Oxford and Sweetheart Abbey in Galloway, where she was buried beside her husband. I hoped some of that royal moxie would rub off on me."
Since moving to Wigtown, Hart has had a long, healing recovery thanks to the kindness and friendship of the welcoming townspeople, the Galloway landscape of hills, leading a simpler life, and bracing daily swims in the sea in the Solway Firth, no matter the season.
At first, she was wary of her new neighbours. "Doing up the cottage, I needed tradesmen, and thought I might be taken advantage of as a single woman living alone. But people bent over backwards to help. Jobs were done, payments waived, kind gestures noted by me with both amazement and discomfort. What did they want in return? Why were they behaving this way?
"It seems that's just the way they are – magnanimous and big-hearted, unsullied by the grind of life beyond the peninsula. It made me look at myself, long and hard. What on earth had happened to me to make me so wary and distrustful?'
"The generosity of my new community never fails to surprise me and threw me off guard completely when I first arrived north of the border – neighbours dropping off freshly baked scones, punnets of scented tomatoes appearing on the front doorstep, the landlord of the pub bringing me fresh venison and gleaming mackerel and the plumber lobsters from his dad's creels."
While the Wigtown folk have welcomed Hart into the community, she has yet to persuade them to join her daily swim in the harbour behind the fishing boats. "They think I'm bonkers to swim in the sea, and I'm always being asked if it's cold," she said. "But the Gulf Stream comes past here, and the water is warm – or warmish, anyway.
"Being in the water makes me feel better, and my body has become attuned to the cold. I get a swimming high, a rush of serotonin, that I now need. Sometimes, when I'm in pain – I had operations on my back – the only place I can get relief from pain is in the water. I focus on staying in despite the cold, gazing at the horizon, checking for wind and current changes, and making sure I'm not gently slipping into hypothermia."
Not long after she moved to Wigtown, she started a gratitude journal and posting on Instagram. Encouraged by her tens of thousands of followers and by her daughter Florence, she began writing Devorgilla Days on the top floor of the Wigtown library, in what is known as the Osprey Room, overlooking what used to be osprey nests.
"I was inspired by the landscape here – it's such a gift with its lush, rolling hills that are like a basketful of green eggs, the beaches and waterfalls, the forest, rivers and castles.
"My favourite beach could rival any in the Caribbean. The sand is soft cream and silky smooth, spotlessly clean, with a cornucopia of shells from cockles to cowries. It's where I collect gnarled grey driftwood, washed ashore by the high spring tides. The beach stretches away in a vast golden crescent, bordered on one side by a neat village and sheltered on the other by the lilac hills of the Scottish Lowlands."
In Devorgilla Days, she also details random acts of kindness she's had from locals, from the bookshop owner who put a blanket over her when she fell asleep in front of the fire in the shop, to the white witch she met at a stone circle who gave her a quartz for energy, to a stranger who placed healing hands on her at the beach.
"I'm superstitious, and there have been many coincidences and serendipitous moments since I came here, but maybe I'm looking for signs. In England if the woman on the beach had laid hands on me, I would have clocked her one, but here I'm more open – and it really did make me feel better.
"I feel so much better here. Swimming in the sea every day, the Scottish air and sea air, and living stress-free has made me healthy. I can pace myself as life is simpler and more pared-back.
"At night, I draw the curtains, light a candle, pour a wee dram. The cottage feels snug despite the fierce gale rattling the windows. I feel safe within her four walls and have done since the day we met. The pair of us together, once neglected and derelict, now revived and restored. We rescued each other."
---
From the book
Here, in an extract from Devorgilla Days, Kathleen Hart explains her passion for swimming in the sea
It's high tide. The sun is just clinging on to the end of the day as I get into my car. Fraser the pub landlord shouts over, "You'll nae be goin' for a swim the noo?" I nod my head and wave, and hear him say, "You're some woman," as I pootle up the hill away from the cottage. I don't feel like "some woman" – I'm just me. Having a go. I don't understand why more people don't. Have a go. It's fine once you're in.
Driving into the little port, I notice the yachts have been craned out of the water. Sea Biscuit, Ketina and Divergent, all safely stowed on the quayside. The winter weather here can be wild; better to be safe than submerged. The campsite is closed, boarded up; the quay is deserted, the village quiet, and there's rather a melancholy air to the late afternoon.
The beach has been carpeted with a thick clammy layer of pungent seaweed since my last visit; brown, soggy mounds tossed right up beyond the high-tide mark. The sun has set, the sky darkening from lavender to mauve, and the tips of the cashmere clouds are tainted blush pink. I undress down to my costume, placing my kitbag on a boulder to the side of the beach, pin up my hair, put on my surf shoes and wade into the water, breathing it all in, beach, brine, sky, clouds, hills. It takes a while for my body to adjust; the water is bone-chillingly cold. I splash my face and push off into the gentle swell, stretching my limbs, and relax onto my back; I let my arms swish with the flow, soft and pliable. It feels so invigorating – the cold awakens my body, and somehow re-energises me. I breaststroke energetically away from the shore, hard and strong.
Distracted by a flock of belligerent gulls, I tread water, singing Westlife out loud and out of tune.
---
Devorgilla Days by Kathleen Hart is published by Two Roads on Thursday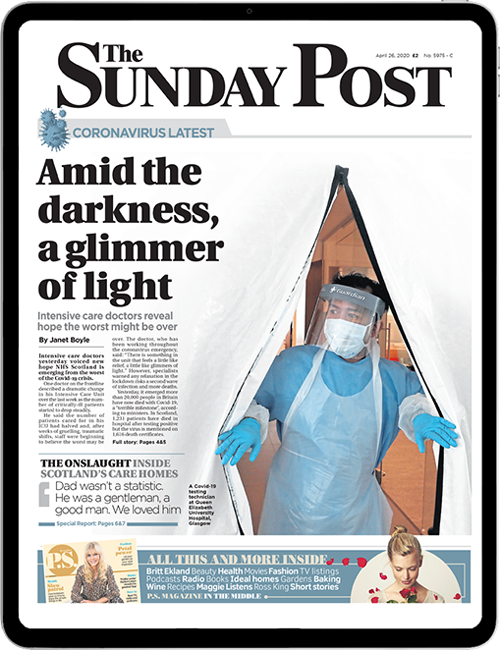 Enjoy the convenience of having The Sunday Post delivered as a digital ePaper straight to your smartphone, tablet or computer.
Subscribe for only £5.49 a month and enjoy all the benefits of the printed paper as a digital replica.
Subscribe