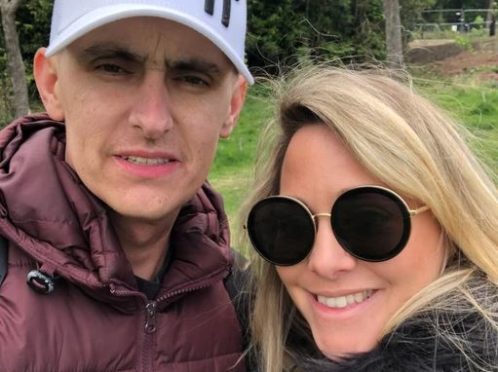 A Scots brother is fundraising in support of his sister who was diagnosed with breast cancer just one month after her husband was given the all clear from head and neck cancer.
Richard Smith, 29, from Dornoch, is raising money by running his own marathon in Edinburgh, after the London Marathon he was scheduled to run this Sunday was cancelled due to Covid-19.
His efforts will raise money for Macmillan Cancer Support, a charity which has helped his sister Rebecca and her husband Keith significantly through their treatment.
Rebecca, 32, was diagnosed with breast cancer on October 1, 2019, after Keith was given the all clear from head and neck cancer on August 13, 2019.
They spent just 49 days of 2019 cancer-free, and have spent almost all of their two-year marriage battling with their separate conditions.
"In September 2018 we got married in Bordeaux with 30 of our best friends – it was pretty wild and so amazing," said Rebecca.
"In October 2018 Keith felt a bit ill and I did that classic wife thing like 'go to the doctor, it could be cancer,' not actually thinking it could be.
"Then in December 2018, he was diagnosed with head and neck cancer.
"It had already spread from his tonsils to the lymph nodes down the left side of his neck by the time it was confirmed.
"We spent 2019 going through really tough treatment. He lost two and a half stone. But he was given the all clear in August and we thought everything was great.
"Then on October 1, 2019, I was diagnosed with breast cancer, suddenly and very unexpectedly.
"We were devastated obviously and just couldn't believe it."
Rebecca, who runs Edinburgh digital agency, Primate, then went through a rigorous bout of treatment to cure her own stage one, grade three breast cancer, including chemotherapy, radiotherapy and two lumpectomies at Edinburgh's Western General Hospital.
"I also went through a round of IVF to make sure we could still have kids, as ironically, we were waiting to have them until after we got married," said Rebecca.
"I was lucky though, my chemo was only a day every three weeks, and thankfully by the end of it, it had obliterated all my tumours, so it worked really well, so I'm very grateful.
"My chemo wasn't as bad or intense as Keith's so he kind of jokes that mine was a walk in the park, although mine was more recent, so I say it was worse than his."
Joking and dark humour has played a key role in the couple's dealings with cancer, with Rebecca even laughing that chemo was a "perk" for her during the coronavirus lockdown, as she got to leave her house while everyone else was shut inside.
"It was great, I got to just sit and have a chinwag with my nurse in a room by myself, because everyone had to distance," she said.
"You have to look for the perks wherever they come."
She also says that cancer has made both her and Keith look at life through a completely new lens, and although hard at times, has made their relationship much stronger.
"Cancer makes you extremely honest," she said.
"When you're that sick, you have to be extremely truthful about how you're feeling, or how unwell you are, there's no hiding from it.
"We now joke that nobody else would want us anyway, you know, we've both had cancer, so we're stuck with eachother!
"We're also so much more grateful for things, it gives you a completely different mindset and you don't sweat the small stuff anymore.
"For example, Keith was made redundant recently, and we are lucky because I have a successful company, but at the same time, we could have – but we didn't – freak out, because we've been through much worse."
Rebecca was given the all clear after her radiotherapy, so is now officially cancer free, but will continue to have treatment until December.
She says her and Keith's experiences with cancer were helped significantly by the staff at Edinburgh General, and also by the support they received throughout their treatment by Macmillan.
Recognising the amazing work Macmillan has done for his sister and brother-in-law, Richard wanted to aid that support by raising further funds for the charity.
"Our dad raised money for Macmillan when he was younger, so it's always been a charity we've been aware of as a family, even before we were affected by cancer ourselves," he said.
"They're an amazing charity and the support they gave to Becca and Keith was just brilliant, so I wanted to do something to give back."
He added: "I don't think you quite realise the brutality of cancer and what it actually is like until you're faced with it yourself.
"But I'm just in awe at how my sister and Keith have dealt with it and managed to keep an amazingly good humour about the whole thing."
This year would have marked the 40th London Marathon, originally being postponed from April 26 to October 4.
To account for the amount of training and fundraising that had taken place before the event was cancelled, organisers agreed to create a virtual marathon, where participants could still take part in their own areas.
Louise Mackay, Fundraising Manager for the North of Scotland, said: "So many fundraisers were disappointed when the London Marathon was cancelled – including us at Macmillan. It's a fantastic idea to encourage supporters to still run it but in their own area.
"We can't thank Richard and his family enough for raising awareness and funds for us at a time when we need it most.
"Fingers crossed the sun will be shining on Sunday for Richard, and just like all his family and friends, we're behind him all the way. Best of luck."
Richard is now over halfway to reaching his target of £3000 in aid of Macmillan Cancer Support. To donate, click here. 
---
Rebecca has a blog, 49 Days, which details her and Keith's experiences as a young couple going through cancer. To read more about their story, click here.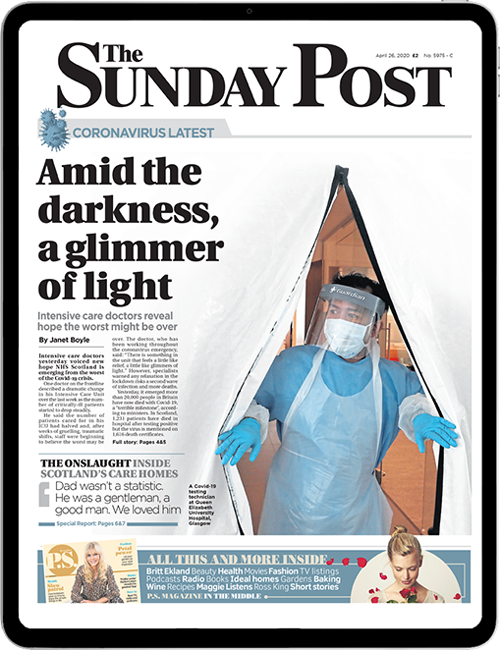 Enjoy the convenience of having The Sunday Post delivered as a digital ePaper straight to your smartphone, tablet or computer.
Subscribe for only £5.49 a month and enjoy all the benefits of the printed paper as a digital replica.
Subscribe