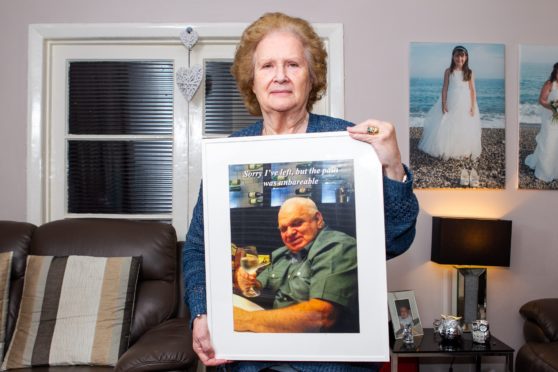 A grieving widow has told how she received a letter confirming the date for her husband's delayed hip operation after he died waiting for the life-changing procedure.
Gran Catherine Scott buried her husband on the day he was due to have surgery and the 71-year-old was so angry she confronted First Minister Nicola Sturgeon during a campaign visit to Kirkintilloch.
She told the SNP leader her husband of 50 years had been forced to wait for more than a year for his operation, despite being in so much pain he was forced to crawl around their house on his hands and knees.
Mrs Scott, a retired lollipop lady from Bishopbriggs, said: "My man crawled on his hands and knees because he couldn't walk at the end. He was in constant pain and all they did was give him pills. He was told he wasn't a priority. It was sheer neglect.
"The most hurtful part was the day I was burying him was supposed to be the day of the operation."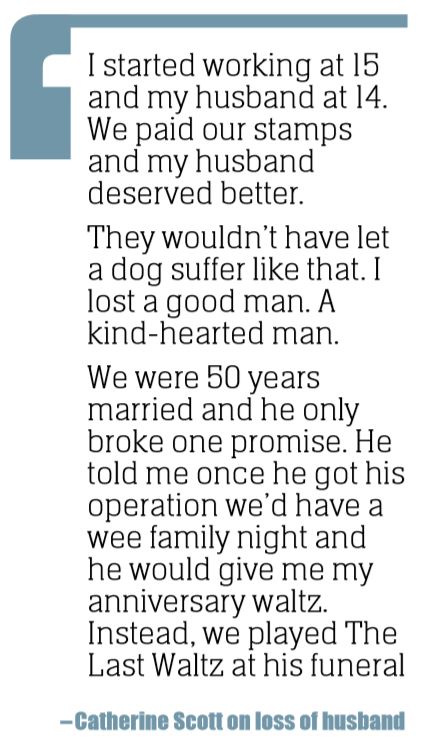 Mrs Scott's husband, David, died on September 21, aged 70. He had sepsis.
Three months earlier Catherine and David celebrated their golden wedding anniversary with their two children and three grandchildren.
Mr Scott, a retired glazier, was waiting for a hip operation for more than eight months.
He collapsed at home a few weeks before he died. Exploratory surgery revealed he had a bacterial infection in his hip. He developed sepsis while in Glasgow Royal Infirmary and was in intensive care before he died.
Mrs Scott said: "The minute they bored into his hip they triggered the bug into action. They triggered it. It was their fault because if they had sent my husband for a scan they would have picked it up. They would have picked up the growth."
Mrs Scott is waiting on the results of a post-mortem but she believes if a hip replacement had been carried out sooner Mr Scott may not have died.
In 2012, when Ms Sturgeon was health minister, the Scottish Government introduced a legal right to treatment within 12 weeks for non-emergency surgeries and outpatient treatments such as hip operations.
Official figures released this year show one in three people in Scotland waited more than 18 weeks for the procedure.
And last week the First Minister was accused of breaking the law over missed treatment time guarantees during a television interview with Andrew Neil.
Ms Sturgeon was also unable to accurately tell the interviewer how many people were falling outside the 12-week legal limit that she brought in as health secretary.
Asked by Mr Neil on the BBC what the most recent Treatment Time Guarantee (TTG) figures were, Ms Sturgeon said: "It's below, it's the 80% or so, it should be 95%."
Official statistics from ISD Scotland show 72.9% of outpatients were treated within the 12-week target in the quarter to September 30 this year, while the figure was 71.3% for inpatients and day cases.
And Mrs Scott was given a chance to question the First Minister about missed targets during a shopping trip to Kirkintilloch with her son David on November 9.
She saw a crowd gather outside the SNP's campaign office and when she got closer she realised Ms Sturgeon was having her picture taken with activists.
Mrs Scott said: "I was standing there waiting in the cold for almost an hour but I knew I had to talk to her. I was shaking like a leaf but I had to get this off my chest.
"I buried my husband three weeks earlier and I owed it to him to ask her about waiting times. She asked if I wanted a picture with her and I said, 'No. I want to talk about waiting times'.
"I told the First Minister if she promised me she'd get the waiting times down, I'll vote for her."
Ms Sturgeon replied: "If you want to leave your details, rather than talk about it in front of everybody here. I'd be very happy to look into it. I'm really sorry."
Speaking to The Post yesterday, Mrs Scott said: "I was so flustered I didn't leave my details but I would like to speak to the First Minister about my husband.
"I started working at 15 and my husband at 14. We paid our stamps and my husband deserved better. They wouldn't have let a dog suffer like that.
"I lost a good man. A kind-hearted family man who loved his grandchildren.
"We were 50 years married and he only broke one promise. He told me once he got his operation we'd have a wee family night and he would give me my anniversary waltz.
"Instead we played The Last Waltz at his funeral."
NHS Greater Glasgow and Clyde said: "When deciding on whether a patient is suitable for surgery there are number of factors to consider including any associated risks due to other health conditions. It is extremely unfortunate that Mr Scott passed away during this time and we are sorry for any additional distress this caused his family.
The Scottish Government said: "The Health Secretary has been clear that it is not acceptable for patients to be waiting longer than the treatment time guarantee, unless this is clinically appropriate.
"We are supporting health boards to improve services across a number of specialities, including trauma and orthopaedics, through the £850 million Waiting Times Improvement Plan."