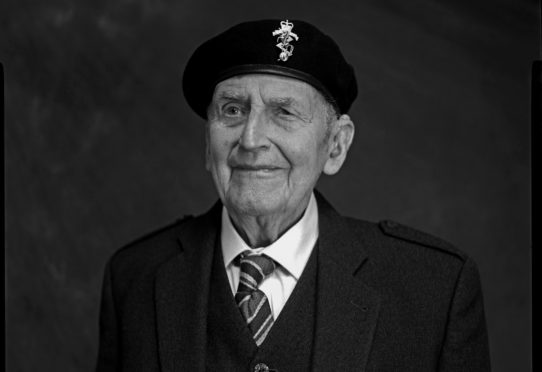 After the sacrifice, came the elegies, the resonant poems of war still paying tribute to those long fallen.
On Remembrance Sunday, the lines will be remembered, particularly, of course, the most famous of all, In Flanders Fields, by John McCrae: "In Flanders fields the poppies blow, Between the crosses row on row."
But the work of Scots poets can stand alongside more famous writers like Wilfred Owen and Siegfried Sassoon, according to professor Roderick Watson.
He co-edited From The Line, a collection of Scottish war poetry from 1914-1945, and said: "It's a feature of human experience to be caught up in conflict or to have to live with the aftermath, so it's not surprising these very powerful events generate very powerful responses like poetry," he explained.
"Poems may seem out of place in that they seem to people to be lyrical and about nature, but that's a terrible misapprehension. Poetry has been dealing with powerful, difficult human emotions forever so it's no surprise that, on the battlefronts of the First and Second World Wars, verses were written to confront traumas and experiences beyond the nightmares of these men.
"There was an extraordinary concentration of very fine Scottish boys who found themselves in the desert campaign in North Africa in the Second World War.
"And many of them were socialists, like Hamish Henderson, Robert Garioch and George Campbell Hay, among others.
"And they give particular spin to the Scottish war poetry, different from visions of people in the first war, like Wilfred Owen.
"These Scottish poets saw themselves in the grip of larger forces, as fighting their fellow working class men. They have a common compassion for the soldier on the other side."
---
It is very important that people remember the young fellows
Great-grandfather John McOwan, 98, from Peebles, was an instrument mechanic in the Second World War and served in North Africa with the Royal Electrical and Mechanical Engineers alongside Winston Churchill's distinguished Seventh Armoured Division – The Desert Rats – at El Alamein.
He was later attached to the 8th Army for the D-Day landings on June 6, 1944.
Widower John, returned with five fellow veterans to the beaches of Normandy this year for the 75th anniversary commemorations. He had this Remembrance Day message for Sunday Post readers and their young families: "When we veterans are gone, do not forget the sacrifices made in the war. On the 75th anniversary trip to Normandy I was introduced to President Macron of France. He shook me by the hand, looked me in the eye and said, 'thank you'. He was so sincere.
"The one thing we must be very careful of is that young people today are familiar with how many forces personnel and civilians died, because nobody in their right senses wants another war. We have to keep it very fresh in the minds of the younger generation who can forget so easily.
"It is very important that people remember the young fellas – boys of just 18 and 19 – whose lives were cut so short. It was tragic. I lost comrades in the Sahara desert. I was there from 1940-43, then, after the Germans were defeated, we went on the first landings in Italy, at Salerno, and then went out on the D-Day Landings.
"We sailed from Felixstowe, inside our vehicles, on landing craft. We had to wait just off the beach until it was time to go into land. There were thousands of ships in that one channel. It was really an awe-inspiring sight. We must have been a sitting target for the Luftwaffe. A couple of ships had been hit, we could see the plumes of smoke.
"Bodies were floating in the water; some of the fellows had drown trying to wade ashore because of the weight of their packs, others had been casualties. The lucky ones like myself got off on a vehicle without getting their feet wet.
"I collected memorabilia from Normandy and have made a scrap book with the title We Must Not Forget. My great-grandsons are very small, but I hope that one day they and other young people will read it and remember."
---
An Autumn Day
Sorley MacLean (1911-1996), translated from Gaelic
On that slope
on an autumn day
the shells soughing about my ears
and six dead men at my shoulder,
dead and stiff – and frozen were it not for the heat –
as if they were waiting for a message
When the screech came
out of the sun,
out of an invisible throbbing,
the flame leaped and the smoke climbed
and surged every way:
blinding of eyes, splitting of hearing
And after it, the six men dead
the whole day:
among the shells snoring
in the morning
and again at midday
and in the evening.
In the sun, which was so indifferent,
so white and painful;
on the sand which was so comfortable,
easy and kindly;
and under the stars of Africa,
jewelled and beautiful
One Election took them
and did not take me,
without asking us
which was better or worse;
it seemed, as devilishly indifferent
as the shells.
Six men dead at my shoulder
on an autumn day
Sergeant-Pilot DA Crosbie
Edward Boyd (1916-1989)
I still remember one night we
talked Berkeleyian philosophy
you proved conclusively to me
that you and I, we could not be
So now your dictum I shall keep,
you did not drown in waters deep,
you are not dead, I do not weep
Remembrance Day
Marion Angus (1865-1946)
Some one was singing
Up a twisty stair,
A fragment of a song,
One sweet, spring day,
When twelve o'clock was ringing,
Through the sunny square –
'There was a lad baith frank and free,
Cam' doon the bonnie banks o'Dee
Wi' tartan plaid and buckled shoon,
An' he'll come nae mair to oor toon' –
'He dwells within a far countree,
Where great ones do him courtesie,
They've gien him a golden croon,
An' he'll come nae mair to oor toon' –
No one is singing
Up the twisty stair
Quiet as a sacrament
The November day.
Can't you hear it swinging,
The little ghostly air? –
Hear it sadly stray
Through the misty square,
In and out a doorway,
Up a twisty stair –
Tartan plaid and buckled shoon,
He'll come nae mair to oor toon
The Bullet
Joseph Lee (1876-1949)
Every bullet has its billet
Many bullets more than one
God! Perhaps I killed a mother
When I killed a mother's son