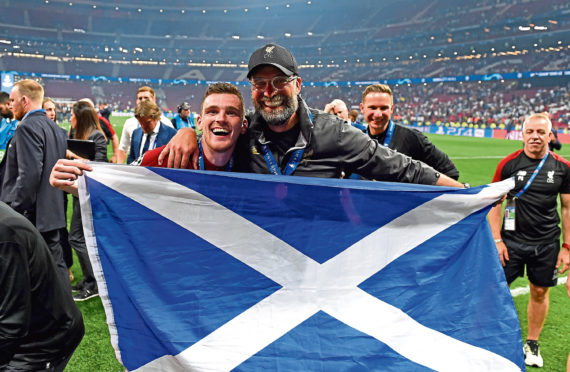 Andy Robertson must wake up every morning and think its Christmas Day.
That's why I don't believe he'll be considering leaving Liverpool for any other football club at home or abroad.
I'm told he has been linked with a couple of big European clubs.
But why would he want to leave Liverpool? Seriously, tell me why?
Anyway, he is already playing abroad! Well, that was always the way I looked at it when I moved from Scotland to England to join Liverpool from Celtic.
I've often been asked if I was ever tempted to leave Liverpool to try Italian or Spanish football.
The honest answer is that I wasn't.
I never tried to manipulate a situation to force a transfer or anything like that. There weren't agents floating around then trying to engineer something.
I've no idea if any other club wanted to take me away from Anfield, or offered a big transfer fee for me.
Liverpool never told me if there was and I never asked.
The most important thing was that I was playing for a club I loved, with a manager and team-mates I trusted and respected and in front of supporters who made you feel wanted in every single game.
My family also loved living in the Liverpool area, so we were all satisfied.
Money was never my main motivation, either. It was all about winning silverware and being at Liverpool gave me the best opportunity to do so.
Over my career, my decision was totally justified and my needs were well taken care of.
Andy has every right to be proud of what he has helped Liverpool achieve in the past 10 months.
Week in and week out, he has been hugely influential and his contribution has been enormous.
What the team gets out of him in every game is remarkable.
He quite rightly gets praised to the hilt for what he does in an attacking sense in the wide area, he gets up and down and creates plenty of chances for his team-mates.
Indeed, he almost turned goalscorer last Saturday night in Madrid against Tottenham when he let fly from 25 yards and forced Hugo Lloris into an excellent save.
But he also has been outstanding in a defensive sense, too. Sometimes that tends to get overlooked.
Nobody skins him because he knows how to defend.
Very rarely will you see a winger go past him, and leave him trailing because he is rock-solid.
So he is more than adequate in that role, and he is better in that position than 99% of his peers.
I have to say the same applies to Trent Alexander-Arnold on the opposite flank.
I was delighted for Andy, and every other player, to see him winning the Champions League last weekend.
I was privileged to be there, and as much as it was far from a classic, it was about what the team put into the previous rounds, particularly the semi-final comeback against Barcelona.
Liverpool deserved to win the tournament and I was thrilled we did.
I know this story has been repeated time and time again, but for Andy to go from being released by Celtic and playing amateur with Queen's Park to lifting the most coveted prize in European club football is unbelievable.
It really is fairytale stuff.
Andy just needs to keep showing the same application and focus that he has in the past five or six years.
If it was good enough to get him to where he is now then he shouldn't change anything.
Indeed, I'm not sure there is much he needs to improve on or can improve on. That's how highly I rate him.
But he is definitely not the type to rest on his laurels. He will work even harder next season.
Now that this current Liverpool side have all had a taste of that wonderful feeling, of winning such an outstanding prize, they will want it again and again – just as we all did 40 years ago.
And so will the manager.
When Jurgen Klopp was appointed, I said that we should all strap ourselves in because it was going to be a rollercoaster ride.
Well, it certainly has been.
I'm delighted for him that he has won his first trophy with Liverpool.
He has revitalised this brilliant football club and has been a breath of fresh air.
I've never agreed with that old saying that "it's the taking part that counts".
If that's your philosophy, then you are at the wrong football club. It's the winning that counts.
That's what we believe at Liverpool.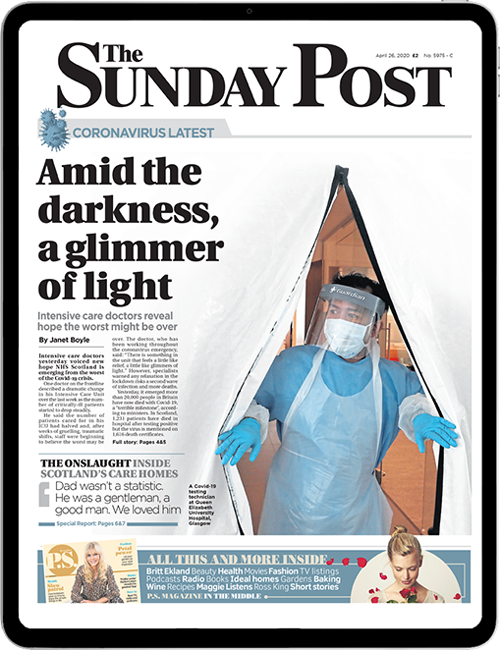 Enjoy the convenience of having The Sunday Post delivered as a digital ePaper straight to your smartphone, tablet or computer.
Subscribe for only £5.49 a month and enjoy all the benefits of the printed paper as a digital replica.
Subscribe