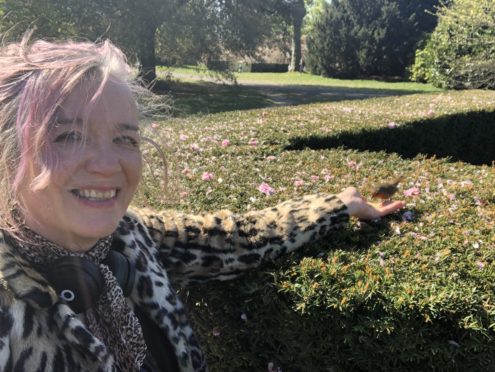 Pandemic or not, there are always reasons to be cheerful. Here, The Sunday Post's columnists – from Judy Murray to Ross King – tell us about the little things they're grateful for during the coronavirus crisis.
Judy Murray, our columnist
Without question, my daily cycles have been the highlight of lockdown – I'm up to about 10 miles a day now, and it's been great to explore the countryside right on my doorstep.
The minute I get on my bike and start peddling, I immediately feel like a weight has been lifted. It's partly the adventure, partly the fresh air, and partly the great feeling you get from exercise. Plus, I'm getting to see bits of Scotland I usually only drive past.
In the last week or so, as more shops and cafes have reopened for takeaway, it has also been great to have the time to stop and chat with other people – still from a safe distance, of course.
There's a lovely little coffee and sandwich shop on the high street where I live, which I try to work into my cycling route. I either aim to finish there or stop half way for a pick-me-up. I grab a coffee, take it outside and chat to other people. I think we are all really starting to appreciate the little things in life.
Agnes Stevenson, our gardening expert
Pea shoots picked fresh, a sunny spot to sit with a cup of tea and birdsong sweet as a choir, these are a few the simple pleasures that have kept my spirits up.
Here in South Ayrshire, surrounded by beech woods and bluebells, the coronavirus crisis seems a million miles away, but we've only to walk to the end of the lane and look across the fields to see one of the hospitals where the war on Covid-19 is being fought and it is then that we count our blessings that we not on its front line.
When life moves at the slower pace you have time to watch the daisies grow and marvel at the zest of zinnia seedlings that were sown one day and popped up the next.
Gardening is the best tonic for worry and unease, so until lockdown ends I'll be outdoors listening to the owl chicks chirping from their hidden nests, sowing spinach and carrots and thinking of those whose lives has been touched by this dreadful disease.
Jane Ridder-Patrick, our astrologer
The Fire signs – Aries, Leo and Sagittarius – usually have plenty of energy and it's important they get exercise to use it. They flourish though when they can express their dramatic nature and demonstrate their leadership skills.
For the Air signs – Gemini, Libra and Aquarius – communication is like a breath of fresh air so sharing news and bouncing ideas off others is essential for their well-being. Social media could be a life-line.
The Earth signs – Taurus, Virgo and Capricorn – need something practical to get their teeth into. Gardening is great for Taurus, Virgo thrives on fixing things, and Capricorn naturally gravitates to shouldering responsibilities.
The Water signs – Cancer, Scorpio and Pisces – don't enjoy being alone for long periods. They are the carers of the zodiac and by feeling part of their neighbourhood and helping and allowing themselves to be helped can be a real morale booster.
Wendy Rigg, our fashion expert
I'm fortunate in that I live right next to a beautiful park. I went for a dawn walk a few weeks ago and spotted a robin singing his heart out in an tree. The second day, I sat on a seat in the Rose Garden and was delighted as a robin happily perched beside me. I wondered if it was the same one.
The following morning, I was thrilled to see the little red-breasted one again, atop a beautifully manicured yew hedge. I'd brought some crumbled oatcakes and grated cheese, which I scattered on the ground and he had a good breakfast. I felt we were friends, and named him Pip. I go to the same spot every morning and now feed him from my hand.
My spirits are always lifted when I call his name, and this cheery little bird flies towards me. It's as if he's waiting for me.
Maggie Clayton, our agony aunt
Being stuck at home isn't all bad, it's given me time to have a mammoth clear-out of cupboards. I have found "stuff" going back decades.
I found a crystal wine glass given to our daughter Kate the day she was christened. So, 37 years later, I gave her the wine glass and splashed out on a bottle of classy white wine to go with it. I have also been cooking delicious meals every evening rather than relying on instant meals or carry outs from local restaurants. So I feel smug and slimmer.
I have only had one row with my husband and we've walked every day.
My little cat Nico is named after Nicolas Sarkozy. He came into my life a year ago when I was doing a French class at Glasgow University and I speak to him en Francais. He is thrilled to have me home all day and our French vocabulary is improving. C'est merveilleux!
Ross King, our man in LA
Putting weight on during lockdown? Well, follow my Fridge Three Times rule. You feel like a wee snack and you head to the fridge, but there's nothing. You go again, again there's nothing!
The third time though is when you always find something – even if it's a square of really dark chocolate that's wrapped in tinfoil and has been there since before Covid-12. It works.
Last week I made the mistake on a Zoom meeting of privately messaging one of the participants on the conference call. I accidentally sent to all that one of the participants looked like he had road kill on his head for a wig! Yes, I'm a Zoomer…
Stuck for chat on a Zoom call? Ask a quiz question… Who played football for Scotland and cricket for England? Kenny Dalglish and Ian Botham. Boom, boom.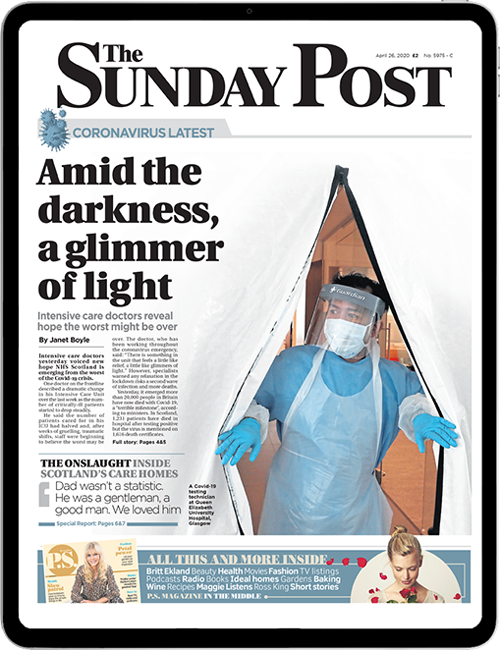 Enjoy the convenience of having The Sunday Post delivered as a digital ePaper straight to your smartphone, tablet or computer.
Subscribe for only £5.49 a month and enjoy all the benefits of the printed paper as a digital replica.
Subscribe