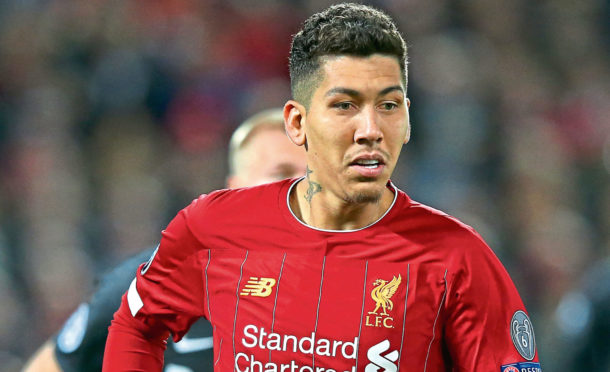 As Liverpool attempt to take a stranglehold on the Premier League title race, Roberto Firmino is once again proving that he is the one who makes their devastating attack tick.
The Brazilian striker is known as The Third Man around Merseyside because he rarely gets the sort of credit afforded to his attacking partners Mo Salah and Sadio Mane.
But aficionados of the game appreciate that Firmino's work as the pivot of the front three is what allows the other two to rack up the goals.
Anfield veterans who watched Kenny Dalglish fulfil a similar role for over a decade understand exactly how important the 28-year-old is to the club's efforts to secure a first league title in 30 years.
It's summed up in the words of their terraces' song: "There's something that the Kop want you to know. The best in the world his name is Bobby Firmino".
On Sunday they will be able to compare him with England's best when the leaders take on Tottenham and Harry Kane at Anfield.
It's a re-run of last season's Champions League final when Liverpool lifted the trophy in a relatively routine victory.
Fourth-placed Spurs finished 26 points behind second-placed Liverpool last season and Mauricio Pochettino's team would have been hoping that the gap would have narrowed this season.
Instead, though, the Londoners have gone backwards while Jurgen Klopp's side has continued to improve.
And, once again, Firmino has been a shining star – and not simply because of those gleaming white teeth. Firmino had dental work done a couple of years ago and manager Klopp was so impressed that he had his own teeth treated by the same local practitioner.
However, it was another dentist who played a major role in the Brazilian's career.
Marcellus Portella was a dental surgeon attached to Firmino's local club Clube de Regatas Brasil when he spotted the then 15-year-old's potential.
Portella was so convinced that he ended up becoming the player's agent.
Portella explained: "When I saw him play for the first time, I could see that he was a very talented player.
"But no one was interested in him. When I said that one day he would represent the national team, they told me I was crazy."
Portella got him trials at Figueirense – for whom he'd eventually sign and break into the first team.
After two seasons in Brazil, Hoffenheim snapped him up and he eventually established himself as their key player, before moving to Liverpool in 2015.
As is often the case with South American players, Firmino's upbringing involved poverty, escaping local crime, parental sacrifice and great deal of homesickness because of the necessity to move around the country and eventually to a new continent.
"My parents gave up things for me when I was growing up," he says.
"We lived in a tough neighbourhood where there were gangs and although my mum made sure I studied at school they also allowed me to follow my dream to play football."
There's a tattoo of his mum and dad on his right arm, as well as the motto "Family, Unending Love" in German across his chest.
His father made his living by selling bottles of water on the streets and in stadiums in Firmino's home town of Maceió in the Brazilian state of Alagoas.
Having left his family at 16 to join second division Figueirense 2,000 miles away from his home, Firmino quickly had to toughen up.
"It was really difficult to leave my family and go south and I know my mother cried every day while I was gone," he recalls.
"For a 16-year-old that's quite difficult. But that is life. You have to chase your dreams."
After getting promoted with Figueirense, Firmino was snapped up by Bundesliga side Hoffenheim in January 2011 and his appearances made him a wanted man before Liverpool paid £29 million for him.
His Premier League career was a slow burn, particularly on the goalscoring front.
His first 90 games generated only 23 goals but Klopp, who'd inherited the striker when he replaced Brendan Rodgers three months after Firmino had joined, already knew the player's potential from their time in Germany.
Klopp has referred to Firmino as the "engine" that propels the team's relentless counter-attacking system.
"If he loses the ball, he fights for it back," says the boss. "If he loses it again, he fights for it. He looks like the engine of the team."
Thierry Henry has described Firmino as the most complete striker in the Premier League.
Team-mate Andrew Robertson adds: "I don't think there is anyone like him in the world with his work-rate, his technique, his goals and his all-round play.
"People will say there are better strikers, but what he does is so important for our team.
"He does everything and that's the beauty of Bobby.
"He's our first line of defence and I've not seen anybody better at doing that. He presses the defenders and doesn't give them a minute. He comes back and nicks the ball in midfield for us.
"Then he goes up the park and scores goals and makes assists.
"The work he puts in during games is probably more than any striker in the world. We'd be lost without him."