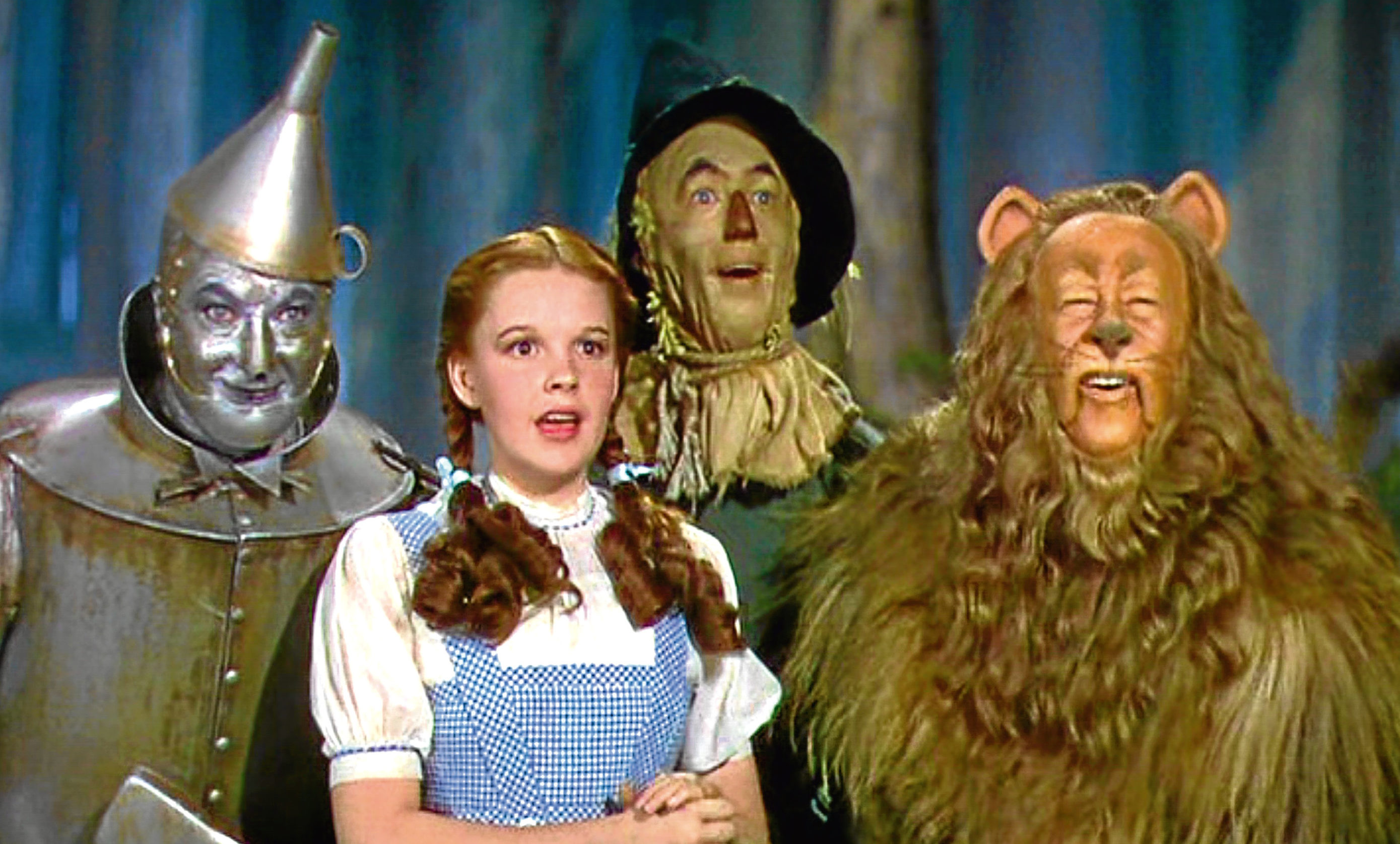 It cost so much to make that it didn't start to make a profit until it came out again 10 years later.
But The Wizard Of Oz remains an all-time classic movie, adored by fans of all ages and each new generation.
This week, the film celebrates 80 years since it was premiered at the famous Grauman's Chinese Theatre in LA.
It would become the most-seen film of all time, but only brought profit to MGM in 1949, when it was re-released.
When L Frank Baum wrote the original book, The Wonderful Wizard Of Oz, in 1900, he happily acknowledged the heavy influence of the Brothers Grimm and Hans Christian Andersen, trying to bring all the wonder of their stories to a new audience, but leaving out the scarier parts.
A bit ironic, considering many a child, and some not a million miles from my Weekly News desk, found parts of the film terrifying.
When MGM got a hold of it, their version was a dazzling, colourful – at times scary and downright weird – tale, and none the worse for it.
You may have watched it countless times, like millions of others, and never known about some of the quirks behind the scenes.
For one thing, that blue-and-white gingham dress worn by Dorothy Gale – played by Judy Garland – was actually blue-and-pink.
It was easier to film those colours in Technicolor, apparently, although the film still had a monumental budget anyway.
Louis B Mayer, the head of MGM, clearly had something about the colour red, which he was keen to show in all its glory in Technicolor – Dorothy's sparkly shoes had been silver in the book, but he made them ruby red for his big-screen blockbuster.
If, like millions, you always felt there was something terribly sweet about the poor old Tin Man, well, you were right. When he cries in the movie, those eyes aren't really shedding oil. It didn't look great on film, so they used chocolate syrup instead.
But Jack Haley, who played him, suffered with a horrible eye infection, caused by his metallic make-up.
Haley's son, Jack Junior, would later marry Liza Minnelli, the daughter of Judy Garland, and we wonder if the pair ever acted out their parents' most famous parts at home of an evening.
We can safely assume the Wicked Witch was weeping real tears, as opposed to chocolate syrup ones.
Actress Margaret Hamilton, in the scene where she disappears in a puff of smoke, got badly burned.
Her broom, hat and dress went up in flames and her arms, hands and face were burned, putting her out of filming for six weeks.
The poor woman also had to live on a liquid diet, via a straw, during the day. The green facepaint she and several other characters wore was so toxic that they couldn't risk having her try to eat while filming was going on. Shame they hadn't been so careful about those flames…
"I won't sue, because I know how this business works, and I would never work again," she would say.
If you find her green face and general witchy demeanour as sinister as I did, you should just be grateful about her many scenes that were left on the cutting-room floor.
They feared those were too scary for viewers, but bizarrely thought the ones we did get to see wouldn't give us nightmares.
By comparison, the Scarecrow's distinctive facial features weren't at all scary, but you wouldn't have told actor Ray Bolger that.
The special prosthetics he had to wear on his face for those crazy lines all over him left their mark on audiences, and they literally left deep marks over his features.
For more than a year after the film came out, Ray had to walk around and be stared at while the marks took their time to fade.
Making it, of course, a waste of time to tell autograph hunters that no, he wasn't that Scarecrow guy from the Wizard Of Oz movie.
It is utterly impossible to imagine anyone else in the lead role now, but Judy Garland wasn't their first choice. Aged 17, she was ancient compared to the 11-year-old Shirley Temple, the star they fancied initially.
There was a price to pay, however, and Judy had to lose 12 pounds and then force herself into a tiny corset to make her look as young as possible.
As Technicolor in those days required far more lights than normal shoots, she would have to play her role in that uncomfortable get-up in temperatures often above 100 degrees. Suffering for her art, you might say.
Bert Lahr, the Cowardly Lion, would have been delighted to just have a tight corset to wear in such searing heat – his 90-lb outfit was made from genuine lion pelts, and must have had a few more pounds of sweat inside by the end of each shift.
At least a perspiring actor in lion skin wasn't any kind of danger to those around him – things might have been different if they had hired the real MGM lion, Jackie, as it was seriously considered to appear.
The bright-red horses had to be filmed very fast, too – they were covered in red jell-o crystal sweeties to give them that amazing colour, but the hungry horses would lick them off immediately, so the cameramen had to be quick!
If you detect any dark shadows below the stars' eyes, just bear in mind that they may well have been rather exahusted.
On many days, shifts started as early as four in the morning and only ended around eight in the evening.
An awful lot of hard work, and some blood, sweat and tears, too, but what a wizard of a movie they made.