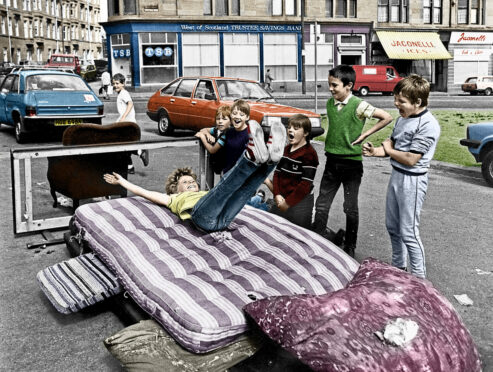 School's out (well, most of them) for a summer of fun and sun (well, hopefully).
For the past 16 months, young Scots have endured – along with the rest of us – uncertainty and upheaval, new rules and restrictions, school closures and social distancing.
They've seen opportunities to socialise severely curtailed and the cutting back of old-fashioned fun with their pals has had an impact.
A paper published by the Scottish Government at the end of last year said there was a "consistent reported decline in young children's sleep, mood, behaviour, activity levels, eating behaviour and mental wellbeing".
Now experts believe ­making the power of play a priority over the next few months could be central to children's recovery and rehabilitation, ensuring they regain confidence, rebuild relationships and remember they are children.
Marguerite Hunter Blair, chief executive of campaigning organisation Play Scotland, said: "We need to get back to having fun this summer, because over the last year and a half, it has been in short supply.
"I always say play is like the spice for children. It helps their social interactions, physical exercise, intellectual and cognitive stimulation, their curiosity and their creativity. And really improves their mental health.
"We're hoping that by ­concentrating on playing and having fun over the next few months, children will be more confident, happier and able to rebuild relationships with friends, neighbours and their families – and that they will not just walk back but bounce back into school next term."
Hunter Blair said lockdown came as a shock to a lot of children, and many struggled with feelings of anxiety. "We did a research consultation in February and children said they missed having fun, their freedom and their friends and family. That was interesting because the word 'freedom' had never been mentioned before. I think children didn't realise what it was until they didn't have it any more.
"While some children will have really enjoyed lockdown because they didn't have to go to school and got to spend more time with their parents, for other children being at home wasn't a very positive experience, particularly for children with no garden or access to an outdoor space to play.
"The impact on them was particularly severe in terms of mental health issues and anxiety. Some children were frightened they would infect their grandparents and got carried away with washing their hands. There were so many rules and restrictions that children became very anxious. It was just too much.
"In Scotland, after the first eight weeks in lockdown, research showed the number of cases in children was small, but the impact of having their right to play removed had serious consequences on their health and wellbeing. When we showed that to the Scottish Government, it reviewed its guidance very quickly and moved to allow children under 11 to play outside. That didn't happen in Wales and England."
Play Scotland has pledged its support for Summer of Play, an initiative to support kids across the country back into play this summer. Following the Scottish Government announcement last week of £20 million for the project, local councils will take charge of rolling out initiatives like play schemes and activities designed to encourage kids and their families to socialise, play and reconnect within their local communities and environments.
And Thérèse Hoyle, author behind 101 Playground Games, hopes going back to basics will be part and parcel of the summer of fun, after pledging her support for the Summer of Play campaign. Just a few weeks ago, Hoyle launched a second edition of the book – designed to help schools, groups like Cubs, Scouts, Brownies, Girl Guides, after school carers – and essentially children – get back to playing games.
And she hopes it may prove a valuable resource for parents, too, over the coming months. "The first edition came out 13 years ago and, after more than a year in lockdown, I think this second edition is needed now more than ever," Hoyle said.
"Lockdown was hard. I remember reading an article that said one in three children was barely leaving the house – and Ordnance Survey map data that revealed 12% of households in Great Britain has no access to a private or shared garden."
Hoyle's book cites research that shows, even before Covid, nearly three-quarters of children were spending less than one hour outside every day. About 20% were not going outside regularly.
And children have less time to play, with screen time in the five to 10-year age group now taking up about 4.5 hours a day.
"It stresses the importance of the school playground," Hoyle said. "For some children, the only time to really play is in the school yard. Play for children at school has reduced more and more since the 1990s. Pressures to get through the academic curriculum means play becomes less valid, which is a shame because it is such an important part of childhood.
"Children treasure their ­playtimes and lunchtime breaks; in fact, for most children it is the best time in their day. Through play, they develop and build relationships, learn social skills, de-stress and let off steam, exercise and most of all they have fun.
"There are some for whom playtime can be the most challenging time in the day, a time when they may be left out of games, have nobody to play with and get bullied or called names. In some schools, instead of the playground being a place of positive social and physical activity, it has become an unstructured, hostile environment with a lack of co-operative play and children frequently involved in aggressive play and anti-social behaviour."
Social distancing and school closures have meant play has been further reduced.
"What's interesting is that there have been some benefits to Covid," said Hoyle. "For example, parents have spent more time with their children, and children have been allowed to play a bit more and perhaps use the garden more.
"And what they should ­realise is that games are the perfect way to bring that magic of childhood back – and put those smiles back on children's faces.
"Games are contagious and fun and you get so much laughter. And they have so many other benefits like physical activity and team work."
Hoyle, who has more than 25 years' experience in teaching and is recognised as the UK's leading training provider of playtime programmes, has compiled an extensive list of games."Working in schools, I've realised children now don't know the games we used to play when we were younger.
"I remember playing What's the Time Mr Wolf? and Hide and Seek and In and Out the Dusty Bluebells when I was three. Games were what we did in the playground.
"Many of these games were played in playgrounds, streets, playing fields and the countryside, in my childhood. However, sadly many of our children do not have the freedom of these open spaces with fears of stranger danger and busy roads. In addition, our children are spending ever-increasing amounts of time inside playing games on screens and watching TV. I feel very strongly that part of my legacy is to pass on these traditional games so the children I work with can then teach them to the next generation."
She added: "My daughter Amber is 23 now, but we still play games. We got really into Uno during lockdown and it got me thinking about all the games we used to play and the fun we used to have when she was little. This summer needs to be a summer of play. And games are the answer post-Covid.
"Children have been taking the weight of the world on their shoulders with all the worries about coronavirus – but they deserve to be children.
"Getting back to running freely and enjoying themselves is exactly what they need. There's a healing that needs to happen for everyone.
"Building dens out of sheets and pegs, catching each other at tag – it's a very natural state of play and that's where today's children need to be."
Hunter Blair said, while friends and parents are important, it will also be beneficial for children to get back to intergenerational play too. "We are social animals and we need all these connections. Kids need their grandparents as much as their parents. We need these extended relationships to help parents – because parents simply cannot do it all," she said.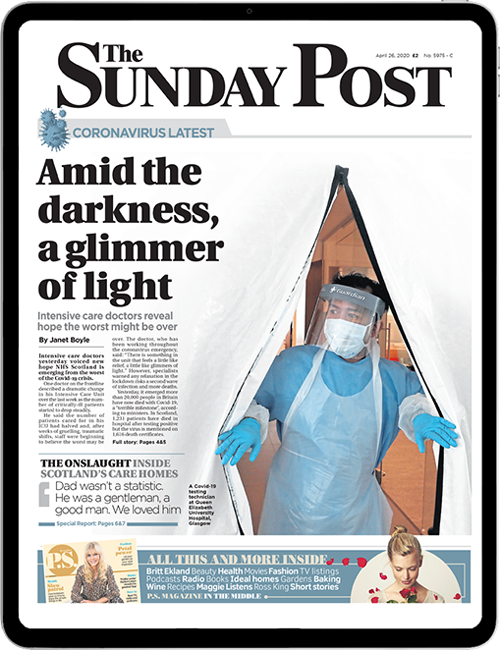 Enjoy the convenience of having The Sunday Post delivered as a digital ePaper straight to your smartphone, tablet or computer.
Subscribe for only £5.49 a month and enjoy all the benefits of the printed paper as a digital replica.
Subscribe