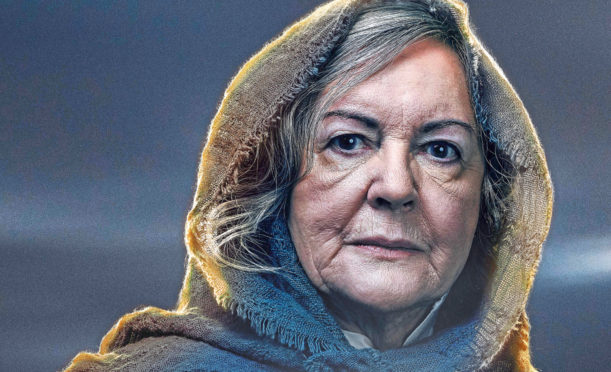 It's hard to believe that the much-loved actress Gwen Taylor, whose TV credits include Duty Free, Heartbeat and Coronation Street, turned 80 years old last February.
"I suppose I've come to terms with 80 now," she says. "What I do hate are the aches and pains because they slow you up so much. Some days I feel about 24. Some days I feel about 92."
In her latest project, a new touring stage play called The Croft, Gwen portrays a lady named Enid who was alive 150 years ago, and is haunting the croft in the remote Scottish Highlands where she was last seen.
But why would a lady of her vintage want to take on a gruelling UK tour in something like The Croft?
"Because I've been offered it!" is Gwen's response. "I want to work. I don't want to stop. I don't know what would happen to my brain if I stopped. I want to do something. And if it's good, which this is, I want to do it even more. I wouldn't accept work just because I want to work. This new play is really good and solid."
Gwen's background in Derbyshire, where she was born, is also solid. The oldest of four children to mechanic Joseph and housewife Dora, she is the only member of her family to go into showbusiness.
"My darling eldest brother, who's been dead for a long time now, was a mechanic too. My middle brother worked in the offices of Rolls Royce. My little brother, who's now in Australia, rehabilitates prisoners."
So what inspired young Gwen to want to act?
"I remember seeing Greta Garbo in Queen Christina and feeling all her emotions. And the other one that really excited me was Anne Bancroft in The Miracle Worker – a wonderful heartbreaking performance which still chokes me when I think of it."
Gwen took up local am-dram in Derbyshire during her late teens, and says: "My parents thought, 'Our Gwen has got one of those fads…' and I remember somebody saying to me, 'Why do you think anybody would come and watch you?' I didn't have a lot of support at the time."
She began her working life as a wages clerk for Derby Council then spent eight years with Westminster Bank. So she had no expectations of being an actress at 80.
"No! Mind you, I didn't start acting for a living until I was 30, which is quite late. After being a bank clerk for eight years, I just accepted that was going to be my life. I didn't think about how long that life would be. I'm glad it's been this long and I hope to continue. I just wanted to act."
After an unhappy first marriage, Gwen moved to London in 1965 to attend the East 15 Acting School. A good early break was working with members of the Monty Python team on Rutland Weekend Television, The Rutles and Life Of Brian.
"The Pythons were so busy, you didn't really form friendships with one – it was like a team. But quite wonderful really. It was difficult filming Life Of Brian in Tunisia, but George Harrison was there because he'd put money into the film. Angelica Houston and Jack Nicholson were there too. It was exciting, thinking, 'Who's going to turn up tomorrow?'"
Gwen became a star through the TV sitcom Duty Free, which ran on ITV from 1984 to 1986. She played Amy Pearce, whose husband David (Keith Barron)was having an affair with the wife Linda (played by Joanna Van Gyseghem) of a couple holidaying in the same Spanish hotel.
"Your big break has to be the one that makes you popular all round, that people recognise and enjoy and are not afraid to speak to you because of it," says Gwen.
"We were a great team. We used to stay at the Queen's Hotel in Leeds because it was shot in studios in Leeds. People used to say, 'Have the four of you got a family bedroom or something?'"
Another ITV hit, A Bit Of A Do, followed in 1989, with a cast that also included David Jason, Nicola Pagett, and Tracy Brabin, who's now a Labour MP.
"Good old Tracy. That's amazing!" says Gwen, but admits a career in politics has never appealed to her. "I couldn't stand the flak. I can't stand the way people talk about each other in politics now. It's so horrible."
In the comedy series Barbara, between 1995 and 2003, Gwen played Yorkshire woman Barbara Liversidge opposite Sam Kelly. Like many people, she's disappointed at the demise of the British sitcom.
"It's all about the writing," she reflects. "People are always trying to break down barriers and push the sexuality and other things a bit too far. I love Fleabag, though I'm not sure it would be popular with people who liked Duty Free, but we need them both.
"I think something about ordinary people in maybe an extraordinary experience, it's fascinating. Maybe we should think more about that and not try and be shocking or political or whatever."
Another of Gwen's well-known roles was as Peggy Armstrong in ITV's Heartbeat from 2005 for five years. She relished playing a character who was the opposite of glamorous.
"That's wonderful, because nobody comes and makes you look pretty during filming!" she laughs. "I loved just getting on with it. It was a great relief actually. Some people come to the theatre expecting to see that character now, because it's still on in the afternoons. And of course they don't see that character. In The Croft they'll see a lady who died a long time ago.
"The Heartbeat cast were wonderful. Everybody was so good, and the filming was a joy. We were right out there on the Moors. It was absolutely lovely," she sighs, equally pleased to have been on the other side of the Pennines for Corrie in 2011/12.
"Very much so. I loved Manchester for Coronation Street. I'd never stayed there before, and that was very exciting for the six months that I did as Anne Foster."
Recently Gwen has memorably played Mam in the movie The Lady In The Van, and various roles in Tracy Ullman's Show.
"I really loved working with Tracy. She's such a clever girl. It was all nice, though pretty rushed – you don't have time to muck about or chat as she's doing several set-ups every day. But she's lovely to work with. I'm an enormous admirer of her."
In 2014, Gwen battled breast cancer which not surprisingly affected her outlook on life.
"It affects it totally. You go through that first awful thing when you almost plan what will happen when you're gone.
"And then you get the all-clear and you think, 'Nothing worse than that is going to happen to me… I'm OK.' Like that lovely song, I'm still here! And I'm working and enjoying it which is the most marvellous thing."
Since 1996, Gwen has been married to playwright Graham Reid, and they live in a three-storey house near Swiss Cottage in London.She considers the keys to their happy marriage to be "love and respect", and has mixed feelings about not having children together.
"I really did think I wanted children at one stage. But I didn't meet anyone who I trusted enough to have a child by. When I met Graham, I was too old to think about having a child. I'm not sitting here pining thinking, 'Why didn't I have any children?' because I've got nieces and nephews galore.
"And while I didn't have any children myself, Graham has two daughters and a son, and I've got two wonderful grandsons from one of those daughters. It's having a family bond which keeps us all together, and we are at the apex of that."
Of her hopes and plans for the future, Gwen simply says: "I don't have any ambitions outside showbusiness – it's been part of my life for so long now – except to be happy really. I just want us to stay together and be happy and sustain each other, and help and support a wonderful family."
For where to see The Croft, visit the website at www.originaltheatre.com