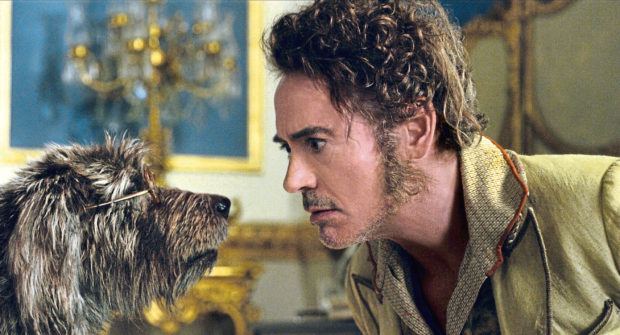 Robert Downey Jr has a somewhat bizarre explanation for his Welsh accent in Dolittle.
Though the chap who can famously talk to animals was a Victorian Englishman in the original stories, Downey Jr has based his take on the character on a Welsh neo-pagan physician called William Price.
He explains: "Same way I did with Iron Man, I looked at the script and said, 'All right, there's something here.'
"After Sherlock Holmes I didn't want to just do another English accent so then, before I signed on, I was just Googling 'weirdest Welsh doctor'.
"And there was this guy called William Price, who's a nutty Welsh doctor; he was a neo-druidist, he believed that he could communicate with all nature and all that stuff.
"So I sent a picture of this wild-looking guy wearing this kind of suit with stars on it and a fancy hat with feathers and a staff in his hand to the director and he goes, 'That looks good to me' and I was like 'Great, let's do this movie.'"
Downey Jr honed his tones by studying interviews given by Welsh actor Michael Sheen, who happens to play his arch-rival Dr Blair Mudfly in the movie.
And he admits: "It's one of the most mortifying things I've ever done so by the time Michael told me that a couple of his friends had thought it was all right, it was like the sun rising for the first time in two years!"
This entirely new story sees Dolittle setting sail on an adventure to find a cure for the gravely-ill Queen Victoria.
Along the way, he encounters Antonio Banderas' Pirate King Rassouli and, needless to say, also spends time chatting with a host of animals.
A stellar voice cast includes Emma Thompson as his headstrong parrot companion, Ralph Fiennes as a tiger, Frances de la Tour as a dragon and Downey's Marvel co-star Tom Holland, who plays a dog named Jip.
While Downey and Holland have become fast friends over the past few years playing Iron Man and Spider-Man, respectively, it was the latter's wife, Dolittle producer Susan Downey, who suggested that the role might get his Spidey senses tingling.
"When the missus said, 'We should call Tom and see if he wants to play Jip,' I was like, 'Now, hold on, he's become kind of a big deal, we don't need him to feel like he owes us something' but she was like, 'I think he might want to do it.'"
Michael Sheen says the biggest challenge was acting before the CGI animals were added, revealing: "I think it was usually just a cross or even tape.
"Isn't that amazing, that the bigger the film's budget, the cheaper the thing is?
"So, you've got this huge-budget film and this dragon but actually what it is is just two bits of gaffer tape stuck on a curtain off in the distance somewhere and someone says, 'Just look there.'
"I've talked to people like Ewan McGregor when he was doing the Star Wars films, people who were doing these huge-budget films with loads of CGI.
"Ultimately what you spend your day doing is acting opposite a man with a tennis ball on the end of the stick or a bit of gaffer-taped curtain.
"That's the ultimate kind of contradiction, in a way. Then, when you watch the film, it's incredible. But the actual experience of it is very much the Wizard Of Oz and don't look behind the curtain!"
Dolittle (U) is in cinemas from Friday February 7.