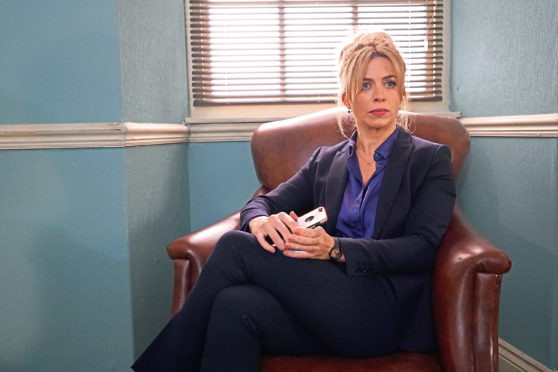 In the world of high-octane TV, a bilingual Welsh drama might not sound like it belongs alongside heavyweights like Broadchurch or The Night Manager.
But Keeping Faith proved popular enough for a second series which returns on Tuesday night to our screens.
This time Faith, played by Eve Myles, takes on the case of a farmer accused of murdering her husband.
The case puts her on a collision course with the police, her colleagues and the community, as the truth about her own husband finally begins to come to light.
Viewers of the first series were gripped after Faith's own spouse's unexplained disappearance.
And for Eve, a veteran of Torchwood and the aforementioned Broadchurch, this latest series is a continuation of the first.
"In many ways series two doesn't feel very different to series one," she explained. "It's the natural progression of the story.
"The life Faith has in this series is one of pure survival for her and the children. The scars of the events of the first series are evident. She doesn't take it laying down, she comes back fighting…literally.
"This series catches up with Faith 18 months since the first series ended. It's a really difficult time for her.
"After the turmoil of series one, she's still trying to make sense of what happened, and work out what she wants.
"She's under pressure from every angle, but tries to keep a lid on it and desperately wants normality to resume for her and her children."
Keeping Faith is set in a small community – and it's a sense of community on set which gives Eve a glow of satisfaction at the end of the day.
She said: "I have many favourite moments on set, but the warmest feeling is when one of the crew gives me a hug and tells me that the scene we've just done got them in the feels.
"I'll always be grateful and humbled by those moments…always."
Aimee Ffion Edwards is the farmer accused of murdering her husband in a case which echoes Faith's own woes last time around.
She was full of praise for Eve – and welcomed the opportunity to perform lines in a mixture of the Welsh and English languages.
"Generally it is like filming anything else only you have to shoot double the amount in two different languages," she explained.
"That can be challenging but it is also a privilege to have the opportunity to do that. I take my hat off to Eve. It's amazing what she achieves in this show."
---
Keeping Faith is on BBC1, Tues, 9pm