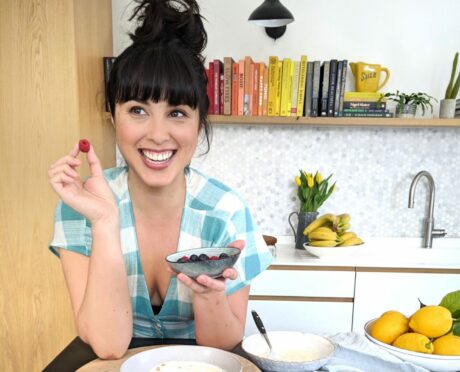 For Melissa Hemsley, feel-good food, whether fresh and nourishing or decadently delicious, isn't just about the flavours. Of course, taste is always paramount, but the chef and food writer says any dish that's designed to make you smile should also be stress-free, as well as easy to assemble and adapt.
"It's about the recipe not being stressful and not making you think, 'Oh my gosh, it's 6pm, I still have 10 emails to write and this dish is going to be another stress on my to-do list'," she explains with a laugh. "I don't want any of that. I want it to be easy to cook and eat – and easy to wash up. It's all about great ingredients that are a pleasure to cook."
Hemsley's latest cookbook is themed around just that – feel-good food that's quick and easy to make and sparks comfort and joy… from speedy dishes and one-pan meals to veggie feasts that can be turned into tempting leftovers.
Published earlier this month, Feel Good, Hemsley admits, is exactly the book she wanted to write for now, particularly as the way we cook and eat has changed so dramatically in the past few years.
"I really tried to tap into how people may have changed the way they've been eating lately," she says. "Maybe they've had to tighten their belts. Maybe they've decided to eat less meat. Or maybe they are just cooking much more regularly."
Similar to Hemsley's previous cookbooks – including the bestselling Good + Simple, co-written with her sister, Jasmine – each of the 100 recipes in Feel Good makes use of readily available ingredients, are naturally gluten-free (or have gluten-free options) and don't rely on refined sugars. What's more, from Vietnamese-style noodles with fried sesame tofu to a rainbow salad with fried halloumi and chickpea, three quarters of the book is vegetarian-friendly and about half is plant-based.
"What I understand from my plant-based and vegetarian friends is they're bored of people cooking them the same things over and over again – falafel, squash, mushroom, risotto," explains Hemsley, who began her career as a private chef for international actors and bands, including Take That. "But one wonderful thing about people trying to get a bit greener and the rise in plant-based cooking is that everybody, I think, has been inspired and positively challenged to drill down into the way they eat.
"People are now thinking, 'OK, so I do eat meat and I try my best to get it from good-quality sources but how can I pad out that meal?'. Can I chop up my mushrooms really, small fry them until golden, combine with mince meat to make an amazing half-and-half shepherd's pie? Or can I smash chickpeas into leftover roast chicken to make a lovely chickpea chicken burger or fritter?
"All of us, whether we're vegan or omnivores, could do with introducing more of a variety of veg into our diets."
One great recipe for adding more veggies to your diet is Hemsley's warm new potato and watercress salad with asparagus. "I'm manifesting a sunny summer with that one," she says. "It ticks all the boxes – local, seasonal, green and so delicious. It only takes 20 minutes to make, and it's got a simple dressing that's zesty and fresh, with tangy capers, chives and cornichons through it. It's beautiful warm or cold the next day, or it would go well with a barbecue or picnic, too."
Hemsley is also a big advocate for avoiding food waste – something her mum, who taught her how to cook, has been talking about for decades.
She says: "My mum didn't actively teach me specific recipes growing up. But she did instil in me that you can always make something out of nothing. Throwing away food is just throwing away money and planet resources and flavour.
"There doesn't need to be the 'best part' of a vegetable. Why is the broccoli floret more delicious than the stem? Or why is the cauliflower floret more delicious than the leaf?"
She added: "There is so much to feel, quite rightly, angry and annoyed and stressed and sad about right now, so if you can make someone's day or give them their first smile of the day with food, that's great."
---
Feel Good, Ebury Press, £22, it out now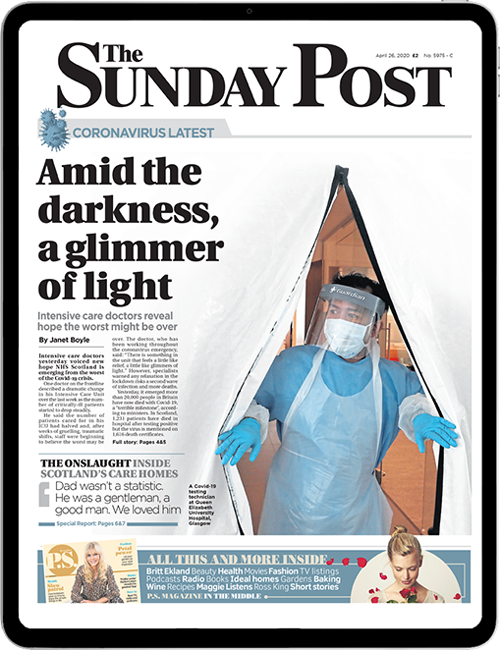 Enjoy the convenience of having The Sunday Post delivered as a digital ePaper straight to your smartphone, tablet or computer.
Subscribe for only £5.49 a month and enjoy all the benefits of the printed paper as a digital replica.
Subscribe