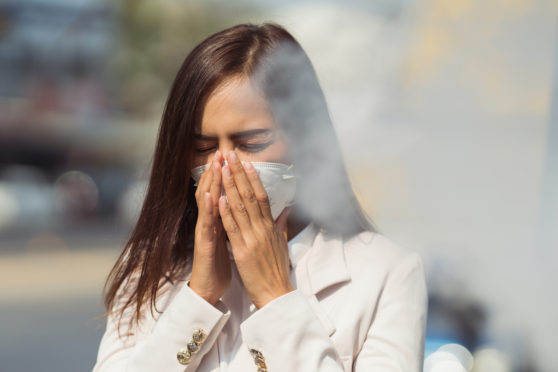 When we talk about air pollution, the first things that spring to mind are fumes billowing from car exhausts, or toxic gases escaping into the skies from sprawling factories.
Few of us would even give a second thought to the quality of air inside our homes. Yet indoor air pollution can be a major health hazard.
The air we breathe – whether outside or indoors – can have an adverse effect on our wellbeing.
With the average person spending 90% of their life indoors, particularly during lockdown, this isn't something we can ignore.
Indoor air pollution occurs when there is a build up of pollutants to the extent that it damages a person's health.
The My Heath, My Home campaign, which aims to warn people about indoor air pollution, says indoor can be up to five times more polluted than outdoor air, and contain up to 900 potentially dangerous chemicals and particles.
As homes are becoming more airtight, there is a greater chance that pollutants will accumulate, thus creating a higher health risk.
Professor Hazim B Awbi from the University of Reading recently predicted that by 2050, without intervention to tackle indoor air pollution, based on current trends, there will be an 80% increase in the number of people with asthma symptoms.
Jessica Kirby, head of health advice at Asthma UK and the British Lung Foundation, says there are many factors that can affect the quality of the air in our homes, from pets, dust mite and smoke to mould and chemicals from cleaning products.
But the level to which they affect different people can differ quite significantly.
"Everyday things, such as cooking and cleaning, can reduce air quality at home," she said. "Everyone is at risk from indoor air pollution but most of us will not be affected.
"If you've got chronic obstructive pulmonary disease (COPD), asthma, bronchiectasis or any other lung condition, you're much more likely to be affected by poor air quality.
"Children and young adults can also be at risk because they have faster breathing rates and their lungs are still developing.
"Their airways are smaller, so inflammation caused by pollution can cause them to narrow more easily than in older people.
"Pollution can also interact with allergens to cause asthma symptoms in children." Common symptoms of poor indoor air quality include coughing, sneezing, watery eyes, fatigue, dizziness, headaches, wheezing, allergic reactions and reduced cognitive function.
Long-term exposure has been linked to serious health conditions including asthma, lung cancer, COPD, airborne respiratory infections and cardiovascular disease.
"Poor air quality can be caused by the usual suspects but also things that people wouldn't necessarily expect," explained Jessica.
"For example, cleaning products can contain chemicals sometimes called VOCs (Volatile Organic Compounds). These evaporate into the air when we use them or sometimes even while they're being stored.
"Products with fragrances such as citrus and pine can react when they are released into the air, forming new chemicals which can be harmful to the lungs.
"Some examples of VOCs are acetone, xylene and formaldehyde.
"These fumes can also come from new furniture and carpets."
There are a number of simple steps we can take to improve the air quality in our homes.
"Simple behavioural changes can help reduce the number of pollutants in the home," said Jessica. "Ensuring your home is well ventilated is one easy method.
"Cigarette smoke can be a factor, so make sure nobody smokes inside the house.
"And avoid wood burners and open fires which can give off smoke.
"For cooking, especially when using a gas hob, use an extractor fan to keep smoke away and try to avoid breathing it in.
"And when it comes to cleaning products, try creams and liquids as opposed to sprays, as they can cause less irritation. Also, open windows when you clean."
Dust mites can be hard to get rid of, but regular vacuuming, airing out rugs and thinking about laying hard flooring rather than carpets may help.
"Keep an eye out for condensation, which encourages mould to grow," added Jessica.
If you do experience symptoms, the best idea is to try and work out what the trigger is and manage your exposure to it.
"And of course, use your preventer inhaler if you have one," said Jessica.
"This can help stop the inflammation in your airways going into overdrive when you encounter a trigger."
---
What causes bad air quality?
Fuel-burning appliances (eg cookers)
Open fires
Household products such as air fresheners, hair sprays, cleaning products, solvents, paints and wood preservatives
Building materials and home furnishings
Candles and incense
Office equipment (such as printers)
People, pets and plants
Bacteria
Excess moisture
Smoking
What can we do to reduce poor indoor air quality?
Ensure the home is properly ventilated; make sure ventilation is well maintained and switched on.
Reduce the use of scented products and where possible switch to
non-spray and ecofriendly household and beauty products.
Reduce levels of moisture by, for example, drying clothes outside, ensuring extraction fans are switched on in the bathroom and kitchen, covering pans when cooking and shutting the door when taking a shower.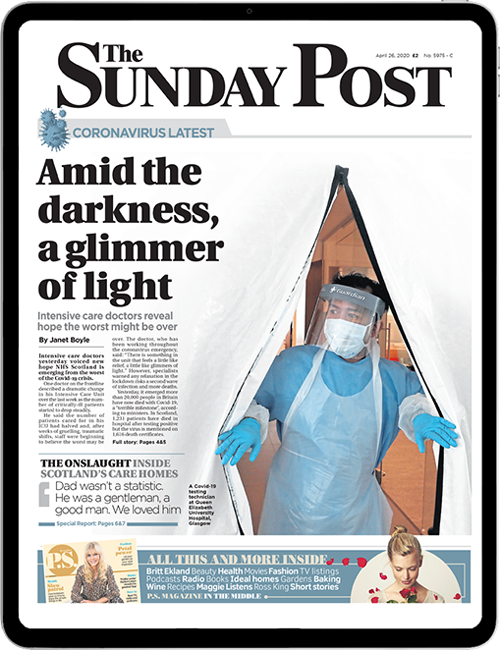 Enjoy the convenience of having The Sunday Post delivered as a digital ePaper straight to your smartphone, tablet or computer.
Subscribe for only £5.49 a month and enjoy all the benefits of the printed paper as a digital replica.
Subscribe