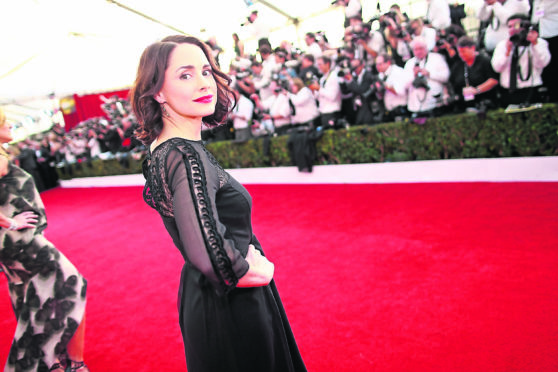 Her role in ruthlessly arranging some major-league villainy could be understood in any language.
But, when the cameras stopped rolling on Breaking Bad, Laura Fraser admits her co-stars struggled with her Glaswegian accent. Laura has returned to Scotland after years living in New York and becoming a key character in the acclaimed New Mexico-set crime drama.
Next week sees her back on the small screen in a new drama, Traces, opposite Line Of Duty star Martin Compston.
And she's delighted to be back on home soil – and not have people baffled by what she says. "I missed the hills in Scotland and the closeness to the countryside, and the air and water," said 43-year-old Laura.
"It's lovely to have a cup of tea and have it taste nice. It's also nice to be at work and to be understood when I talk!
"When I was on set on Breaking Bad, sometimes I would get these blank looks. It took me a long time to realise it wasn't that they thought what I was saying was offensive or strange.
"I got those looks quite a lot and after a while a few people said to me, 'You talk so fast, we can't actually understand what you're saying'. And they didn't want me to repeat it again and again. It was just so awkward!
"That's awful, isn't it? There's nothing worse than when you can't understand someone and you ask them to repeat themselves and you still don't understand them. I realised I was that person to them!"
Laura eventually developed a mid-Atlantic twang as a defence mechanism, something which friends and family were quick to notice on her return to Scotland.
"I came back to Glasgow and got slagged off because of the way I sounded," she laughed. "But I really did miss home. I missed the feeling of being in Glasgow, of recognising places I grew up, with all those familiar streets."
She has now moved back to her home city where she lives with husband Karl Geary and their daughter.
Laura starred opposite Bryan Cranston in Breaking Bad, a crime epic about chemistry teacher Walt White, who turned to drug dealing.
In Traces, Laura, like Walter White, plays a chemistry expert – this time a professor with the fictional Scottish Institute of Forensic Science.
The series is based on an idea by author Val McDermid, and Laura unexpectedly found herself immersed in the sometimes grisly science.
"I read Val's book, Forensics," said Laura. "I also got to chat with a professor of chemistry who was assisting production and was enormously helpful.
"We also got to go to a lab in Preston and they made some fake crime scenes for us to examine. They mocked up burnt remains. All that stuff is so interesting.
"I started watching chemistry videos on YouTube about flaming combustion and flash fires.
"Perhaps I got a little bit carried away with doing it all. It really wasn't like me. I had to ask myself, 'What am I doing?'"
The more she studied the role, however, the more Laura became interested in the practical work of forensic medicine.
"My character is not just a professor of forensic chemistry but is also a fire expert," she explained. "She's into all the physical areas of assisting the police, not just dealing with bodies.
"Her partner is a forensic anthropologist but my character deals with the little nitty-gritty physical remnants such as electrics, surfaces and materials.
"And that is so not me! I'm the world's least practical person so I thought it would be really interesting.
"That methodical, meticulous way of working through things was fascinating. I thought it would be quite therapeutic.
"I'm so rubbish. If I hammer a nail in the wall it will go in squint. Then I'll try to pull it out and make the hole ragged.
"It's terrible. My husband laughs at me. I'm awful."
Traces is the first original series by the Alibi channel, and it is set in Dundee.
"I never got to go to Dundee!" she said.
"For the whole four-month shoot I was in Manchester so I never got to visit, sadly.
"It's a real shame because I live in Glasgow and that would have been a much handier commute!
"I haven't been to Dundee in about 20 years, since I did Scottish Youth Theatre. I was dying to get back up there.
"But they got some nice days when they were filming. It was really lucky. It's nice to see Dundee as home to a series like this.
"Often, when there's a drama set in Scotland everyone's English but, with Traces, mostly everyone was a Scottish actor.
"It's good working in Scotland as there are so many people I worked with back in the '90s, and they've all got kids and married and we can say, 'Oh my God, we're all old now!'
"It was lovely working with Martin Compston. I didn't have many scenes with him, sadly – just one – but he's a lovely guy, and I love Line Of Duty. He's so great in that."
Laura has appeared in the Breaking Bad prequel series Better Call Saul several times, and revealed she'll be back again next year for the fifth run.
The fate of her character was left uncertain at the end of Breaking Bad, but the recent sequel movie, El Camino, shed further light on what happened to Lydia, and left the door open for further appearances.
"I've not watched El Camino yet. I'm going to watch it this weekend," she said.
"I didn't know what was going to happen. But I heard there's some sort of news report about Lydia.
"I've done the last few seasons of Better Call Saul, but I've only been in one scene per season. I was there in July.
"While I was doing Traces I went over to Albuquerque and did a couple of scenes for next year. But I'm barely in it, really!
"But, yes, I'm up for doing any more if they want me – of course."
---
Traces is on Alibi, Mondays and Tuesdays, from December 9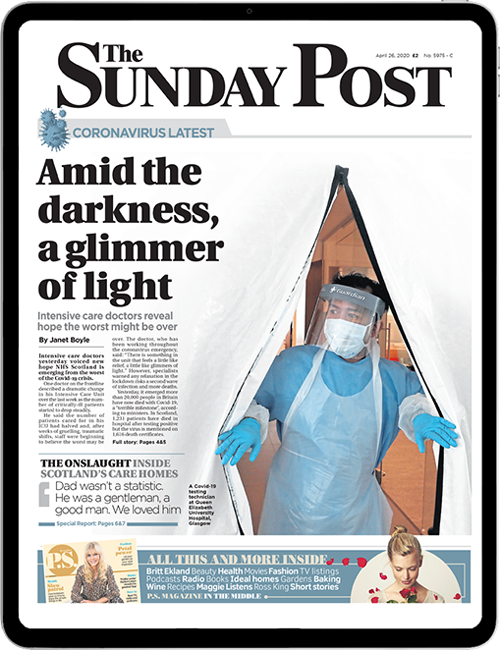 Enjoy the convenience of having The Sunday Post delivered as a digital ePaper straight to your smartphone, tablet or computer.
Subscribe for only £5.49 a month and enjoy all the benefits of the printed paper as a digital replica.
Subscribe