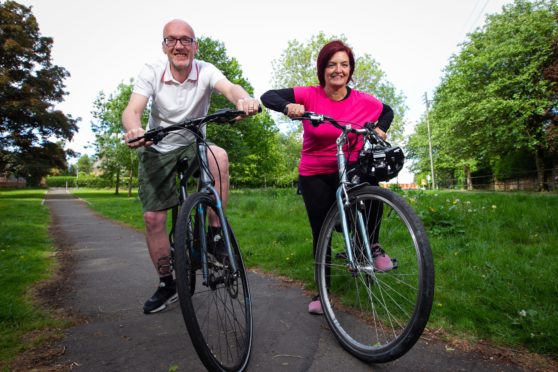 A dramatic increase in Scots pedalling to escape lockdown blues has inspired a cycling boom across Scotland.
And, as emergency cycle paths open up city streets, bicycle enthusiasts hope the country could become a post-pandemic cycling utopia.
Cycling Scotland's roadside counters reveal bike journeys have leapt by more than 200% in some areas since social distancing began in March.
Cycling, in general, is up 40% across Scotland since last year, as more of us embrace the freedom and health benefits cycling offers during the Covid-19 restrictions.
The biggest year-on-year increases were 215% in Dunfermline, 121% in Dundee and 94% in Livingston.
Transport Scotland reported bike journeys had risen 75% since lockdown began, and jumped a further 50% since people were encouraged to exercise outdoors indefinitely on May 11.
"With people making fewer journeys, the roads are quieter and more welcoming, which has encouraged more people to have the confidence to cycle," said Natalie Cozzolino, Cycling Scotland's monitoring and development officer.
The easing of lockdown restrictions has led to increased calls for people to travel to work by bike where possible.
And recent investment in our cycling infrastructure could see Scotland become a leading cycling-friendly nation like the Netherlands if the changes become permanent.
The Scottish Government has announced a £10 million package to help authorities temporarily widen pavements and cycle paths through the Spaces for People scheme, supported by Transport Scotland and cycling charity Sustrans Scotland.
The investment has helped Glasgow and Edinburgh City councils to recently install temporary cycle lanes.
"Beyond the transport, environmental and health benefits, people are rediscovering the joy and delight in cycling and we want that to continue," said Daisy Narayanan, director of urbanism for Sustrans Scotland.
Bike shops
In March, bike shops were listed as an "essential service" and were permitted to stay open during the nationwide lockdown.
Since then, sales have rocketed. Halfords reported a 500% rise in cycling equipment being bought when lockdown began in March and said bike sales were double their normal levels in April, while Evans Cycles continued to see "unprecedented demand".
With many born-again bikers hauling out long-forgotten
two-wheelers from the back of the garage, repair shops are also experiencing a roaring trade.
Many report a huge spike in customers and long, socially distanced queues out the door, with more would-be cyclists sitting on waiting lists.
"We have a maximum two-week-long waiting list which is completely full, so we are having to alternate our ability to take bikes on," said Iain McAllister, manager
at Edinburgh repair shop, Eastside Bikes.
"We're seeing the demand for bikes and servicing that we usually have in the summer but with added intensity.
"We're working flat-out each day and the phone is ringing off the hook. We're looking at getting an answering system to take the pressure off.
"We build and resell secondhand bikes which aren't staying on the shop floor for more than 24 hours right now. We're actually selling commuter and hybrid bikes as they are being built."
Iain added: "We know other shops have month-long waiting lists and ones selling new
bikes are seeing an unprecedented demand.
"It's great to see more people, especially families, riding about the city when the roads would usually be very busy. But it has been a full-on time for us."
Bike schemes
Free bike loan schemes for key workers are in place across Scotland so those fighting coronavirus on the frontline can travel to work safely while maintaining social distancing.
Cycling UK Scotland has provided grants of up £2,000 to 86 bike shops and community organisations to offer free bicycle repairs, loans and equipment.
But, mirroring the commercial UK bike industry, demand is outstripping supply with many cycling shops and charities turning to the public to help.
Recyke-a-bike in Stirling operates a collection service whereby old bikes are repaired and then passed on to those who need them most.
"We have a lot of demand from key workers and our supply is dwindling," said
Recyke-a-bike's Angela Barron.
"We've accessed some recycling centres but demand is outstripping supply, so we've launched a donation drive."
Meanwhile, Glasgow-based Bike For Good has been helping key workers get on two wheels.
"We almost can't keep up with the demand," said Kimberley White of the cycling charity.
"The key workers we have been supporting tell us how cycling has positively impacted their mental and physical health.
"We're pleased to see the effects of less car travel on our environment – cleaner air, safer roads, and more connected communities."
---
'Cycling gives me time to unwind and the fresh air lifts my mood'
Before Scotland went into lockdown, charity worker Sandra Mutter hadn't been on a bike since childhood.
Now, she clocks up 10 miles a day on her commute and is exploring Glasgow by bike at the weekends with family.
As a key worker, Sandra has been given a free loan of a bike from cycling charity Bikes For Good.
"It's made a big difference. I would never have considered cycling to work without the offer of a bike," she said.
Sandra previously commuted by car to the office where she works as a service manager for social care charity, Turning Point Scotland.
Now she finds zipping through city streets on her bicycle helps clear her mind of all the stresses of the working day.
"Managing such a complex service in these difficult times has become quite stressful. I realised driving wasn't allowing me the time I needed to debrief after work," said Sandra. "The cycle home gives me time to unwind and process my thoughts before I get back to my family. Getting a blast of fresh air helps lift my mood."
A lack of traffic has given Sandra, 52, the confidence to navigate the city's usually busy streets.
"The roads being quieter has made me feel safer. When I stop at traffic lights now it's not cars but a swarm of bikes that comes around the corner.
"I would love to continue cycling to work after lockdown ends but I worry about cycling when there's more traffic. I'd like to see more cycle paths linked up and made clearer."
A daily cycle has helped Sandra maintain her fitness and also spend quality time with her postman husband, Pat, and teenage son, Anthony.
Sandra plans to buy her own bike through Bikes For Good and hopes to cycle to Loch Lomond with her family when restrictions allow.
"Cycling has let us explore parts of Glasgow we wouldn't see otherwise, like the Clyde Walkway to Cambuslang.
"It's given us freedom and a chance to appreciate our lovely local scenery."
'I'm doing 50 miles a week and loving every minute'
Social worker Alan Gibson was inspired to get back in the saddle as the country's lockdown restrictions took hold.
But, like many, he struggled to purchase a bike until he heard about Cycling UK's Big Bike Revival Project.
Alan qualified for a loaned bike but was also given one each for his daughter Eilidh, 11, and son Ruari, aged seven.
"The kids had outgrown their old bikes and I couldn't buy one for myself anywhere because demand is so high," said Alan.
"Getting set up through the Big Bike Revival has been great. I've been using the bike for my commute to the office and exercise. The fresh air and exercise has been great for my mental health as well."
For the past month, Alan's family has enjoyed the bracing fresh air and glorious scenery while cycling around their seaside home town of Leven, in Fife, including bike trails in Silverburn Park.
"Going out cycling with the kids and creating some nice memories during all this has been a huge benefit," added Alan. "Cycling isn't something I did before. I was a teenager the last time I was on a bike, but now I'm doing about 50 miles per week by myself and extra with the kids.
"It's helping them appreciate exercise, nature and the area we live in. Sometimes I struggle to keep up. I'll definitely continue cycling whenever lockdown ends, although it will cost me a fortune in new bikes for the three of us!"