THE METROPOLITAN POLICE says it is treating incidents at London Bridge and Borough Markets this evening as terrorist incidents.
At 0025hrs 4/6/17 the incidents at #LondonBridge & #BoroughMarket were declared as terrorist incidents.

— Metropolitan Police (@metpoliceuk) June 3, 2017
Here's what's known so far.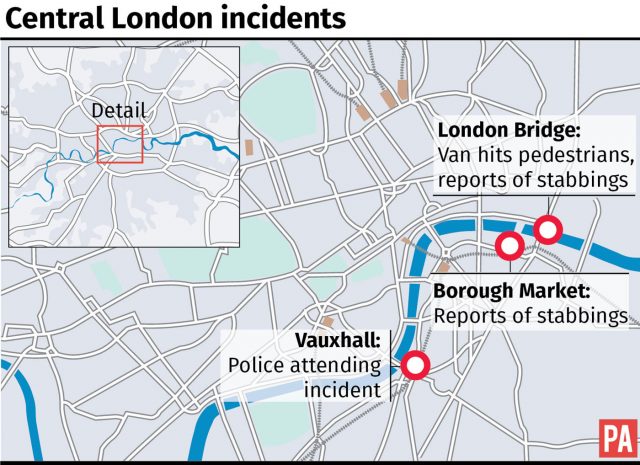 Police were called at around 10.08pm to reports of a vehicle hitting pedestrians on London Bridge
Armed police at Borough High St cordon. Uniform police telling everyone: "You are not getting anywhere near London Bridge at the moment." pic.twitter.com/z48XrYBGg3

— Ryan Hooper (@RyanJHooper) June 3, 2017
Officers then attended a second incident at nearby Borough Market after reports of stabbings. Armed officers responded and shots were fired.
 A third incident is taking place at Vauxhall, Scotland Yard said. They say it is a stabbing but it is not connected to the other incidents.
The incident at #Vauxhall is a stabbing and is not connect to the incidents at #LondonBridge & #BoroughMarket

— Metropolitan Police (@metpoliceuk) June 3, 2017
Another police unit rushing to #LondonBridge scene pic.twitter.com/bzqiUy8q3x

— Kaine Pieri (@PieriKaine) June 3, 2017
Prime Minister Theresa May is returning to Downing Street to receive further briefings from security officials.
The Prime Minister will chair a meeting of the Government's Cobra emergency committee on Sunday.
---
READ MORE FROM THE SUNDAY POST
Update: Police say 'more than one fatality' in 'vehicle and knife' incidents in London
Police responding to 'major incident' on London Bridge with reports of pedestrians hit by vehicle
---
Witnesses describe seeing speeding vehicle veer into crowds on London Bridge
WITNESSES have described seeing a speeding vehicle veer into crowds on London Bridge and people being stabbed in Borough Market, as police respond to incidents in the capital.
A van reportedly swerved off the road on London Bridge and in the popular food market in south London, witnesses said they saw a man with a large blade.
Scotland Yard have said they are responding to three incidents, in London Bridge, Borough Market and Vauxhall.
Husband and wife Ben and Natalie told BBC Radio 5 Live they were outside Borough Market, coming up the entrance of the underground when they saw the incident.
Ben said: "We saw people running away and then I saw a man in red with a large blade, at a guess 10 inches long, stabbing a man, about three times.
"It looked like the man had been trying to intervene, but there wasn't much he could do. He was being stabbed quite coldly and he slumped to the ground."
Ben said the man walked away boldly with another person, and went towards the Southwark Tavern. He said they saw a metal chair being thrown towards the man.
"Then we heard three gunshots, definitely gunshots, and we ran."
Jamie, a witness who was in a restaurant on Rochester Walk near London Bridge,told the Press Association: "We were in the Black and Blue restaurant, we hearda fight and everyone got up and everyone rushed out of the restaurant and weheard a massive, massive bang.
"Then we hid under the table and people came into the restaurant and knocked a bunch of stuff over, like the till.
"And then we ran into the restaurant into the kitchen, where there was a bunch of other people and a guy had been stabbed and he was cut and he was bleeding quite a lot."
He added that they waited in the kitchen for "quite a while" before they were evacuated.
A female companion said: "We were in the restaurant and we just saw three guys come into the restaurant, stabbed someone in the face and someone in the stomach.
"One of them had a big knife, then he came in and walked around the restaurant, I guess they just kind of stabbed anyone that they saw and knocked things on the ground and then we just hid."
Another witness in the London Bridge area, Thomas Daly, was watching the Champions League final in The Sheaf when he saw security people running outside towards the entrance.
He tried to leave when the match finished but found the doors were closed and they were unable to leave.
The 36-year-old, from Liverpool, said: "People were saying there had been a stabbing at Borough Market and they locked us in.
"We sat down again and some minutes later people started coming into the bar and people were getting a bit hysterical.
"A lot of people were streaming through the rear exit and we went outside and heard gunshots.
"I heard gunshots, at least two gunshots, and at that point the people who were trying to get out the back entrance came back inside.
"We went outside to the back, there was the gunfire and then we decided to come back in again."
Armed police then came into the bar and evacuated people, he added.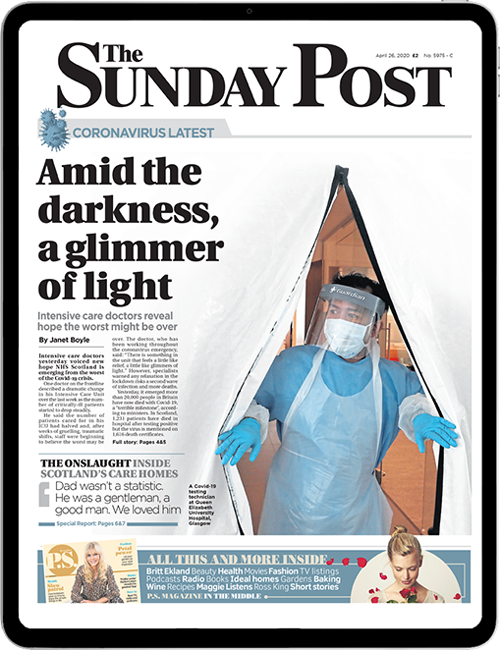 Enjoy the convenience of having The Sunday Post delivered as a digital ePaper straight to your smartphone, tablet or computer.
Subscribe for only £5.49 a month and enjoy all the benefits of the printed paper as a digital replica.
Subscribe