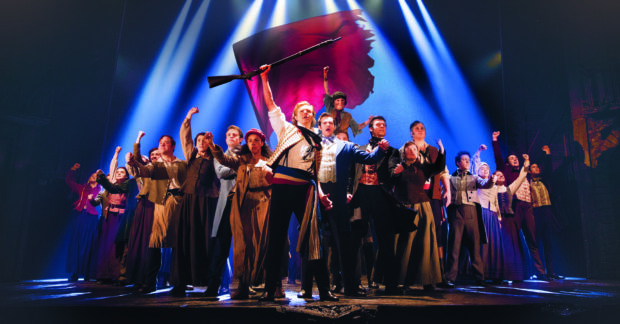 The world might be a stage but when the world is in lockdown where is there left to perform?
Theatres large and small felt it harder than most in the entertainment industry during the pandemic. Forced to shut their doors over the past 18 months, there's been a longing for a return to the shared experience of live theatre.
After some theatres made a tentative reopening in recent weeks, a full-blown return to a packed schedule of touring shows is just around the corner, with some of the biggest and best-loved productions about to go on the road, starring a host of famous names.
Theatres will continue to follow government guidelines closely and also implement their own safety measures.
In Edinburgh's Festival and King's theatres, face coverings should be worn unless exempt, there will be hand sanitiser available and one-way systems in operation.
Since both theatres opened before restrictions came to an end, they have not changed the seating plans for any performances sold on a socially distanced basis and for others, they are offering socially distanced seats in one area of the theatre for those who would prefer it until the end of September.
At Ambassadors Theatre Group venues, which include the King's and Theatre Royal in Glasgow and Playhouse in Edinburgh, either a negative PCR/LF test done within 48 hours prior to attending or a copy of an NHS certificate proving you are fully vaccinated, is required prior to gaining entry. It is also asking audiences to wear face coverings.
Touring productions are very much hoping audiences will quickly become enthralled by what they are watching on stage and still have a great night out.
To help you plan your return to the theatre, we've taken a look at some of the biggest shows performing in Scotland before the end of the year.
---
Musicals
We've all needed a song in our hearts in recent times, so it's no surprise to see an explosion of musicals filling the theatre schedules over the coming months.
From classics of the genre to newer productions, there is a wealth of choice on stages throughout the country.
9 t0 5
Louise Redknapp returns to the role she was playing before the pandemic, starring in the stage version of the '80s film, 9 To 5 (Edinburgh Playhouse, Sep 14-18). With a Tony-nominated score written by one of the film's stars, Dolly Parton, and a book written by the original screenwriter Patricia Resnick, it's easy to see why this show has been so popular.
It tells the story of three women, pushed to boiling point by their sexist and egotistical boss, who decide to take matters into their own hands to reform their office. The production will also visit the Empire Theatre in Inverness from Nov 23-27, without Louise Redknapp.
The Addams Family
Another more recent hit is The Addams Family (King's Theatre, Glasgow, Sep 21-25), a comedy from the writers of Jersey Boys and starring Samantha Womack as Morticia and West End star Cameron Blakely as Gomez. With a live orchestra and an original score by Tony Award nominated Andrew Lippa, the story zips along as Wednesday Addams, now an adult, has a shocking secret – she's fallen in love with a sweet young man from a respectable family!
Grease
Few musicals have as many memorable songs as Grease (Festival Theatre, Edinburgh, Sep 27-Oct 2) and this new version featuring a fresh young cast brings energy and passion to the summer romance of Danny and Sandy. Providing some star power is Peter Andre, who plays Vince Fontaine and Teen Angel (except for Saturday).
Blood Brothers
Bill Kenwright's production of Blood Brothers (King's Theatre, Glasgow, Edinburgh Playhouse, Oct 5-9, Oct 12-16) has now surpassed 10,000 performances in the West End, one of only three musicals to ever achieve that milestone. The score includes Bright New Day, Marilyn Monroe and Tell Me It's Not True.
Beauty And The Beast
Disney first debuted Beauty And The Beast (Edinburgh Playhouse, Oct 21-27) on Broadway 26 years ago. Members of the original creative team have reunited on this new production that features the music and lyrics of Alan Menken, Howard Ashman and Tim Rice. Promising to use the latest theatrical innovations to bring the magical story back to life, among the cast is former X Factor winner Sam Bailey as Mrs Potts.
Priscilla Queen Of The Desert
One of the most glamorous, over the top and joyful musicals is Priscilla Queen Of The Desert (Theatre Royal, Glasgow, Nov 1-6), a UK theatre staple for decades. With spectacular dance routines, eye-popping costumes and a sing-a-long soundtrack featuring It's Raining Men, I Will Survive, Girls Just Wanna Have Fun and Finally, this can't help but raise a smile.
Dirty Dancing
If ever a film was perfect for a musical adaptation, it was '80s classic Dirty Dancing (Festival Theatre, Edinburgh, Nov 8-13), and the stage version's popularity around the world since its inception has proved that to be true.
Featuring hit songs such as Hungry Eyes, Hey! Baby, Do You Love Me? And (I've Had) The Time Of My Life, the story of 17-year-old Frances "Baby" Houseman falling in love with Johnny, the dance instructor at the holiday resort where her family is staying, continues to be a favourite down the generations.
Everybody's Talking About Jamie
The stratospheric rise of Everybody's Talking About Jamie (His Majesty's Theatre, Aberdeen, Nov 9-13) has been breathtaking. Beginning life as a documentary and soon to be seen on screen as a major new Amazon movie, the smash-hit musical came into being after the documentary was seen by a theatre director. Starting life as a regional production, a major producer saw it and offered it a West End stage. Layton Williams stars as Jamie, ably supported by household names Shane Richie and Shobna Gulati.
Waitress
Waitress (His Majesty's Theatre, Aberdeen, Nov 23-27) started life as a cult 2007 film, which premiered at Sundance and received a limited cinema release in the States. It was adapted for the stage in 2015, introducing a new set of fans to the story of Jenna, a waitress and expert pie-maker who dreams of happiness in her life. When an attractive new doctor arrives in town, her life becomes even more complicated. Former X Factor star turned acclaimed musical theatre performer Lucie Jones heads the cast, alongside ex-Emmerdale actress Sandra Marvin and Busted's Matt Willis as Dr Pomatter.
Les Miserables
Rounding off the year in style is one of the bona fide classics of musical theatre. Les Miserables takes up residency in the Theatre Royal, Glasgow, from Nov 23-Jan 1, providing a festive treat for fans. This production was conceived in 2009 to celebrate the 25th anniversary of the show, with new staging and reimagined scenery inspired by the paintings of Victor Hugo. The songs speak for themselves – I Dreamed A Dream, On My Own, Bring Him Home, Do You Hear The People Sing and many more.
---
Plays
If your preference for a night at the theatre is drama and intrigue rather than song, there is a great choice of returning favourites and new productions that will leave audiences on the edge of their seats.
The Woman In Black
The Woman In Black (Theatre Royal, Glasgow, King's Theatre, Edinburgh, Sept 6-11, Oct 12-16) is rightly described as one of the most atmospheric, unsettling and scary stage shows around. Based on Susan Hill's acclaimed ghost story and adapted by Stephen Mallatratt, it has been playing in the West End for three decades. A lawyer obsessed with a family curse engages a sceptical young actor to help him tell his terrifying story and exorcise his fear.
The Cat And The Canary
Bill Kenwright's Classic Thriller Theatre Company returns with their latest whodunit, the creepy comedy thriller The Cat And The Canary (Theatre Royal, Glasgow, Sep 13-18). This new adaptation of the murder mystery by John Willard, which inspired three movies starring big names such as Bob Hope and Honor Blackman, boasts a similarly starry cast for the stage.
Screen legend Britt Ekland is joined by West End leading lady Marti Webb, Mark Jordan (PC Phil Bellamy in Heartbeat and Daz Spencer in Emmerdale), and Tracy Shaw, best known for her long-running role as Maxine Peacock in Coronation Street. Twenty years after the death of Mr West, his descendants gather at a remote mansion to learn who will inherit his vast wealth. When the heir is revealed, the heritage hunters become the hunted and a chain of macabre events begin – will they dare face the haunting presence toying with them?
The Covid Requiem
The Covid Requiem (The Explorers' Garden, Pitlochry Festival Theatre, Sep 15-18) is a new promenade production written and performed by Jo Clifford and Lesley Orr, celebrating the stories and lives of those lost in the pandemic. The Covid Requiem will not only encompass the collective experience of these times, but it will allow audience members to bring the names of their loved ones with them so they can be read aloud and commemorated by the audience, and together help them on the massive journey they face to make sense of what has happened.
Looking Good Dead
Bestselling author Peter James' Roy Grace series returns to the stage with the world premiere production of Looking Good Dead (King's Theatre, Edinburgh, Oct 5-9) starring EastEnders' Adam Woodyatt and Gaynor Faye, whose credits include The Syndicate, Emmerdale and Coronation Street. Hours after picking up a memory stick on a train seat, Tom Bryce (Woodyatt) becomes a witness to murder and reporting the crime to the police only results in placing him and his family in danger. DSI Roy Grace tries to crack the case in time to save Bryce's family, but he also has own demons to contend with.
A Play, A Pie And A Pint
Originally performed at A Play, A Pie And A Pint, The Signalman (Perth Theatre, Sep 23-Oct 2) tells the story of Thomas Barclay, transported back in time by 40 years to the winter's night of 1919 when he was the signalman who sent the Edinburgh to Burntisland train on to the Tay Rail Bridge. Starring local actor Tom McGovern, it questions who is responsible when accidents occur and why we need somebody to blame – even if it's ourselves.
The Enemy
The National Theatre of Scotland is back with a radical reimaging of the classic Henrik Ibsen play, The Enemy, about truth, power and deception, written by Kieran Hurley, screenwriter of acclaimed Scottish indie movie, Beats, and featuring an original soundtrack by Kathryn Joseph.
In a once great Scottish town, a massive redevelopment promises new prospects to its forgotten population. But when Dr Kirsten Stockmann discovers a dangerous secret, she knows she has to bring the truth to light – no matter the cost. It's at Beacon Arts Centre, Greenock, Oct 9, Dundee Rep Theatre, Oct 12-16, King's Theatre, Edinburgh, Oct 20-23, Eden Court Theatre, Inverness, Oct 27-30, and Perth Theatre Nov 3-6.
The Legend Of Sleepy Hollow
The Legend Of Sleepy Hollow (King's Theatre, Edinburgh, Nov 8-13) features Coronation Street alumni Wendi Peters and Bill Ward as the leads in Washington Irving's classic tale. Arriving in Sleepy Hollow as the school's new teacher, Ichabod Crane quickly finds himself caught up in the secrets and unsettling traditions of the locals. But things are not as they seem and he is soon swept up in a dangerous mystery that has him questioning his sanity.
---
Opera
For the first time in 18 months, Scottish Opera will perform in local venues for a live audience. Opera Highlights is a fun and bittersweet comedy featuring an hour-long playlist of classics, curated by head of music Derek Clark, from Carmen, Don Giovanni, Gounod's Romeo et Juliette, alongside some lesser-known gems.
It's on at The Beacon, Greenock, The Brunton, Musselburgh, The Byre, St Andrews, Ballachulish Village Hall, Strathpeffer Pavilion, An Lanntair, Stornoway, Eastgate Theatre, Peebles, Gaiety Theatre, Ayr, and The Queen's Hall, Dunoon, from Sept 14-Oct 2.
---
Dance
Starstruck
Screen legend Gene Kelly's only ballet created for the stage, Pas de Dieux, receives its UK premiere in a collaboration between Scottish Ballet and Kelly's widow, Patricia Ward Kelly. Lovingly revived and given a new twist, it is now called Starstruck and is set in the glamour of Paris in 1960, where jazz meets ballet.
The performance is set to Gershwin's Concerto in F, with extracts from Chopin, and recorded by the Scottish Ballet Orchestra. It's on at Theatre Royal, Glasgow, Sept 23-25, Eden Court, Inverness, Sept 30-Oct 2, His Majesty's Theatre, Aberdeen, Oct 7-9, and Festival Theatre, Edinburgh, Oct 14-16.
Riverdance
A worldwide phenomenon, Riverdance (Edinburgh Playhouse, King's Theatre, Glasgow, Oct 5-6, Oct 13-15) celebrates its 25th anniversary with a stirring reinvention. Composer Bill Whelan has re-recorded his mesmerising soundtrack, while producer Moya Doherty and director John McColgan have produced new lighting, projection, stage and costume designs to appeal to existing and new fans of the Irish dance show.
The Midnight Bell
Matthew Bourne's world premiere of The Midnight Bell (Empire Theatre, Inverness, Nov 18-20) explores the underbelly of 1930s London life, where ordinary people emerge from cheap boarding houses on a nightly basis to pour their passions, hopes and dreams into the pubs and bars of fog-bound Soho and Fitzrovia. Inspired by English novelist Patrick Hamilton's book, The Midnight Bell is a tavern where a lonely hearts club gather to play out their lovelorn affairs of the heart.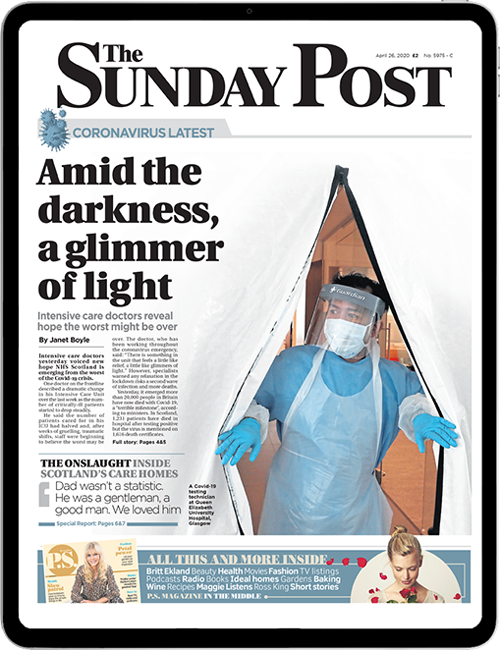 Enjoy the convenience of having The Sunday Post delivered as a digital ePaper straight to your smartphone, tablet or computer.
Subscribe for only £5.49 a month and enjoy all the benefits of the printed paper as a digital replica.
Subscribe