As Blythe Jandoo stood before the slightly ramshackle but imposing monument, she felt a sense of eeriness all around.
The cairn-like structure – with a cross on top and with the painted words "Maggie Wall was burnt here 1657 as a witch" – is a rare thing in Scotland, a memorial erected to a woman accused of being a witch.
Mystery surrounds it, too, as no one has ever been able to say with certainty when it was built or, more importantly, who Maggie Wall actually is, as there is no record of her in the witch trial accounts.
Situated near Dunning in Perthshire, it has inspired playwright Martin McCormick to write The Maggie Wall, a one-woman play performed by Jandoo that gives Maggie a voice.
"I went to Dunning and walked around the town, and it's not difficult to imagine being back in that time, being dragged through the winding streets while people shout at you," said Jandoo. "The monument itself is bigger than I expected, all these huge boulders, and it's quite rough. It makes it feel like it was rushed together, important, and maybe a group effort."
The Maggie Wall received its world premiere at Pitlochry Festival Theatre and comes at a time when a pardon has been demanded for those executed as witches in the 17th Century.
"It's a statement of recognising it happened and it was awful, and to ensure it won't happen again," the Edinburgh actress continued. "It's good to talk about it and remember. At school it was told as folklore or fairy stories rather than the gruesome truth. It's important people know without it being brushed over.
"Also, there are parallels with today's world. These were maybe just women walking alone and something bad happened and all of a sudden they got the blame, and that still happens today, where women still aren't safe to walk down the street on their own, so it feels important to tell the story now."
Jandoo is an experienced West End performer but this is her first monologue.
She said: "I thought it would be overwhelming but it's been enjoyable. Once you know the story you have to tell, and you care both about it and the person you are becoming, it's quite easy. The writing from Martin is brilliant and the director, Amy Liptrott, has been great, so it's definitely a team effort."
Jandoo is part of Pitlochry's rep season, also starring as bold female characters in Sunshine On Leith and Around The World In 80 Days. She added: "Getting to be part of the rep is such a joy and a dream job. You get to try different things, and go in and out of them on different days, while working with different people in different spaces – we do Sunshine in the auditorium, 80 Days on the lawn, and The Maggie Wall in the new studio space, which is beautiful."
Jandoo was part of the National Youth Choir of Scotland and the Lyceum Youth Theatre, which led to her earning a place in the musical theatre course at The Dance School of Scotland. After that it was London, and she's since had the opportunity to perform in iconic venues as well as having small roles in the film versions of Disney's Beauty And The Beast and Aladdin. At Christmas, she'll be part of the cast of the King's Theatre's panto in Glasgow alongside Elaine C Smith and Johnny Mac.
"I've performed in places like the Prince Edward Theatre, the Coliseum and the Palladium in London. The latter was in Joseph with Jason Donovan, Sheridan Smith and Linzi Hateley. My first long contract was at a purpose-built theatre in Germany for Starlight Express, which is like a working museum," she added.
"I've been lucky, and now I get to create this character with Amy and Martin that no one has seen before."
---
The Maggie Wall, Pitlochry Festival Theatre, until September 29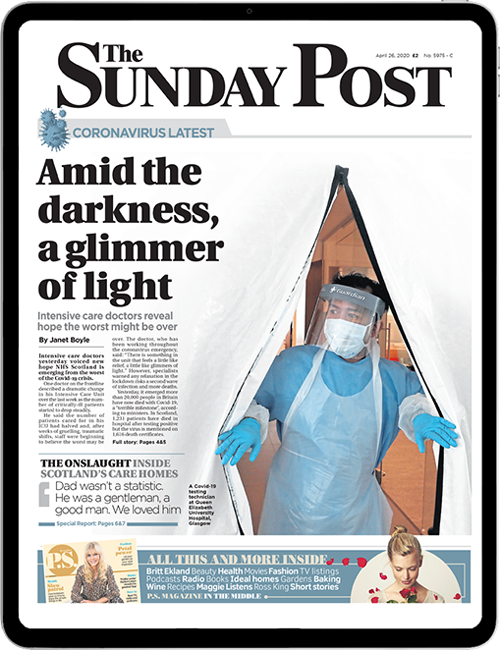 Enjoy the convenience of having The Sunday Post delivered as a digital ePaper straight to your smartphone, tablet or computer.
Subscribe for only £5.49 a month and enjoy all the benefits of the printed paper as a digital replica.
Subscribe