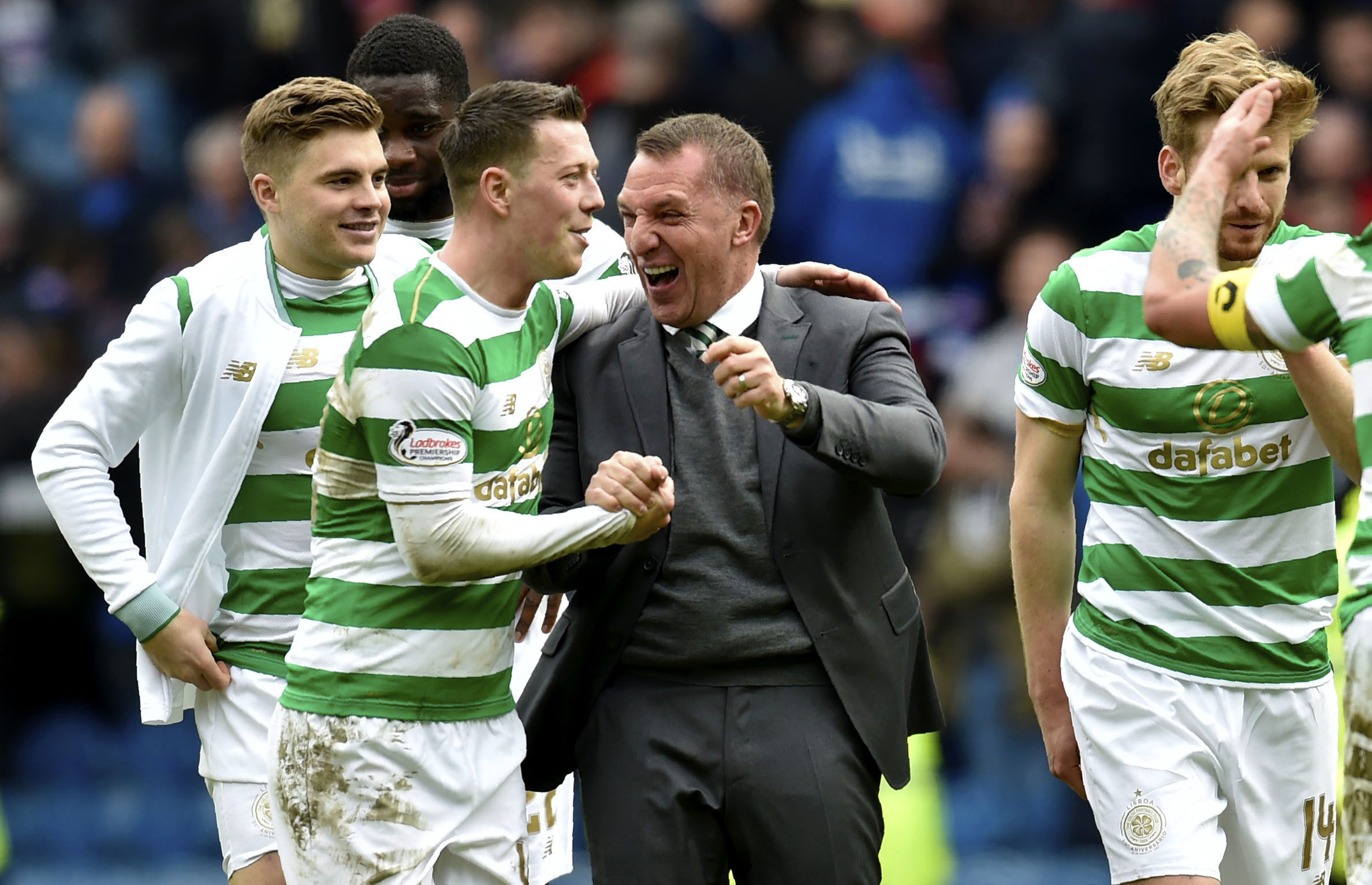 WHEN John Hartson was playing in a successful Celtic team 15 years ago, Martin O'Neill was being linked with top jobs in England.
The success the former Leicester City boss was having in Scotland and Europe wasn't going unnoticed.
A domestic Treble in his first season in charge of the Hoops, consecutive Premier League titles and a run to the 2003 UEFA Cup Final in Seville had drawn the attention of big English clubs looking to change their manager, namely Everton and Leeds United.
Fast forward to today, and there are similarities with Brendan Rodgers.
In the past 12 months, the Northern Irishman has been on the radar of West Ham, Swansea City and Southampton.
Should Arsenal decide to part company with Arsene Wenger in the summer, then it's believed that Rodgers will be on a four-man short-list for the Emirates hot-seat.
Hartson – a former Arsenal hero – totally understands why Rodgers would be linked with high-profile jobs.
But he also thinks that the current Hoops gaffer is in no rush to leave, and will be around Celtic Park until the summer of 2019 – at least.
Hartson told The Sunday Post: "Brendan is a man in demand, and rightly so.
"He worked in England for five or six years and had success at Swansea and Liverpool.
"He then came up to Scotland and has delivered unbelievable glory in his 20 months at Celtic.
"That has put him in the limelight, and he has been linked with a number of jobs.
"I remember the same thing happened with Martin O'Neill in 2003 and 2004 when I was there, and I never wanted Martin to leave.
"Thankfully he stayed until 2005.
"I'm sure the current Celtic players will want Brendan to stay put. He would be a really hard man to replace.
"However, what Brendan can't control is when a club is keen to explore the possibility of getting him.
"Yes, he says he is living the dream in Glasgow as manager of Celtic, and I believe him.
"I know for a fact he gets of plenty of satisfaction from working up here and being with a massive club.
"But when you see a club such as Arsenal being linked with him, then I can see where they are coming from.
"That said, I worked for Arsene Wenger at Arsenal, and I have total respect and admiration for the man.
"I'm not comfortable about his potential replacements being spoken about when he is still in the job.
"However, whether they eventually see Brendan, or anyone else, as their next manager – and whether that be this summer or two years from now – then Arsenal would be able to offer a salary in excess of £8m a year.
"There would also be a transfer budget of more than £150m. That is bound to be attractive to many, many people.
"But we are dealing with speculation here. Only Brendan knows what he'd like to do this summer, and beyond.
"My feeling is that he will stay at Celtic for at least one more year. I think he will want to stay to try to achieve eight titles on the trot.
"He will maybe then review his position. But he also has a long-term contract with Celtic, and I don't imagine he will be in any rush to leave. Only time will tell."
The league table tells the story that the points gap between the Old Firm has closed in the past six months, but Hartson isn't reading too much into that.
He doesn't necessarily agree with the suggestion that Rangers will get even closer to their rivals next season.
Indeed, he thinks the opposite may happen.
And he explained why: "Yes, Rangers are much better now under Graeme Murty than they were under Pedro Caixinha.
"But there is still a gap.
"The calibre of player in the Celtic squad, and the depth available, is far superior to Rangers.
"I agree with the point that Rangers recruited well in January, and they will try to build on that in the summer.
"But I'm also of the opinion that there is much improvement to come from Celtic.
"I think they've suffered a wee bit of second-season syndrome in the past seven or eight months, and that can often happen.
"I don't expect them to drop as many points in the league next season as they have in this campaign.
"If anything, I would expect them to strengthen the squad and kick on again.
"I'm not going to predict that they will go unbeaten, or anything like that. But I think you will see a renewed determination and hunger to have a special year.
"Scott Brown will stay at the club, and that is significant. He still has the ability and mentality to be a huge influence on proceedings for a minimum of another two years. He is the most-accomplished midfielder in the country, and he really drives the team on and tries his very best to get the maximum out of his team-mates.
"Scott has a wonderful presence and that can intimidate the opposition.
"He is a leader of genuine quality and has been instrumental in everything the club has achieved in the past six or seven years."
As Hartson stated, Brown isn't for going anywhere. But what of Moussa Dembele?
The quality of his finish for the equaliser at Ibrox last weekend to make it 2-2 was exceptional. He looked back to his best, and that is only going to attract the big boys from Europe.
Hartson said: "I'm a fan of Dembele. He has been superb since he came to Celtic and he showed what he has in his locker in the game against Rangers.
"Not only was his finish out of the top drawer, but what about his pass through to Odsonne Edouard for the winning goal? It was the kind of pass any player would have been proud of.
"It's important to see Dembele getting back to his best form. He was brilliant last season, but has struggled to reach those heights in the past few months.
"I think his season being interrupted by injury hasn't helped him. He looks like a lad that needs to build a rhythm, and really feed off that momentum.
"Dembele's re-emergence has arrived at the perfect time. It is now the business end of the season and Celtic are only a few wins away from doing back-to-back Trebles.
"That's quite an achievement, really.
"So I can imagine Brendan and the players being really up for it in the next two months.
"The Scottish Cup semi-final against Rangers is obviously massive. But you would have to fancy Celtic to win, and then they play either Motherwell or Aberdeen in the Final.
"The good thing for Brendan will be that every player wants to be involved. They want to be starting games and doing their bit to create another piece of history at the club.
"Stuart Armstrong and Paddy Roberts are both fit again, and that adds wonderful options in the middle to front area and out wide.
"It looks promising for Celtic, that's for sure. But they still have plenty of hard work ahead of them and Brendan will not allow them to be complacent.
"Overall, I'm really excited about the end to this season and what it might bring."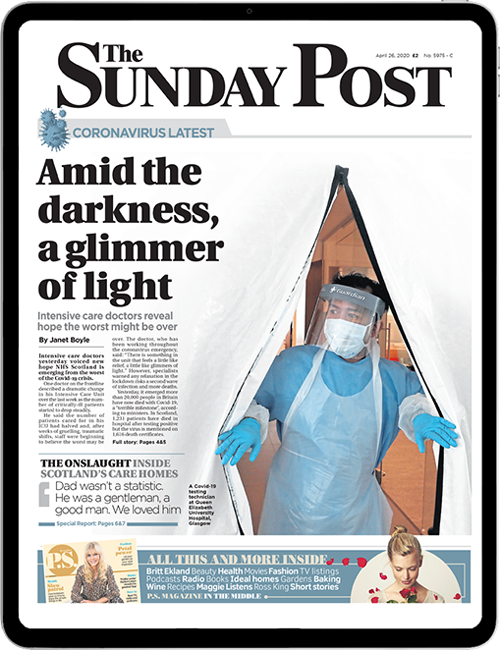 Enjoy the convenience of having The Sunday Post delivered as a digital ePaper straight to your smartphone, tablet or computer.
Subscribe for only £5.49 a month and enjoy all the benefits of the printed paper as a digital replica.
Subscribe