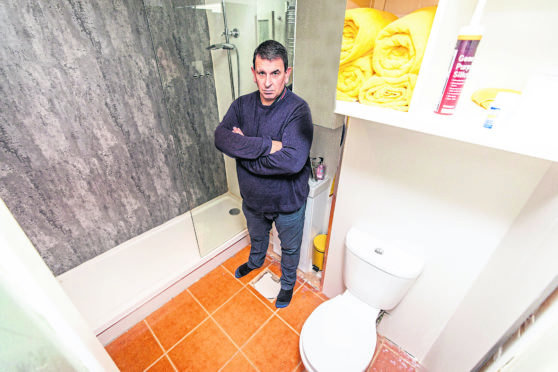 Stuart and Leigh-Anne Melville were looking forward to a new bathroom in time for Christmas but instead fear they have thrown £2,500 down the drain.
In August, the couple paid Broughty Ferry-based Klass Home Improvements to do the work at their home in Glenrothes, Fife.
The job – which came with a 12-month guarantee – was booked for the following month and included fitting a new bathroom suite, wet room and shower.
"We were supposed to pay for it in stages but by mistake we paid the full amount up front, which was £2,500 or thereabouts," said dad Stuart, 44.
The job should have taken no more than a few days, Stuart explained.
But within a short space of time alarm bells started ringing, he said, because of the "obvious poor standard" of the work.
The job dragged on longer than it should have and the workmen started staying on site for only a few hours at a time before clocking off.
"Then one day the job was suddenly finished and the contractors left," said Stuart, a roading supervisor with the local council.
"When we looked at what they had done we were shocked.
"The bathroom was an absolute disgrace. The boarding was coming off the walls and the shower was unusable."
Stuart complained to Klass and said a few days later a representative from the firm arrived to assess the work.
"He agreed it was a mess but said we shouldn't worry because they would fix it," said Stuart. "Instead they just made matters worse."
He said during the job and later attempts to fix the bathroom, carpets were damaged throughout the house.
"The carpets had been cut everywhere, including the hall and the stairs, and there was silicone squashed into them. When they came back and tried to get rid of the silicone with some kind of remover spray it instead just further stained the carpets," said Stuart.
"The carpet in the hall is only a year old and I have been quoted £900 for a new one."
When the remedial work was unsuccessful, Stuart said Klass Home Improvements' representatives left and promised to return – but he hasn't heard from the firm since.
"Despite phoning, emailing and texting this company multiple times I haven't managed to speak to anyone or even had the courtesy of a reply."
Klass – which on its Facebook page advertises that it is a family-owned firm with more than 50 years of combined experience – did not respond to Raw Deal's repeated requests for comment.
"We have now been left in a position where we would have to spend at least another £2,500 to get the bathroom remedied, as well as shelling out for new carpets," said John.
"I would take this firm to court but after talking to a solicitor we were told that would cost us even more than the price of starting over again with a new builder. The stress of it all has been unreal."