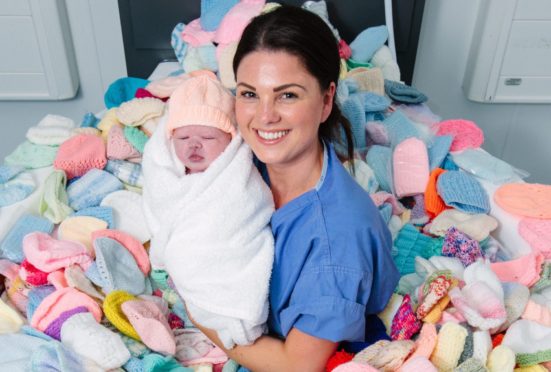 Midwives at Glasgow's Queen Elizabeth University Hospital have been blown away by the generous support of strangers from around the world, who responded in their thousands to a call for donations of knitted hats for newborn babies.
But the maternity unit now say they have received so many tiny bunnets, hats and caps, they can't keep up with the parcels that are flooding into the ward every day.
The overwhelmed midwives say they didn't expect quite so many kind-hearted knitters to respond when they made their request on social media late last month, and they're quickly running out of space to store the special woollen garments.
"We posted on an obstetric and gynaecology Facebook page to encourage any donations of hats for the unit," explained midwife Mairi McDermid.
"When our supplies get low, we do usually put out a notification to see if we get any interest. But after the post went out, within a very, very short space of time, we started to get bags full of hats from a variety of different areas across Scotland, as well as down south in England, and some have even come from as far afield as Portugal."
It is thought the increase in donations came after the midwives' call for hats was picked up by community group the Warm Baby Project, which has more than 57,000 followers on Facebook.
Launched in April 2018 to raise money for knitting supplies to make blankets and hats for a local hospital in West Sussex, the Project now has more than 80 knitters around the country, creating items for over 20 hospitals.
Mairi said: "It's difficult to say an exact figure, but we've definitely received at least a good few thousand. But every single hat will get used – every baby that comes through the unit gets one, and we have about 500 babies delivered here each month."
The tradition of wrapping newborn babies in handknitted pastel pink and sky blue hats stretches back generations, and Mary Hannaway, senior charge midwife of the labour suite at the Queen Elizabeth, says it's been a joy to read the letters that have been delivered alongside some of the donations.
She said: "It's been lovely to read the notes. We are trying to respond individually to every single person who has sent a letter with a return address."
She added: "It's been so nice to receive the hats and they've come in all colours of the rainbow.
"Every day more hats arrive. The babies get a hat right away as soon as they're delivered, so it will stay with them when they leave to go home. It's great that we're now in the position where we are able to give the parents more than one hat, too.
"I imagine by this time next year we might be low on stock again!"