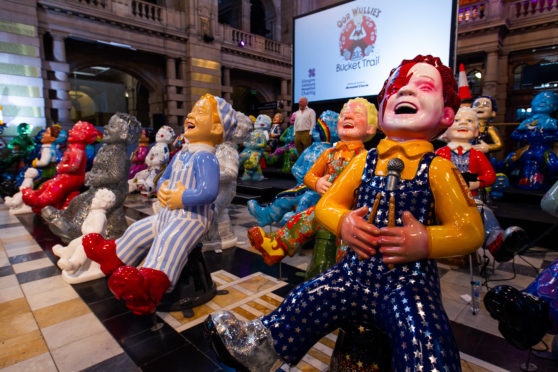 Oor Wullie's Bucket Trail was big but the bids were bigger as Scotland's summer of fun came to a sensational climax.
The last 60 of the 200 painted sculptures of Scotland's favourite son were auctioned off in Glasgow, helping to raise a ­fantastic £1.29 million for the three charities supporting the country's children's hospitals.
By Thursday, £873,700 had been raised at auctions in Dundee, Aberdeenshire and Edinburgh and, on Friday night, the total soared well above £1m amid fierce bidding at Kelvingrove Art Gallery.
It smashed the record for the week, pulling in £419,500 for Glasgow Children's Hospital Charity and taking the total raised to almost £1.3m.
Ellis Watson, DC Thomson Media's ­executive chairman, was delighted at the fun provided by Wullies over the summer and of the fundraising generated by the auctions.
He said: "When we started this project two years ago we dreamed of raising substantial sums of money to do life-changing things for every child in hospital care in Scotland.
"And, by jings, we've done it!
"This money will go far, bringing smiles to the faces of kids in hospital when they need it most."
Shona Cardle, chief executive of Glasgow Children's Hospital Charity, said: "Thank you to everyone who so generously bid, especially those who were successful. What a finale!
"Last, but not least, to the team of staff and volunteers who have worked tirelessly to make this whole project a success, thank you all. I couldn't be more proud of you."
In Glasgow, the most expensive statue of the night was Metal Oor Wullie, designed by Jason Patterson, which secured a winning bid of £25,000.
The Kelvingrove event was hosted by Still Game actor and comedian Sanjeev Kohli.
He said: "All the Wullies are lovely and unique works of art. The buzz in the room was amazing. Everyone's a winner."
Scouts Scotland earned a huge cheer when they won back their own Scout Oor Wullie after a crowdfunding drive raised enough to buy the kilted sculpture, which went for £4,200.
Graeme Luke, head of the scouting operations team, said: "We have a new member coming to Fordell Firs Scout Centre soon.
"Well done everyone who supported the children's hospital charities."
Other big draws at the ­gallery were Buzzin', which raised £16,000, and Oor Teacake, which sold for £15,000.
Oor Billy, a tribute to Billy Connolly, fetched £8,000 while Oor Jimi, honouring US guitar hero Jimi Hendrix, went to an online bidder in California for £5,500. And a statue representing Rod Stewart, Oor Rod, sold for £7,000.
William Houston, 56, a retired engineer from Motherwell, paid £6,000 for his favourite, Steampunk Wullie.
He aims to put it in his ­garden for his five grandchildren.
"I have always been an Oor Wullie fan but the kids don't know his story, so I thought this would be a good way to get them interested."
The big week of auctions for the Wullies – which brightened up Scotland's streets all summer – had kicked off at the Dundee Rep Theatre on Monday.
The night saw 39 statues sold with the proceeds going to The ARCHIE Foundation.
The staggering £239,000 raised will be put towards ARCHIE Tayside and its efforts to raise £2m for a new twin operating theatre suite for children at Ninewells Hospital.
Full O Beans, by Bucket Trail art director Suzanne Scott, was the main attraction, raising a whopping £16,000.
Oor Freddie, based on the late Queen singer Freddie Mercury, and Wullie's Big Night At The Theatre each raised £12,000.
On Tuesday, 50 Oor Wullies from Inverness and Aberdeen were auctioned in Inverurie.
The sculptures went under the hammer at the Thainstone Centre for Archie Grampian.
The total raised was £316,700.
The Amazing Oor Wullie – a tribute to those who make children laugh – sold for £15,500
On Thursday, vital funds were raised at Edinburgh's Prestonfield House for Edinburgh's Children's Hospital Charity with The Proclaimers Oor Wullie statues raising £14,000.
The Edinburgh auction totalled £318,000 before the trail ended in spectacular style in Glasgow on Friday night.
---
£25k? That's a real steel
A spectacular metal Oor Wullie became the most expensive of the 200 statues up for auction after being snapped up for £25,000 by Lady Philomena Clark.
The chairwoman of car sales giant Arnold Clark, the Big Bucket Trail's national sponsor, splashed out another £8,000 for Oor Andy, inspired by tennis star Andy Murray, and also paid £4,000 for Oor Nature Wullie at the Glasgow auction.
Lady Philomena, widow of firm founder Sir Arnold, who died in 2017, said: "I bought the one of Andy Murray because I'm a great tennis fan."
Lady Clark said she had wanted to raise as much money as possible for the children's hospitals.
"They are just amazing. All the staff are," she said.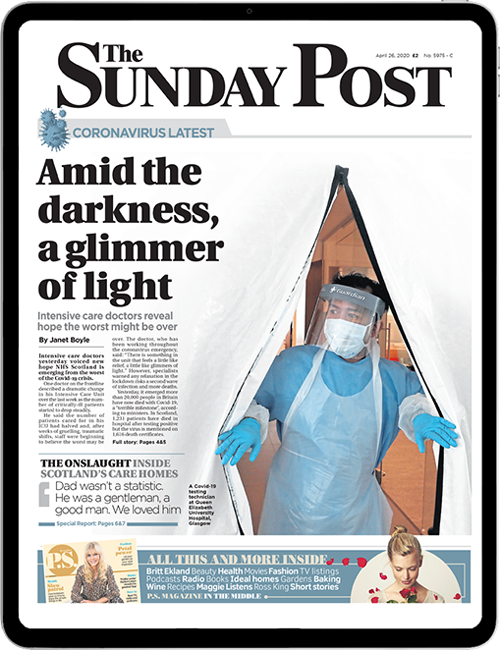 Enjoy the convenience of having The Sunday Post delivered as a digital ePaper straight to your smartphone, tablet or computer.
Subscribe for only £5.49 a month and enjoy all the benefits of the printed paper as a digital replica.
Subscribe