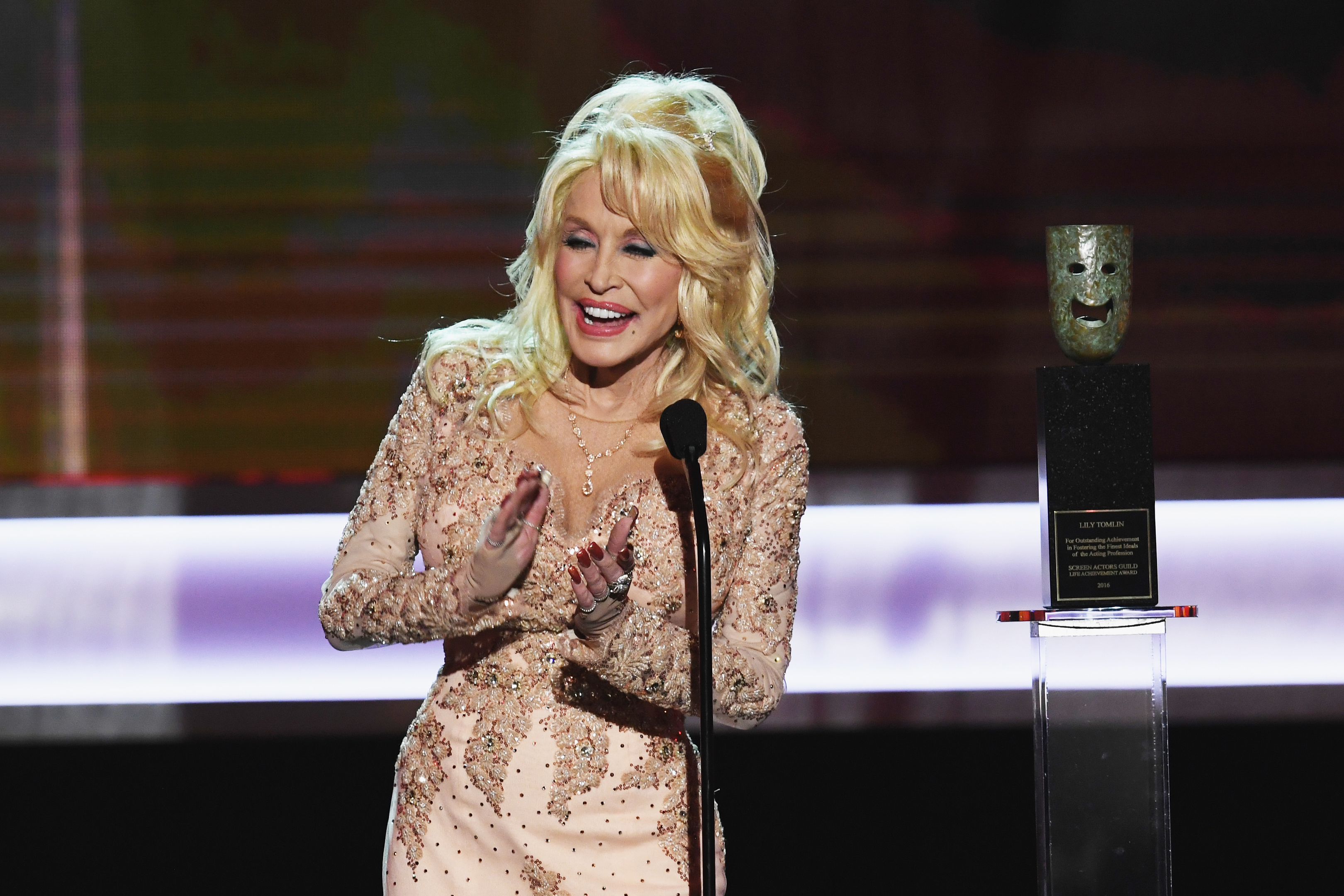 I'VE made a few jokes about the Screen Actors Guild's awards show over the years.
Who can resist a few SAG gags when there are so many Hollywood stars about?
Of course, leave it to Dolly Parton to nail it the other night.
I was at the awards night at the Shrine Auditorium here in Los Angeles to see the country music legend present a lifetime achievement award to her 9 To 5 co-star Lily Tomlin.
"If I got a SAG award I'd make sure everything was nipped and tucked," quipped Dolly. Of course!
Talking about 9 to 5, Dolly said she and Lily would have to hurry up with the sequel, otherwise they'd need to call it NINETY FIVE.
A classic from the queen of one-liners!
One of the other winners on the night – for its amazing action sequences – was the Second World War drama Hacksaw Ridge.
It stars Andrew Garfield – who's gone from slinging webs as Spiderman to putting in powerhouse acting performances in the likes of Silence – and is directed by Mel Gibson.
Garfield, who plays conscientious objector Desmond Doss, told me he wasn't intimidated by the Lethal Weapon star.
Doss refused to wield a weapon but threw himself into harm's way to rescue his comrades during Second World War battles.
Andrew was full of praise for his director – well, you would be given that Mel was in the room – but also wasn't afraid of casting the 80s heartthrob in a more … paternal role!
"Mel's amazing as he makes you feel there isn't any pressure on you," Andrew told me.
"It's a strange thing, he's so good and he's such a good leader and creates an environment where you feel like you can turn up and play.
"You feel like, 'Dad's got the reins of this thing'."
Luckily the Braveheart star, who was in the room at the time didn't seem too bothered – conceding he had a few wrinkles these days.
"It's fine," said Andrew to Mel. "I didn't say grandad!
"There was pressure, but that helped. Mel had such a tight budget.
"He had half the budget of Braveheart, and half the number of days to shoot it compared to Braveheart.
"You can't tell that when you see the film because he's brilliant at what he does."
Next week I'll have more news on Mel – and his remarkable comeback.