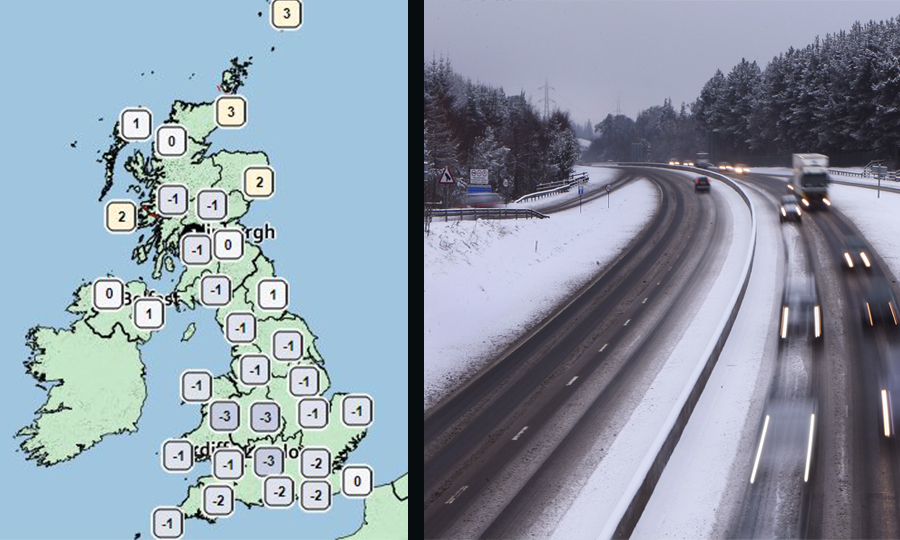 A FURTHER spell of winter weather is set to hit Scotland next week, particularly in the east of the country.
The Met Office has warned that a flow of air from Russia, nicknamed the 'beast from the east', will see the mercury dip to below freezing from Monday onwards.
Forecasters said temperatures will not get above 2C in Scotland's cities, and could even drop to lows of -5C. In rural areas of Tayside and Fife, -8C is likely.
Snow is also likely in some areas.
A Met Office meteorologist told our sister title the Evening Telegraph: "Because there is going to be an eastern flow, there will be showers on the eastern side of Scotland.
"Temperatures will be cold enough for showers to definitely fall as snow.
"It is too early to talk about how much, but there will be some.
"We're fairly confident we're going to see a significant cold spell. There will be maximums of 1C or 2C and minimums of -5C in towns and cities."
It means Scots should probably make the most of this week's milder weather, with the oncoming cold spell possibly lasting a couple of weeks.
Forecasters had predicted the rare weather phenomenon, known as a Sudden Stratospheric Warning, would hit at around about this time.
It happens a few times every decade, disturbing the jet stream to the UK and allowing cold winds from eastern Europe to arrive in.
It causes clear, dry weather with frost during the night.
The last Sudden Stratospheric Warming event occurred five years ago, according to official data.
It brought the coldest March for 51 years to Scotland, with snow and -12.5C lows as late as March 31 in Braemar, Aberdeenshire.
But it got worse in 2010 when a temperature of -16.1C was recorded in Altnaharra in the Scottish Highlands in November, again caused by SSW.
The Met Office say southeast England will likely bear the brunt of the weather, with disruptive snowfall possible.
With the cold spell potentially lasting into the week after next, people have been urged to take precautions and check on the elderly.
Dr Thomas Waite, of Public Health England's Extreme Events team, said: "With the days feeling a little longer and lighter it can be easy to forget that cold weather can still kill.
"Over 65s, those with conditions like heart and lung diseases and young children, are all at particular risk in cold weather as their bodies struggle to cope when temperatures fall.
"So before it gets cold check on friends, family and neighbours, who may be at risk and make sure they're heating homes to at least 18C, see if they need any particular help or just someone to talk to and keep an eye on the Met Office's forecasts and warnings. Remember keeping warm will help keep you well."