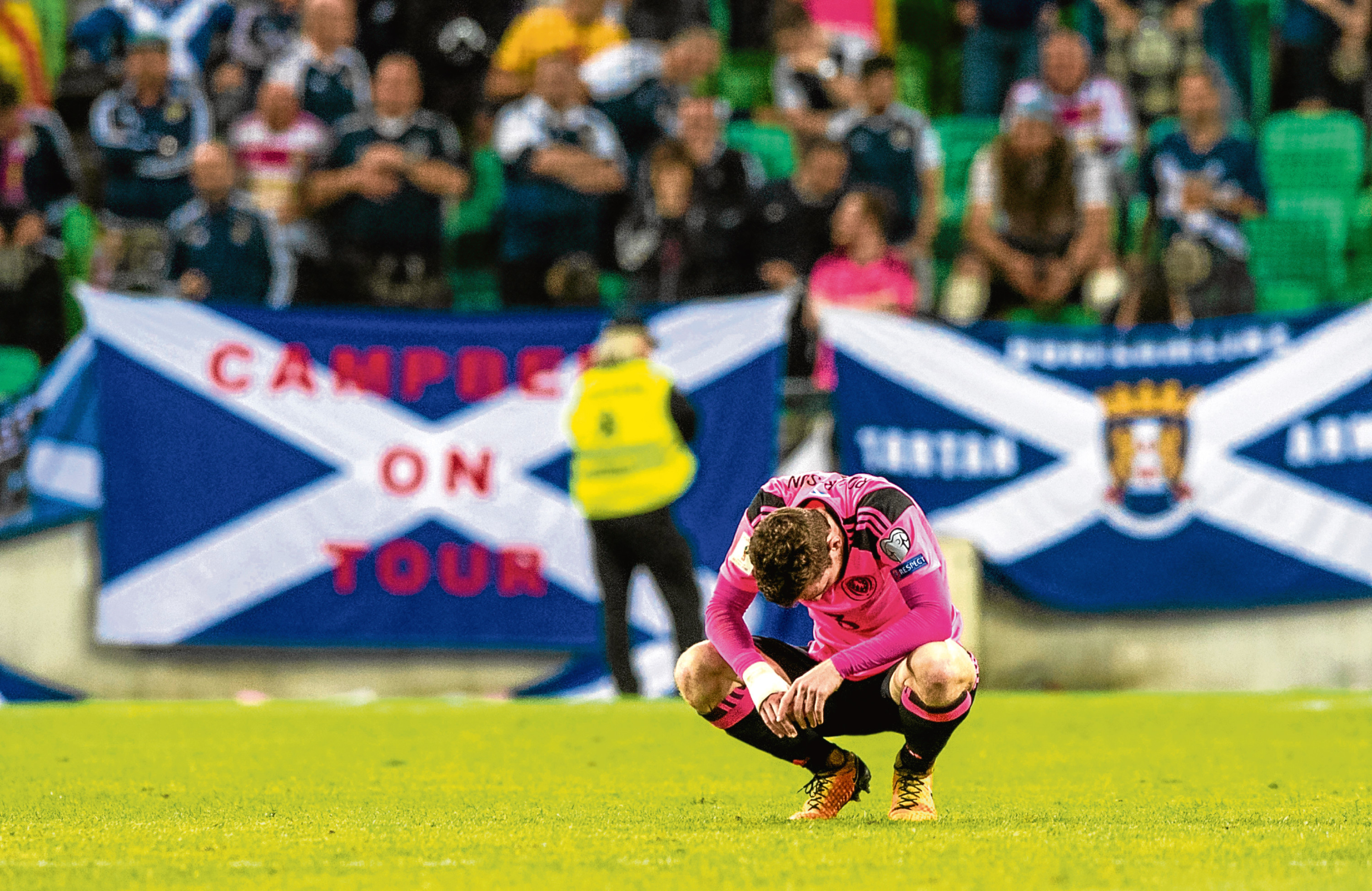 GORDON Strachan's exit as Scotland manager has divided the nation.
Some members of the Tartan Army are happy to see the back of him after our last chance to reach the World Cup play-offs blew up in our faces in Llubljana last Sunday.
For others, what could be viewed as yet another glorious failure was evidence enough for Strachan to be given the chance to make it third-time lucky.
The optimists will point to a strong second half of the Group F campaign, coupled with the progression of the likes of Kieran Tierney and Andy Robertson – whose superb goal in Lithuania was the highlight of the best team display in years – as reason to believe success might not be too far away.
The counter balance to the sight of a group of players unable to lift their chins off their chests when the full-time whistle blew in Slovenia is the memory of thousands of fans ecstatically dancing to the darts favourite, Freed from Desire, after Slovakia were seen off four days earlier.
Significantly, the player himself is not convinced.
"Did we build something? It's a tough question, because at the end of the day, we've not done enough," the Liverpool defender, who faces a near-instant return to Slovenia for a Champions League tie against Maribor on Tuesday night, replied.
"We keep finding a way to lose": Hamilton boss Martin Canning frustrated after defensive performance sees defeat against Motherwell
"In the last campaign, we got off to a flyer then the second half was poor.
"In the second half of this one, we were flying and didn't lose a game. It's the first half that let us down.
"From that point of view, we need to put a whole campaign together instead of just doing it in halves.
"If we could have put two of them together, we were going to one of the championships.
"The reality is we've not done that. Our target at the start of the campaign was to reach the World Cup Finals and we have not managed to do so.
"I suppose you can take positives from the last couple of games. But at the end of the day, we have failed."
And regrets? Robertson has a few.
"Realistically, it wasn't going to Slovenia and being held to 2-2 that cost us," said the player who has become a regular since making his debut in a friendly against Poland in Warsaw back in 2014.
"Looking at the group at the start of the campaign, you'd probably take a draw away to Slovenia.
"You saw that, especially in the first half where we were lucky to be in the lead. Griff did what he does and got us a goal with a terrific finish. But the fact is they dominated possession.
"Obviously the England game was a disappointment. But every fan, every player and every pundit would have taken a draw against England. Let's not be silly about that.
"Harry Kane scored with the last kick of the ball against us. But they dominated possession that day and could have been two-nil up before we even got back in the game."
Where we fell short, Robertson believes, is in their first home game of the campaign.
Then, in front of an expectant 36,000, crowd Scotland came within one minute of what would have been a humiliating loss to a Lithuania team they were later comfortably beaten on their own soil.
As it was, it took James McArthur's headed equaliser to scramble a draw and a point.
"Lithuania at Hampden is the one we should have won," argued Robertson.
"We just weren't good enough that day. Had we put in a performance akin to what we managed in the last seven games, we would have beaten them hands down.
"We need to change that, because there always seems to be one bad performance, one bad result in the group."
"As I say, by the time the next game comes around, we'll be ready to go again."
Strachan and his assistant, Mark McGhee, won't be there, of course.
"We were the better side": Liverpool boss Jurgen Klopp questions Manchester United's tactics while Jose Monrinho rues stalemate
And, for all the current chat about Davie Moyes, Alex McLeish and Malky Mackay waiting in the wings, it remains to be seen if the SFA will have appointed their successors by then.
Robertson acknowledges some familiar faces may no longer be in the Scotland squad, either.
"There might be a few of the older guys who are thinking about the future as well," he said of a group likely to include Darren Fletcher.
"That happens at the end of every campaign.
"But we want to keep this group together because I feel we've got a very good squad.
"One that will fight for each other – and die for each other."
History points to Robertson being the best placed of all the Scotland players to deal with disappointment.
The Liverpool defender's senior career was, after all, launched on a rejection.
Released by Celtic at Under-15 level in 2012 for being too small – a move that proves Gordon Strachan's pre-occupation with genetics is nothing new – he had two options.
Quit, and build a life outside the professional game, or go low and try to climb his way back up.
Robertson chose the latter, with his progression from the amateurs of Queen's Park to a £10m move to Anfield – via spells with Dundee United and Hull City – a tale that might have made the writers of "Roy of the Rovers" blush.
Yet nothing, he insists, has come close to the pain he felt when Scotland's World Cup dream died last Sunday.
"It's my biggest low, for sure," said the 23-year-old.
"It was absolutely brutal to take. I've been relegated, and been beaten in a Scottish Cup Final. But it doesn't get any lower than this.
"It was silent in the changing-room in Slovenia after the game. Everyone was devastated.
"All your friends and family are back home watching, every pub is packed out – and everyone has been left disappointed.
"That's on us. We let everyone down.
"We know we can't dwell on this disappointment for ever. When you are a footballer, you are going to get setbacks and you need to get yourself ready to go again.
"The next couple of months will be hard because we know we should be playing in the play-offs.
"You just need to surround yourself with good people. You need to go and see your family and friends. They'll lift you.
"It will probably take some time, but at the end of the day we all represent clubs as well and you can't let it affect you there. That's not helpful for anyone.
"Teams can bounce back and individual players can bounce back. That is one of the beautiful things about football. It offers you that opportunity.
"I know that myself, having worked my way up through the leagues. But it also gives you some tough times and this is definitely one of them."
It is a fact that even the departure of Gordon Strachan cannot mask.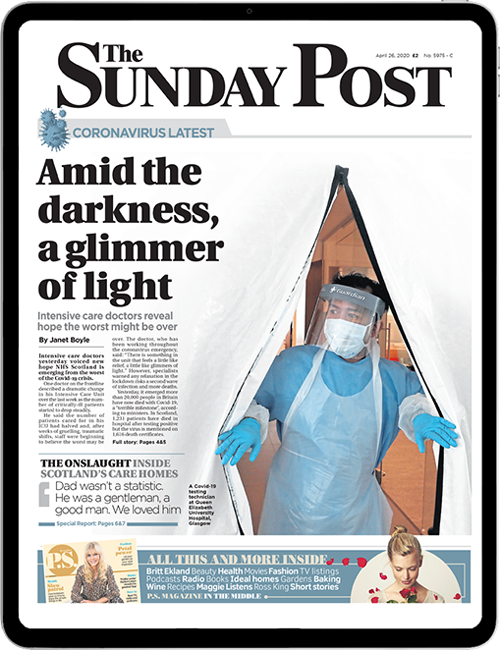 Enjoy the convenience of having The Sunday Post delivered as a digital ePaper straight to your smartphone, tablet or computer.
Subscribe for only £5.49 a month and enjoy all the benefits of the printed paper as a digital replica.
Subscribe