AN MSP who has bravely spoken about her battle with depression has backed the campaign for mental health A&Es.
Gail Ross spent years trying to battle depression through various therapies and prescribed pills.
But the MSP found that having someone to talk to was the best medicine.
She is backing calls for mental health A&E units to be opened across the country, giving people somewhere to turn when they reach crisis point.
Gail, who represents Caithness, Sutherland & Ross for the SNP, talked about the idea as she revealed her personal experiences.
She said: "In my 20s I was off and on antidepressants for a few years but I never seemed to find medication that worked for me.
"I have had hypnotherapy, cognitive behavioural therapy and been to meditation and mindfulness classes as well.
"But I've always found talking therapies helpful – working through why you feel the way you do, understanding that it's not your fault and that you don't have to feel this way forever."
The crisis centres would provide 24/7 access for people enduring acute depression, anxiety and other mental illnesses.
Labour MSP Jenny Marra has led calls for a wider roll-out based on a pioneering, successful Edinburgh service and has won cross-party support, including from First Minister Nicola Sturgeon.
We need A&E for mental health and we need it now: Campaigners call for crisis centre to help save lives
Last year, Gail's depression returned and she admitted it was difficult to talk to people about the situation as some days she struggled to even get out of bed.
But she tried to soldier on, serving her constituents in the Scottish Parliament and being a mother to her son, Max, as she received support from those closest to her.
Gail said: "I think the key to opening up is feeling ready and it's difficult to know when that moment will be.
"When I first got elected as a councillor I was invited to give a speech at The Haven which is a local support centre for people with mental health issues in Wick.
"I really thought hard about whether I wanted to tell them about my own past, but I did, and I'm glad I did because so many people there said it helped them to hear someone else talking about it.
"I have since spoken about it in the Highland Council chamber and with other groups."
After revealing her struggle, Gail said she has been "overwhelmed" with the positive response from people she knows.
She has been offered counselling and acupuncture as well as general support, which she said has helped because depression can be a very lonely condition.
"That's why it's so important we talk to each other and I think that the idea of mental health A&Es is a very interesting one," Gail said.
"Because where do you go when you finally reach breaking point? Trained professionals on hand to help at that crisis point could make a huge difference.
"There are wonderful organisations such as the Samaritans that are only a phone call away and that's important because, unfortunately, some people still don't want to speak to friends or family as they are embarrassed or think it's a sign of weakness when it's really not.
"We have to start treating mental health a lot more seriously.
"We need to stop the stigma, to open up and talk about it, we need to treat it like we would treat a physical illness and we as individuals need to admit when we notice something is not quite right in ourselves and ask for help.
"Even if we don't want to ask for help, just to make others aware.
"Progress is slowly being made to realise the mental health challenges we have before us and to find solutions as a Scottish Government."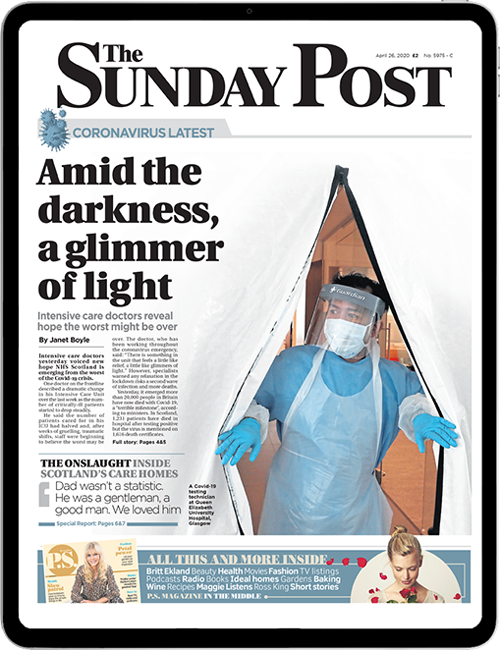 Enjoy the convenience of having The Sunday Post delivered as a digital ePaper straight to your smartphone, tablet or computer.
Subscribe for only £5.49 a month and enjoy all the benefits of the printed paper as a digital replica.
Subscribe