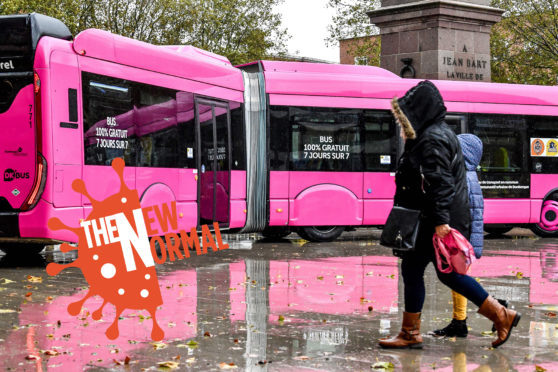 Ellie Harrison is an artist, activist and co-founder of Get Glasgow Moving, a campaign group run by volunteers. She has been campaigning for better public transport since 2009.
The effort to cut carbon emissions through the increased use of public transport has suffered a major setback during the pandemic.
While lockdown has seen an increase in walking and cycling, people have been discouraged from using trains and buses, and even car sharing. But transport is now the UK's biggest contributor to climate change. With the Scottish Government committed to net zero emissions of greenhouse gases by 2045, something urgent must be done.
Ellie Harrison does not see much changing until the Covid crisis is over but she believes the authorities should use this time to "reimagine, rebrand and relaunch" our public transport system. "That way, once it is safe for people to travel, they will be like: 'Wow, not only are we allowed out again, but we have this amazing public transport network – it's clean, affordable, cheap, quick, a joy to use'," she says. "That is possible, it just takes political will."
Last month, the Scottish Government announced it would be taking ScotRail services back into public ownership after terminating Abellio's 10-year franchise three years early. Harrison predicts this will lead to lower fares, a simplified price structure and integrated smart ticketing, like London's Oyster card.
"It's still fragmented because of the hangover of privatisation," she says. "You will have a public operator, but a lot of the rolling stock will be owned by private companies and rented back to the Scottish Government, and Network Rail, which owns and maintains the tracks, is a separate public body, so it won't be completely unified. But there should be better cooperation between these public bodies than with private companies, who want to protect commercial interests. It's a move in the right direction."
What Harrison wants to see, though, is this principle applied across the board. She wants bus services remunicipalised and all aspects of public transport brought under the control of one regional public body, with powers increased and extended to land purchase and planning. She wants these organisations to create an integrated network where trams, buses and local train services are joined up to ensure easy and seamless travel. All passengers using this system should be able to buy a single ticket valid on all forms of transport with the price of daily travel capped. "Glasgow's Zone Cards run on archaic technology and are inflexible and expensive," she says.
"There is no one-day Zone Card and weekly Zone Cards have to be bought on a specific day of the week, as they always expire on a Saturday. Finally, they are more expensive than private operators' bus passes, which can only be used on their buses. People are usually forced to buy these instead which restricts them to one bus company's routes.
"In a regulated network, private operators would not be allowed to offer rival tickets. You would have one simple, affordable smart ticket system for use across all transport modes."
Harrison says cities in other European countries have achieved amazing transformations. In Switzerland, service standards are enshrined in law. Zurich's public transport coordinating body must deliver an hourly service to settlements of 300 people, while more populated areas have connections every 15 minutes.
"Munich is also an excellent example of how to deliver integrated public transport," says Harrison. "Buses, trams and underground and suburban trains are coordinated by a governing body to deliver services to the principle of 'one network, one timetable, one ticket'."
Ultimately, though, Harrison believes the best way to encourage people to give up driving is to provide public transport for free. This is something 100 cities – including Tallinn, Kansas City, Calais and Dunkirk – are already doing.
Last year, Get Glasgow Moving invited Xavier Dairaine, director of engineering in urban communities in Dunkirk, to talk about his experiences. "The city had been a car-centric place – a post-industrial city where buses weren't used," says Harrison. "He spoke of 'a psychological shock'. They didn't just make the buses free, they upgraded the whole network, made the services more comprehensive, painted the buses a different colour. People woke up to an amazing new service and they didn't even have to pay for it. It made them look at public transport in a completely new way."
Here in Scotland, we have a way to go, particularly in relation to buses. Deregulation in 1986 turned the landscape into the "wild west", with multiple companies in competition for the most lucrative routes, and the least lucrative routes shut down. "Only Edinburgh has a publicly owned bus company – Lothian Buses – and it's no coincidence it also has the most efficient bus service," Harrison points out.
Although companies are reimbursed for running concessionary schemes, and receive subsidies, the Scottish Government and councils have very little control over pricing and routes.
But the Transport (Scotland) Act 2019 gave local authorities the power to re-regulate buses, a move Harrison endorsed as an interim measure to improve services.
"It's a half-way house, a way to bring these bus companies under control. The transport authorities would be able to cap/reduce the fares, demand they accept an integrated ticket and tell them where they want their buses to go," she says. "The transport authority would be able to plan the routes to meet people's needs and to integrate with other forms of transport. Once the network was planned – and we would want that planned across whole regions – it would be divided up into various franchises and companies would have to bid for the right to run those sections."
Lorna Slater: We need a big gear change to save our crumbling transport system
Harrison wants this power to be used in tandem with another new power to set up a publicly owned bus company for each region. "Once you have your franchising framework – your plan for the whole network and how you want it to work – and you have set up a public company, then the public company can bid for some of those sections of it. What you will find is that the public company can probably deliver the service more efficiently and put together more competitive bids, so we would expect to see the public company taking over more and more of the network. That would be a massive leap forward."
England introduced similar legislation in 2017 (albeit without the additional power for publicly owned buses) and last week Greater Manchester announced bus services across 11 council areas would be brought under public control, deciding fares and routes for private operators. It will become the first UK city other than London to have a regulated system since the '80s.
"They have trams and trains and have looked at where the lines intersect, then worked out where the buses need to go to fill in the gaps," says Harrison.
Any integrated travel network should also take active travel into account, with people incentivised to walk and cycle. Seville created 75 miles of segregated cycle paths in four years, while Denmark is building a network of 470 miles of long-distance cycle superhighways.
Harrison says that good progress is being made in Glasgow in increasing cycling paths and that, in the future, any smart ticket should include access to the Nextbike scheme. "We want it to be much easier for people to walk and cycle around cities and, if they have longer journeys, to park their bikes up at the bus stop or subway station and hop on to public transport," she adds.
Harrison is not alone in her vision. The pressure for a public transport revolution is building. Last week, SPT, the transport authority that covers Glasgow, produced a discussion paper which suggests it should become Transport for Strathclyde – a more powerful authority in control of one network across the region. The paper calls for a new bill to give the body the powers it needs to operate and the establishment of a "public transport social contract".
Meanwhile, the Campaign to Protect Rural England has launched a transformative vision for buses. Every Village, Every Hour is a fully costed model of a Swiss-style transport network, providing guaranteed hourly services to every village from 6am to midnight, seven days a week.
Of course with all new schemes, the stumbling block is how to pay for them. But Harrison says there are options: if priorities shifted, money could be transferred from road infrastructure schemes, a small percentage of council tax bills could be allocated to the relevant transport authority or an eco levy on car use could be introduced.
"There are lots of ways it could be funded and it has to be funded because we are in the middle of a climate emergency, but also for social justice and mental health," says Harrison.
"The Scottish Government did a big consultation about social isolation a couple of years ago. It is concerned about loneliness but it is not joining up the dots. If people can travel around easily, it's good for their social lives and their wellbeing."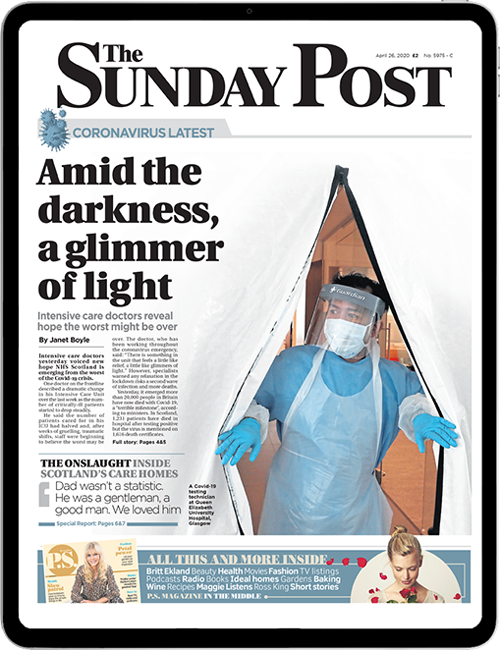 Enjoy the convenience of having The Sunday Post delivered as a digital ePaper straight to your smartphone, tablet or computer.
Subscribe for only £5.49 a month and enjoy all the benefits of the printed paper as a digital replica.
Subscribe